Editor's note: A previous version of this story reported that Councilmember Nicole Johnston "sees herself as a centrist" on the city council. Johnston says that she's often viewed as a centrist in the context of the city council, but she considers herself politically progressive. 
After no shortage of jabs, barbs and intensity in a city council study session Jan. 4, lawmaker Marsha Berzins summed up the strife among lawmakers in one sentence: "I have seen people make comments that we need therapy."
In that first meeting of 2021, the City Council would go on to narrowly shoot down a plan creating a legal defense fund for immigrants who don't have a lawyer when facing court. It was just one example of heavily-contested votes cast after chaotic and disorganized debates on matters reshaping Aurora, from police and immigration reforms to a failed minimum wage hike and a ban on pit bulls. 
These days, council business is often conducted in a slurry of garbled video feeds and thinly-veiled and sometimes open contempt. Aurora lawmakers have talked of a "lack of trust" between some members and pure disrespect for others straining their ability to work together.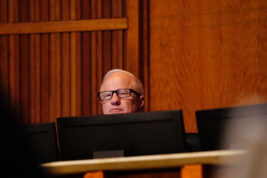 Some divides only deepened this month after Mayor Mike Coffman — who has already stirred his fair share of controversy — debuted in an exclusive TV appearance as "Homeless Mike." 
Coffman had posed as a homeless person for one week, living in shelters or sleeping on the streets. In a CBS4 news segment, Coffman donned a camouflage jacket for his stint as a would-be homeless veteran. After the week, he said that chronically homeless people are mostly drug addicts enabled by people helping them. 
"These encampments are not the product of an economy under COVID, they are not a product of rental rates, housing. They are a product of… a drug culture," Coffman said in the segment.
While some on the city council appreciated his gumption for living on the street, backlash quickly spread throughout the Denver metro. 
Councilmember Juan Marcano initially said Coffman's actions were "the most disgusting thing I've ever seen an elected official do." Liberal and leftist members of the city council then joined Denver metro officials and advocates to take turns teeing off on Coffman and calling for a serious, multi-faceted approach to address homelessness. 
It's the starkest instance so far of Aurora's polarized politics spilling out of city hall, but probably not the last. So, what's to blame for the dysfunction? 
Lines drawn
The city council is divided across numerous lines, including discord with Coffman. That can make it difficult to corral enough lawmakers to support policies where partisan battle lines are drawn, including on immigration and police reforms. 
Although the council can quickly become testy, lawmakers told the Sentinel that members vote in lock-step the vast majority of the time. Routine matters like infrastructure contracts, public art programs and employee pensions are quietly signed into law without much public attention or controversy.  
Even matters like homelessness policy have seen broad agreement from lawmakers. The council voted in the fall to establish an emergency shelter during the winter amid growing outdoor encampments. They also kept funding a wide net of homelessness and poverty programs. 
But on matters like police reform, pit bulls, minimum wage increases and immigration policies, the council couldn't be more divided. Among ambitious lawmakers shaping Colorado's third-largest city, items like these make regular appearances. 
"That's really where we have a breakdown," Marcano told the Sentinel. 
Lawmakers also agreed that the day-to-day operations of the city — which employs more than 3,500 people as cops, firefighters, water technicians and groundskeepers — aren't falling apart because of bickering. 
"The city is going to continue to operate. I don't think that's any major concern," Marcano said. 
Recently, some personal divides created a minor blunder. Lawmakers inadvertently elected conservative member Françoise Bergan as the city's Mayor Pro Tem because of discord between leftists and centrists. 
In theory, the three centrists and three further-left members can control council business if they band together with their combined six votes. But the two groups split on the Mayor Pro Tem appointment between two candidates: independent Angela Lawson and progressive Crystal Murillo. 
Neither candidate won enough votes among the would-be coalition of six. Nicole Johnston, who is often considered a centrist, blamed the progressive and democratic socialists backing Murillo; in turn, they blamed centrists for refusing to support the Ward I representative and said they couldn't trust Lawson after months of unreturned texts and phone calls. 
After the misstep, Bergan quickly appointed other conservatives to the city's key Public Safety committee, where police reforms are often first fielded — although it's not required. 
The radio silence between some liberals and Lawson — who often holds tremendous power as a swing vote on the council — means many votes come down to the wire.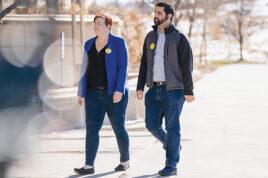 In November, Lawson joined conservatives to sink Alison Coombs' and Marcano's minimum wage increase plan in a 6-5 vote, with Coffman breaking the tie. If approved, the hotly-debated law would have raised the city's bottom wage to $12.60 per hour in 2021, during a pandemic crippling workers and small business owners alike, and ultimately to $17 an hour in 2025. 
That measure alone was rife with accusations and anger from council members who accused each other of politicking.
While Lawson's vote can quietly make or break a law, hostilities between Councilmember Dave Gruber and leftists often roil council debates. 
It's the most obvious schism on the city council. 
Gruber has earned regional clout as a conservative politician going to bat against immigration and police reforms and what he sees as socialist agendas. In June, he said a controversial Facebook post made by Coombs was "absolutely disgusting." 
"No Cops. No KKK. No Racist USA. All Lives Don't Matter Until Black Lives Matter. We're Here, We're Queer, And We're F*cking Angry For Our Black Siblings," Coombs, who is bisexual, said in the post. 
Gruber also has a habit of inviting outside speakers opposed to council business to speak during debates. 
Mostly recently, Gruber invited John Fabbricatore, the Denver-based field director for Immigrations and Customs Enforcement, as an expert testimony on a proposal limiting cooperation between Aurora police and ICE. 
Fabbricatore appeared again in a study session Jan. 4 to talk Gruber through a plan sponsored by Murillo and Coombs to create a legal defense fund for indigent immigrants. 
Gruber and Fabbricatore argued that the reforms would help immigrants with criminal records elude justice or beat court proceedings. Fabbricatore also said that, if the council prevented police officers from cooperating with ICE operations, his agents would have to arrest more immigrants "at their home" or "at their work."
Fabbricatore's testimony wasn't well-received by supporters of the reforms. Murillo called it a "fear-mongering conversation."
"I understand that this is an election year, Councilmember Gruber, but this is honestly beneath you," Marcano told him. 
Councilmember Curtis Gardner, peeved, condemned everyone. 
"This political pissing match is really embarrassing for the council and really embarrassing for the city," he said. 
Gruber told the Sentinel he sees himself as a barrier between the democratic socialists, Marcano and Coombs, and the best interests of Aurora. 
"It's not, 'We're here to take care of the city.' They lead with their socialism," Gruber said of the pair. 
He also said their agenda and that of progressives is more often crafted by national or Denver-based organizations. Gruber especially took up that banner when Johnston and Marcano worked with Denver-based liberal groups to craft sweeping campaign finance reforms in the fall; meanwhile, Coombs relied upon the Denver-based Bell Policy Institute as experts on a failed minimum wage bump last year. 
Marcano has repeatedly said Gruber approaches debates in "bad faith." He'll ask outside speakers like Fabbricatore "misleading" questions to denigrate sound policies, he said, and he has a "record of dishonesty."
"If he continues to act in bad faith, he will continue to be called out for it," Marcano said. "That's my pledge."
A big gavel
Along with the intra-council gripes, Coffman has landed in hot water with lawmakers since he was narrowly elected in Nov. 2019.  
Three years ago, the former Republican Congressman was a prominent lawmaker on the national stage. President Donald Trump even specifically called out Coffman in a news conference about ousted Republicans when Democrat Jason Crow won a 2018 election to seize the office. 
The next year, Coffman would win the election for mayor of Aurora by just 214 votes.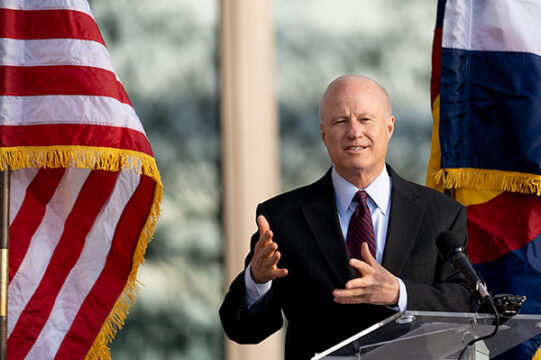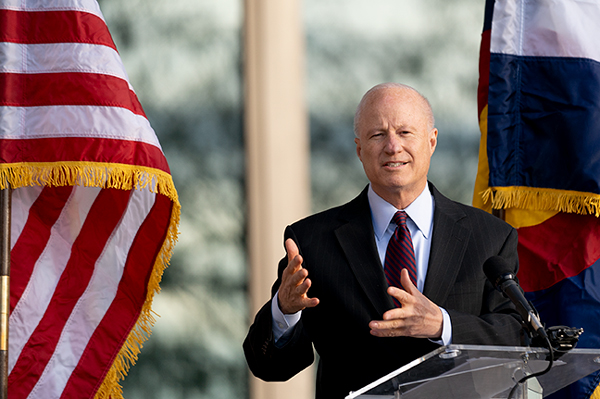 For the last 13 months, Coffman has steered the city and its council meetings with a prominent voice and heavy hand. 
When he took office, Coffman said he'd lead the city with a "big gavel" to tamp down bickering. He actually bought a big, loud gavel to hammer for order in the city council chamber, which had also seen fierce occupations from activists incensed about the death of Elijah McClain. 
In doing so, he's bumped up against the boundaries of what has typically been a low-key, figurehead position under recent mayors. Unlike neighboring Denver, the day-to-day operations of city bureaucracies are run by City Manager Jim Twombly and his deputies — not the mayor —and policy is created by city council members. Aurora's system is similar to many other cities. including Westminster, Lakewood and Boulder. 
In Aurora, the full-time mayor can't shape city budgets or veto city council decisions. And unless he's casting a tie-breaking vote on council, the mayor doesn't even vote on most council business.
But observers probably don't glean that fact from Coffman's leadership style.  
From mask mandates and campaign finance to pit bulls and outdoor camping bans, Coffman has tried to push his own policies through council. He tries to draw support from his substantial name-recognition on social media and in the press. 
Notably, Coffman took to social media this summer to call protesters breaking windows "terrorists." He then deleted the post and walked back his statement. Later activists on the city's Community Police Task Force said the mayor pressured them to drop a lawsuit against the city and police. And after Coffman broke from city policy to call for an outdoor camping ban in October, councilmember Johnston accused him of leaking the details of a since-opened emergency homeless shelter on social media. 
During the exchange, the mayor revealed his political calculus. 
"The fact is that I am a political figure," Coffman said when confronted Oct. 19. "And, there are times when the press is going to write down what I say. And there's nothing I can do about that — in fact, I want that to happen."
"It's a problem when it seems like there's more of a focus to be in the news as a political figure than doing what's best for the city," Johnston replied. 
"That's a political decision, first of all. And the fact is, I've been around for a long time. And a lot longer than you have," Coffman told Johnston. "And, when I say something, people look at it. It might not be the same for you."
"Then, we have some issues," Johnston said.
Coffman has also taken flack from some city lawmakers for his "big gavel" method of steering council meetings. 
Keeping council business civil and streamlined is a key part of the mayor's role, but some lawmakers say Coffman is now contributing his fair share to the fracas.
During the Jan. 4 debate on the would-be legal defense fund for indigent immigrants facing court proceedings, Coffman told the council members that lawmakers could only ask questions about the bill after proponents and opponents were done with their presentations. 
That included Fabbricatore, the ICE agent. 
Traditionally, only sponsors of a bill would bring in outside experts to answer questions. But Coffman allows councilmembers opposed to a bill to bring in their own experts to testify, and he often casts pivotal tie-breaking votes supporting their opinions. On Jan. 4, he allowed Gruber to invite Fabbricatore. 
Allison Hiltz told Coffman she had an issue with the debate format. 
"This is how we're going to proceed," he said flatly, interrupting Hiltz.  
"OK. This is a circus," Hiltz said before she was interrupted again by Coffman.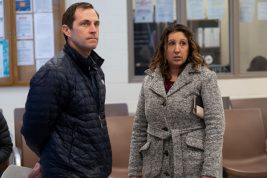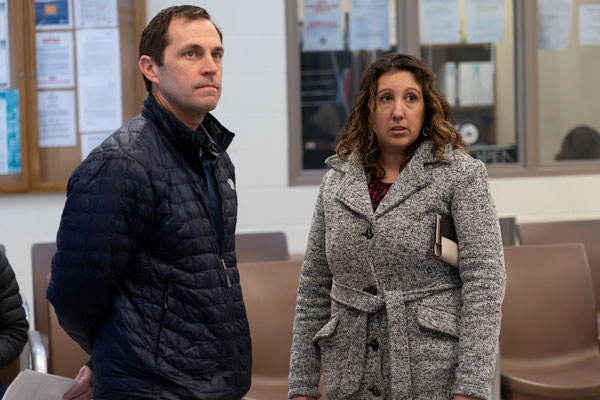 Coffman said in a statement to the Sentinel that it's his "discretion" as mayor whether to allow the outside speakers. "The purpose of the study sessions are to inform the members on all aspects of the issues before us and the proponents of any proposal shouldn't fear hearing from diverse viewpoints," he said. 
 Hiltz sees the issue differently. She's especially peeved that Coffman doesn't tell lawmakers who will be testifying against a bill in advance. 
"He's disrespecting his council by moving forward with the items, without telling council or the general public," Hiltz said. 
Gardner, who seemingly becomes annoyed when debates go off the rails, said he and other lawmakers are moving to make specific rules about the outside speakers. When the mayor allows councilmembers to bring anyone to oppose a bill, it's probably "politically motivated," he said. 
But he's not optimistic that city council meetings will become tepid any time soon.
"I think that some of what we're seeing on our council is reflective of the national political discourse," he said. "As much as I'd like to think there is an easy fix or easy solution, I'm not sure there is."
Gardner and other lawmakers are hearing from their constituents about the dysfunction. 
In a Facebook conversation with residents worried about the state of the city council, Marcano said, so far, attempts to mediate have failed. 
"(B)elieve me, we've tried to have discussions and build dialogue with our colleagues over the past year. If it were that simple it would be done. You can't dialogue with people who don't want to talk to begin with," he said.