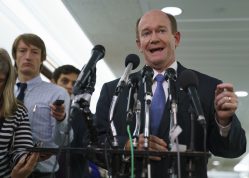 WASHINGTON | Supreme Court nominee Brett Kavanaugh cleared a key procedural hurdle Friday, but his prospects for being confirmed were still up in the air as Republicans agreed to ask for a new FBI investigation into sexual assault allegations.
Republican leaders will grant one week for the new probe, slowing down their move to confirm Kavanaugh to the nation's highest court.
President Donald Trump has not yet commented on the new timeline. Trump has previously said only that he would "let the Senate handle that." In fact, it's the White House that would have to ask the FBI to investigate.
The committee vote was 11-10 along party lines.
Flake said that after discussing the matter with fellow senators, he felt it "would be proper to delay the floor vote for up to but not more than one week."
Attention then turned to the small group of senators considered on the fence. West Virginia Democratic Sen. Joe Manchin said he supports Flake's move for the new investigation. He said the probe should happen "so that our country can have confidence in the outcome of this vote."
It is still unclear if Republican Sens. Susan Collins of Maine and Lisa Murkowski of Alaska would do the same.