WASHINGTON | The Senate Judiciary Committee advanced Brett Kavanaugh's nomination for the Supreme Court Friday, but only after they informally agreed with a final-hour call from Republican Sen. Jeff Flake of Arizona for a one week investigation into sexual assault allegations against Kavanaugh.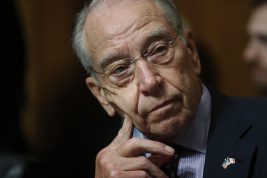 President Donald Trump, who has accused the Democrats of obstruction and opposed the FBI probing the allegations against his nominee, said merely that he would "let the Senate handle that."
Kavanaugh and an accuser, Christine Blasey Ford, testified in an emotional, hours-long hearing on Thursday. Kavanaugh vehemently denied the allegations that he assaulted Ford while they were both in high school, while she said she was "100 percent" certain he was her attacker.
Flake was at the center of Friday's controversy and uncertainty. In the morning, he announced that he would support Kavanaugh's nomination. However, shortly after that, he was confronted in an elevator by two women who, through tears, begged Flake to change his mind.
After convening with his colleagues, Flake announced that he would support advancing Kavanaugh's nomination to the full Senate only if the FBI were to investigate the allegations against the judge. Democrats have repeatedly called for such an investigation, though Republicans and the White House have insisted that it is unnecessary.
The committee vote was 11-10 along party lines.