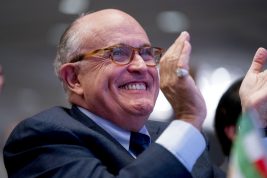 WASHINGTON | President Donald Trump's new attorney, Rudy Giuliani, won't rule out the possibility that the president would assert his Fifth Amendment right against self-incrimination in the swirling Russia investigation.
"How could I ever be confident of that?" the former New York City mayor and U.S. attorney said Sunday on ABC's "This Week."
Giuliani said despite Trump's openness to sit down with special counsel Robert Mueller, he would strongly advise Trump against it.
"I'm going to walk him into a prosecution for perjury like Martha Stewart?" Giuliani said. Stewart was convicted in 2004 of lying to investigators and obstruction in an insider trading case.
Giuliani suggested that Trump wouldn't necessarily comply with a subpoena from Mueller, but he wouldn't rule out the possibility of the president sitting for an interview with Mueller.
"He's the president of the United States," Giuliani said. "We can assert the same privileges other presidents have."
A subpoena fight would likely find its way to the Supreme Court, which has never firmly decided whether presidents can be compelled to speak under oath.
During Watergate, the court ruled that a president could be compelled to comply with a subpoena for tapes and documents. President Bill Clinton sat voluntarily with independent prosecutor Ken Starr after being issued a subpoena to discuss his relationship with former White House intern Monica Lewinsky, avoiding the constitutional question.
Giuliani's latest interview comes after days of conflicting statements about the investigations into the president.
Giuliani, who was hired by Trump last month, said he's still learning the facts of the Mueller case and the details of Trump's knowledge of a $130,000 hush payment to adult-film actress Stormy Daniels, who has alleged a sexual tryst with Trump in 2006. The payment was made by Trump personal attorney Michael Cohen days before the 2016 election.
When Trump was asked last month aboard Air Force One if he knew about the payment to Stormy Daniels, he said no.
But Giuliani revealed last week that Trump had reimbursed Cohen for that payment and other unspecified items.
Giuliani said he first made Trump aware of the payment shortly after joining the case last month but now says he doesn't know when Trump knew about it. Trump said Saturday that Giuliani needed to "get his facts straight" but insisted they weren't changing their story.
Kellyanne Conway, a counselor to the president, said Sunday on CNN's "State of the Union" that Trump's comments on Air Force One were referring to his knowledge of the $130,000 at the time the payment was made, not at the time the question was asked.
Cohen is no longer representing Trump, Giuliani said, saying it would "be a conflict right now."
Cohen is facing a criminal investigation in New York, and FBI agents raided his home and office several weeks ago seeking records about the Daniels nondisclosure agreement.