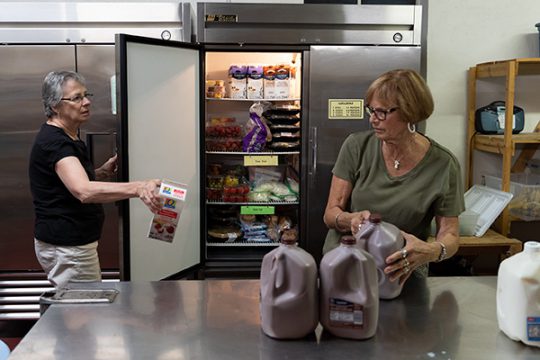 Our local and state economies are booming, but everything is getting more expensive and people barely make enough money to keep up. The result is that many seek assistance to feed their families or to simply get a hot meal.
For hundreds of individuals in Aurora, that hot meal comes from Friends of St. Andrew – a soup kitchen formed by a small group of Queen of Peace parishioners in 1986. It is the only soup kitchen in Aurora and it serves about 150 people each day, providing a hot meal to more than a quarter of Aurora's homelessness population.
The organization – staffed by only one employee, supported by more than 80 volunteers, and funded by the generosity of Queen of Peace parishioners – also provides food baskets, toiletries, and other assistance to those in need.
But those Aurorans who get assistance or a hot meal from Friends of St. Andrew might not be able to do so anymore. After operating in the same building for more than 30 years, Regis University – the soup kitchen's landlord – has put the property on the market and Friends of St. Andrew could be forced to vacate in just 30 days.
Finding a new home has not been easy for Friends of St. Andrews, but it is unacceptable that the third largest city in Colorado might not have a soup kitchen to support our efforts to feed and assist our struggling neighbors. That's why we must all come together as a community – individuals, local businesses, and elected officials – to save this important institution.
State Senator Rhonda Fields (D-Aurora) represents state Senate District 29