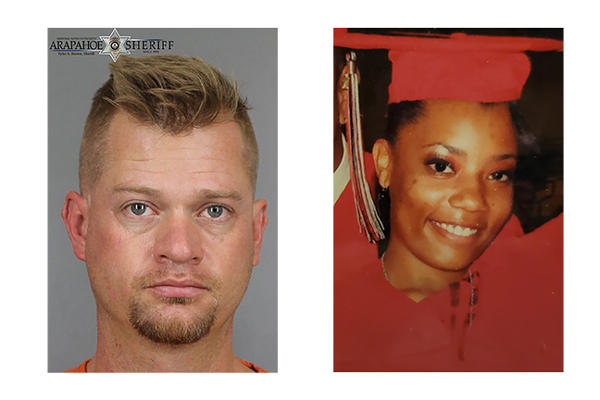 AURORA | A drunken driver from Aurora who struck, killed and dragged a young dental student as she was walking home on an Aurora sidewalk three years ago has been sentenced to more than a decade in state prison.
Arapahoe County District Court Judge Darren Vahle on Wednesday sentenced Timothy Knutson, 40, to a pair of back-to-back prison stints totaling 14 years behind bars for the death of Jana Phillips in October 2018. Knutson pleaded guilty to a pair of felonies — vehicular homicide while driving under the influence and leaving the scene of an accident involving death — earlier this spring, according to the 18th Judicial District Attorney's Office.
Authorities said Knutson struck Phillips with his black Jeep Patriot near the corner of East Iliff Avenue and Pagosa Way in the early morning hours of Oct. 28, 2018 after he had been drinking at a bar.
After striking Phillips and dragging her a short distance with his vehicle, Knutson fled the area.
A passerby found Phillips' body a short time later and alerted Aurora police. Her shoes and socks had been flung from her feet, and she was declared dead at the scene, according to the local DA's office. She died four days after celebrating her 26th birthday.
Just before Philips' body was found, an Aurora police officer stopped Knutson, who was seen driving erratically in the nearby parking lot of New Life Community Church, according to an arrest affidavit filed against him. The officer reportedly watched him drive his Jeep with no front lights and a damaged front grill onto a curb.
Investigators found multiple open and empty containers of alcohol, as well as marijuana, in his car.
Knutson was later linked to the crime after traffic detectives found pieces of his black car and a hubcap strewn in the area where Phillips' body was found.
Knutson refused to participate in field sobriety tests and did not allow officers to test his blood or breath for alcohol after he was detained, according to the affidavit. Hours later, investigators served a warrant for Knutson's blood at Jefferson Hills Detox, where it was determined he had a blood-alcohol level about three times higher than the legal limit. Toxicologists also found psychoactive components linked to marijuana and kratom in his system.
On the way to the detox facility, he admitted to police that he hit something while driving, but didn't know what it was, according to the affidavit.
"He wasn't simply drunk but extraordinarily drunk. He wasn't simply high but extraordinarily high," Deputy District Attorney Meghan Gallo said Wednesday. "Five hours after the crash he was still twice over the legal limit."
Records from the Colorado Bureau of Investigation show Knutson has a lengthy criminal history spanning nearly two decades. Knutson has had run-ins with law enforcement agencies across the Front Range, including in Denver, Limon, Lone Tree, Lincoln County, Douglas County and Pueblo County, among others.
In April 2004, Knutson was sentenced to three years in prison for the felony charge of obstructing justice by intimidating a witness or victim of a crime. He had additional time tacked onto his sentence after being arrested for carrying a weapon in Lincoln County.
"This defendant has failed on probation before and has had numerous crimes over a period of years," Vahle said at the recent hearing. " … It's ironic that both of these people were drinking that night. One cared about people in society and was walking home. The other barreled down a sidewalk and killed someone."
At a candlelight vigil held shortly after Phillips' death, more than 100 of her family and friends gathered to remember the Eaglecrest High School graduate.
"She was probably one of the nicest people that you could ever meet," Alonzo Williams, Phillips' uncle, said at the event in November 2018. "She was kind-hearted. She was sweet. She would help anybody. She was also there for you whenever you needed her, especially for the people that she loved."
Known to those close to her as "Jana Boo," family members said Phillips had recently been working as a security worker in the Cherry Creek School District. She was also studying to become a dental assistant at Concord Career Institute, and she was on track to graduate from the program in early 2019.
Phillips' mother addressed Vahle at the sentencing hearing May 19.
"I act like everything is OK, and it's not. I miss my baby," she said. "All I have left is a sign: 'In memory of Jana — Don't drink and drive'."
Knutson has been entered into the Colorado Department of Corrections system but is currently detained at the Arapahoe County jail awaiting transfer to state prison. He will be eligible for parole in April 2028.