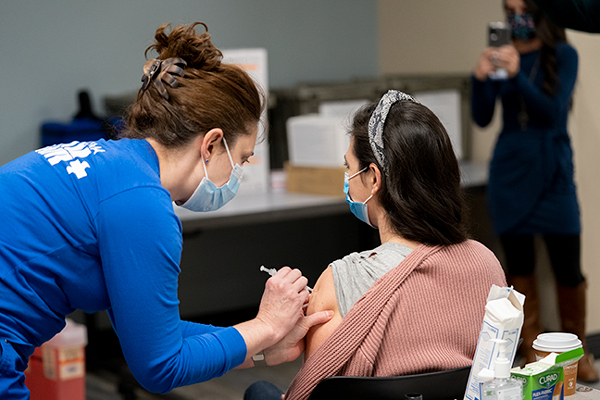 AURORA | Aurora area school district officials say the state's changing vaccination plan — which recently clarified that Coloradans over 70 will receive vaccines before teachers — is causing confusion and some frustration among education officials, especially as many districts around the state are slated to soon return to the classroom.
When Colorado first presented its vaccine distribution plan, education advocates lobbied for teachers to be moved up in line so that they could be fully vaccinated before the end of the school year, giving them more protection as many districts are preparing to return to in-person learning.
After initially demurring, Gov. Jared Polis announced in December that teachers would be moved from phase 2 to phase "1B" of Colorado's vaccine distribution schedule.
The Cherry Creek School District started vaccinating its first staff members on New Year's Day in partnership with Centura Health, and districts across the state started to plan how to vaccinate teachers.
However, in a Jan. 5 letter the Colorado Department of Public Health and Environment clarified that despite being moved up, educators will now not be eligible to receive the vaccine until all Coloradans age 70 and older are vaccinated. That could take some time.
On Wednesday Polis deflected questions about the confusing nature of the state's vaccination plan and COVID-19 public health orders, but he said teachers should expect to start receiving vaccinations in March and April. Before being moved to the 1B phase teachers likely would have started receiving the vaccine in May.
School nurses can still receive a vaccine now due to their status as frontline healthcare workers.
Cherry Creek Education Association President Kasey Ellis accused the state of "talking out of both sides of its mouth" by moving teachers up and then backtracking.
"The push to reopen schools is not congruent with the lower level priority given to educators for the COVID-19 vaccine," she said in a statement. "The district and union had a specific plan to vaccinate staff next week but having the rug pulled out from under us is just another instance where the state has not provided a clear and concise plan for supporting us during this pandemic."
This is part of a pattern from the state of failing to provide clear and consistent guidance throughout the pandemic, Ellis said.
Cherry Creek Superintendent Scott Siegfried also expressed frustration with the changes.
"I understand needs that exist in our larger community and fully support others in the current phase also receiving a vaccination," he said in a letter to employees about vaccination plans that the district shared with the Sentinel. "I am, however, disappointed that the state is not allowing us to trust local health systems to find the right balance, develop and implement effective plans and continue to move our educators forward, while also serving others."
The district will continue to work with Centura Health but is asking employees to wait until after the window for educators to get vaccinated has opened back up, he said. Centura is honoring the appointments of staff who were already scheduled to be vaccinated before the clarification.
A representative from Aurora Public Schools did not respond to multiple requests for comment as to how the district is planning to vaccinate teachers and whether the announcement affected any of its plans.
Bruce Wilcox, president of the Aurora Education Association, told the Sentinel that teachers are frustrated that they are preparing to go back to work in person knowing that they will not have full protection from the vaccine before the end of the school year.
After being remote only for nearly all of fall semester, APS students will begin going back to the classroom on Jan. 19 in a hybrid model, and all APS staff except those with medical exemptions will return to work in person on Monday, Jan. 11.
The current school calendar only goes through Feb. 12, indicating the district is preparing for a potential change of plans.
"We intend to make our next decision about changing our learning mode by Feb. 4 if needed," Superintendent Rico Munn said in a letter to district families. "This may mean increasing in-person learning opportunities or transitioning back to remote learning. This will all depend on whether current health data is allowing us to maintain our safety and mitigation plans without significant impacts."
Wilcox said that teachers have also voiced concerns about the new, more contagious strain of COVID-19 that has been found in Colorado.
"The new strain is a concern because it's more communicable," he said. "I think that puts everybody's anxiety back up."
He did not know what APS' plans for vaccination would be, but believes that the district will be working with three different healthcare providers to help teachers get vaccinated. The main issue right now is when the vaccine will actually be available, he said, not how it will be distributed.
"It really comes down to when they'll have the vaccine to do that," Wilcox said.