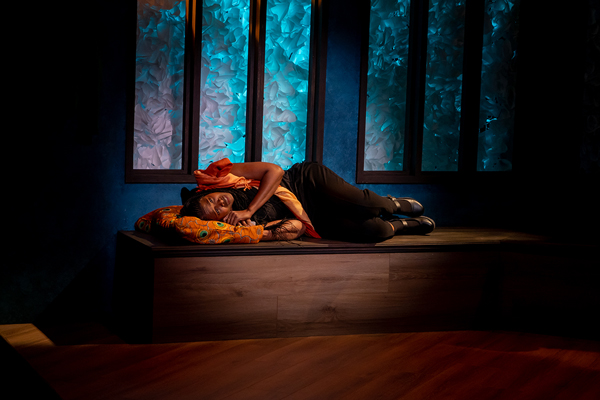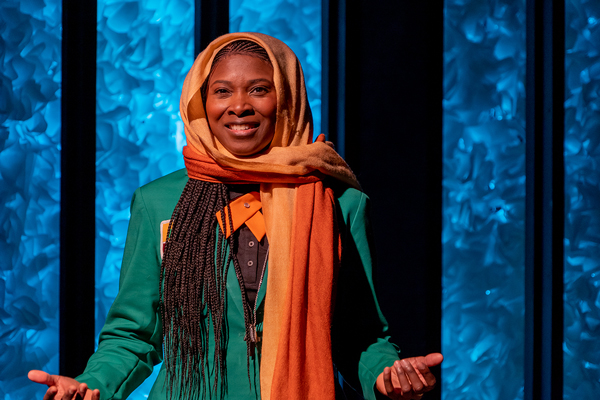 If you want to get people's attention, start with a joke. 
That's what Faith, the protagonist (and sole performer) of the Aurora Fox Arts Center's latest play, was always told by her mother. "acts of faith" puts that adage to good use, making a play that you might expect to be serious to the point of discomfort due to its subject matter laugh-out-loud funny on numerous occasions.
This one-woman play follows Faith (played by Betty Hart, who also does excellent imitations of her character's family and friends throughout the play), a teenage Catholic girl in the Zambian city of Kitwe. After Faith pretends to have received a message from God to defuse an argument between two friends she earns the admiration of her community, but the ire of her devout mother who knows the truth. The situation darkens when Faith has a run-in with a missionary priest in a neighboring city who turns out to be more of a predator than a protector to his flock. As her teenage years continue, Faith goes from Zambia to Toronto where some of the same problems find her again.
Can Faith regain her mother's trust and use her "powers" to keep others safe from this man? This play wrestles with intense themes, including strained parent-child relationships, gaining and losing religious faith and clerical sexual abuse, but it still manages to keep a light tone. It's the first play since the beginning of the pandemic that's staged in the Fox's studio theater, lending the production a more intimate feel.
Written by Canadian playwright David Yee, "acts of faith" was never intended for the stage, according to a director's note from Pesha Rudnick. It was initially staged as a virtual performance in 2020. Former Aurora Fox director Helen R. Murray watched and convinced Yee to allow the Fox to perform live.
"To the believer, faith gives us a story that keeps us going, helps us navigate the hard questions," Rudnick said. "To the skeptic, faith is how we avoid them. As this play beautifully illustrates, there's a believer and skeptic in us all and life evokes one or the other, sometimes in the same day, depending on what she throws at us."
As Rudnick writes, it's the kind of play that evades easy interpretation. Without giving anything away, the ending has a somewhat 'deus ex machina' feel that may leave you scratching your head as to what exactly just happened (as some people in the audience were doing after this performance). Whether Faith truly has divine powers is ultimately in the eye of the beholder. After all, the suspension of disbelief engendered by live performance is also an act of faith.
Hart has directed a number of plays in recent years but due to the pandemic this is her first time acting since 2019, according to the playbill. Even so, she didn't appear to be rusty. Pulling off a solo performance for 90 minutes is no small feat, and Hart did an excellent job of holding the audience's attention throughout and hitting all the different emotional beats. Hopefully this isn't the last time she'll be seen at the Fox.
The special effects are less dramatic than they have been on some of the Fox's recent mainstage plays, but the real standout of this production is the theater's use of sound effects at key moments. One of the most nerve-wracking moments of the play is set to the amplified noise of a pounding heart, and it felt like everyone in the audience was collectively holding their breath until the noise stopped.
Moving lighting effects are also deployed well at key moments. The stage's beautiful backdrop changes color with the light, providing a cathedral-like look to the small space.
This play does have some intense moments due to the nature of its subject matter. It includes a brief scene of an attempted sexual assault, but is not graphic and would probably be appropriate for mature teenagers and up.
Next up in the Fox's lineup is another one-woman play in the studio theater: the dramatic adaptation of "The Year of Magical Thinking," Joan Didion's stunning memoir about her husband's death. After that, the Fox will return to the main stage for the final two productions of the season: "Toni Stone," an original play about a women's baseball team and a musical version of "Treasure Island."
If you go:

Runs through Feb. 5, Thursdays-Saturdays at 7:30 p.m. and Sundays at 2 p.m.

Approximate 90 minute runtime with no intermission

Adult tickets $28-$40

Purchase online at aurorafox.org or by calling

303-739-1970

Masks recommended but not required.