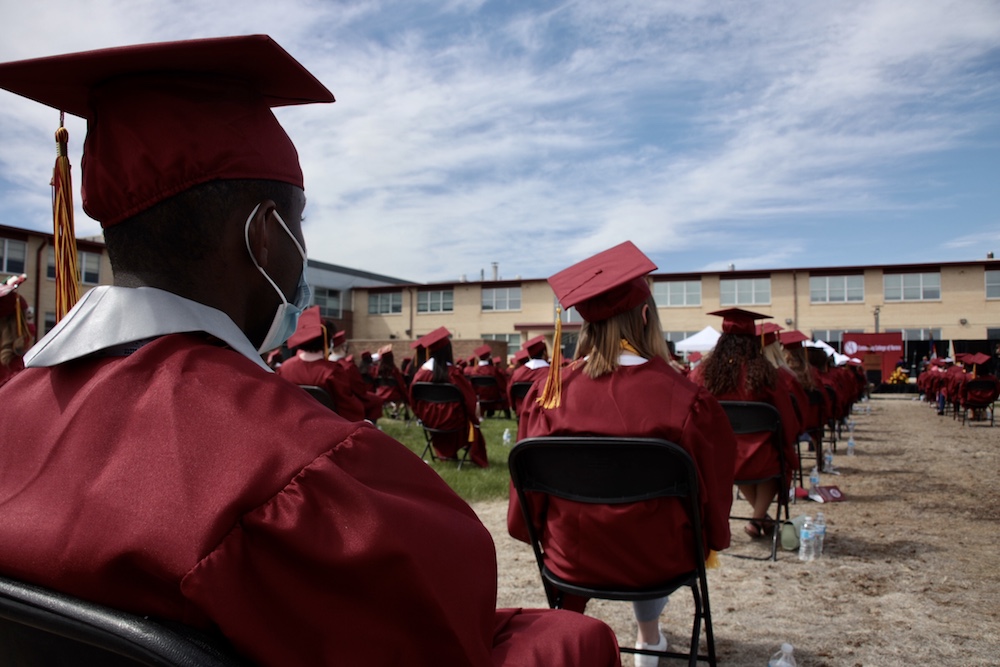 AURORA | Kasahun Adnew has a lot of happy memories from a time as a student at the Community College of Aurora. His graduation in the spring of 2020 isn't one of them.
Adnew came to Colorado from Ethiopia in 2015. His family back home saw all his successes and failures in the U.S. through social media, and with graduation he hoped to show off how far he had come. But with the arrival of COVID-19, in-person graduation was canceled. He ended up taking a photo in his aunt's old graduation cap and gown and a shirt she bought him from Amazon that said "2020 graduate."
Adnew was finally able to walk across the stage this Saturday, as CCA held its commencement for both 2020 and 2021 graduates outdoors on its Lowry campus. Adnew was the student speaker.
In his speech, he spoke about his early days in the U.S. working at Denver International Airport, and how he balanced work and school, usually getting only a couple of hours of sleep a night. It was all worth it to get an education, he said.
"Education is a lifetime asset and nobody can take it from you," he said.
It was an emotional ceremony for the 210 graduates, who sat outside on the quad while their families watched from a livestream or further back in the CCA parking lot, where honks and cheers could be heard as grads crossed the stage.
Sydney Pedregon, CCA's assistant director of student life, said that the college started making plans for the ceremony in January. They weren't sure what the COVID situation would be like come May, but they didn't want to have to forego a ceremony two years in a row.
"We wanted to be able to do something for the graduates," she said, even if it wasn't the college's usual ceremony in Denver University's auditorium.
Due to the pandemic, students took the overwhelming majority of classes online this year, an additional challenge on top of the other life situations that community college students — who are disproportionately more likely than traditional students to be parents, be working full-time or be first-generation — are already juggling.
"It was challenging, but we did it," said Tetiana Doru, who received her Integrated Nursing Pathway (INP) degree and will be transferring to CU Anschutz to complete her nursing degree.
The entire graduating cohort of INP students sat together in a row at commencement, and student Axel Chavez said the year of online classes wouldn't have been possible without all the support the students gave each other.
"It was an experience like no other," Chavez said. 
Training for a nursing degree in a little of a pandemic was a little frightening, he said, but ultimately it made him even more certain of how important the field was and his desire to serve the community.
Chavez came to the U.S. from Mexico with his family when he was just six months old, and is the first in his family to go to college.
"I guess you can say I'm living a little bit of the American dream," he said.
"For me it was a huge accomplishment," said Georgina Villalta. "I'm about to cry."
Villata, who earned an early childhood education degree, moved to the U.S. from El Salvador. She got married at 19 and has two daughters, and said she is the first person in her family to go to college, so the degree is especially meaningful for her.
The ceremony was moving for CCA president Betsy Oudenhoven as well, who will be retiring in July after 10 years at the college and over 40 in higher education. 
She said she was glad to be able to have one more commencement after missing it last year, and praised the students for all their hard work.
"It's an amazing accomplishment, particularly after the last year," she said. "Community college students work so hard for this."