AURORA | Aurora Congressman Jason Crow is hitting the road. Across the 6th Congressional District, that is. He said his goal is to strengthen relationships with local leaders to better tailor Crow's work in Washington, D.C.
Crow started his tour — which he's calling the "Lead Locally Initiative" — in Aurora on Thursday with Mayor Bob LeGare city manager Jim Twombly and other city staff.
"The idea is several fold and most important aspect is to make sure we're building relationships and they (local leaders) have a direct line to Washington," Crow said.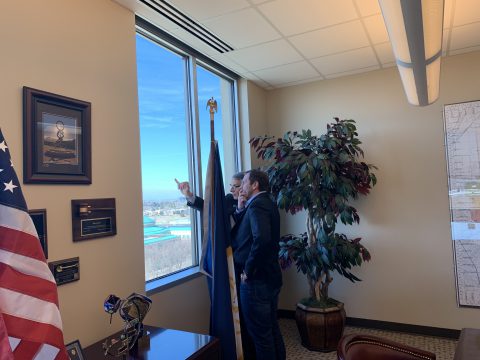 The other goal is that policy starts in the district. "Not the other way around," he said.
Crow said he discussed several topics with LeGare and Twombly, including the I-70/Piccadilly interchange, which will need several million dollars of federal money to complete, the buffer zone between Buckley Air Force Base and surrounding development and affordable housing issues. 
The tours will take place in cities and small towns alike throughout the district. Crow said he plans to tour a new community about once each month. 
"I look forward to working with mayors, city managers, and local residents across the district to learn more about the unique challenges they face and bring those ideas back to Washington to solve problems for the 6th district," he said. "This will help us be a better advocate for our communities and fight for federal resources for important local projects. Members of Congress need to listen and then lead. For me, that starts right here in our local communities."
Additionally, Crow said the partnership would help his office and local services work better for the community. 
"We get calls about really municipal issues sometimes, and vice versa," he said. "We can better connect staff with each other and have them on speed dial."
— KARA MASON, Staff Writer