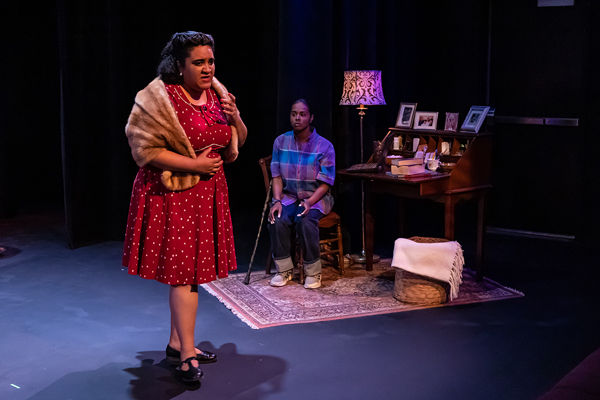 AURORA | After a one-weekend run in November the Community College of Aurora is again hosting free performances of "HeLa: The Story of Henrietta Lacks."
Henrietta Lacks was a Black woman from Baltimore who died of cancer in 1951. Cancer cells taken from her body during treatment at Johns Hopkins Hospital were used without her knowledge to create the HeLa cell line, which has been used extensively in medical research in the ensuing decades on everything from polio to HIV and cancer.
The play was put on by the Community College of Aurora's theatre department to complement the college-wide read of Rebecca Skloot's 2010 book The Immortal Life of Henrietta Lacks, which tells the story of Lacks and her family and delves into the medical ethics of her cells being taken.
"I thought it would be really cool for students to engage with the text in that way," theatre director Stacy D'Angelo told The Sentinel at the time.
The play was an opportunity for the student actors to learn more about Henrietta Lacks and think about what it meant to portray real historical figures, as opposed to fictional characters.
"We really dug into what this all means to portray a real family's story with the respect and dignity that it deserves," D'Angelo said.
CCA's production was only the second time the play, by Lauren Gunderson and Geetha Reddy, had been performed.
Genesis Burgess, who stars as Henrietta Lacks, said that the experience was a "life changing experience" for her and that the whole cast was "honored and grateful" for the opportunity to share her story.
 "This role was so special because I'm not playing a character I'm speaking on behalf of a woman who I'm still learning about," she said in a news release from CCA.
The upcoming performances are scheduled for:
Thursday, January 26 at 7:30 p.m.
Friday, January 27 at 2 p.m. & 7:30 p.m.
Saturday, January 28 at 2 p.m. & 7:30 p.m.
They will take place in the CCA Fine Arts Building on the CentreTech Campus, 16000 E. CentreTech Parkway.