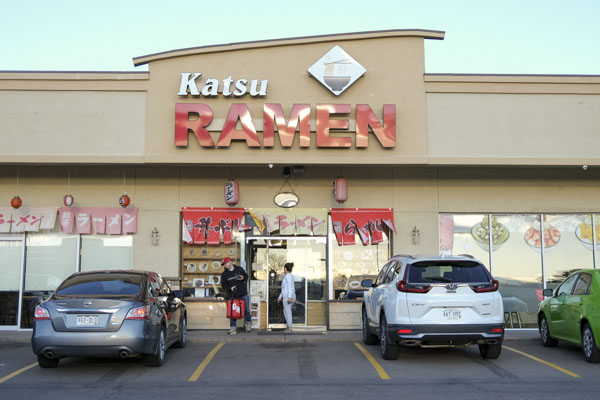 AURORA | A city-wide cap on delivery fees restaurants pay to third-party delivery companies like DoorDash, Uber Eats and Grub Hub went into effect Wednesday, although its unclear whether customers can expect to pay more when picking up dinner from their front porch. 
The third-party delivery companies can now charge restaurants a fee of no more than 15% of the purchase. The law will sunset on March 31, 2021 or sooner if restaurants are allowed to resume filling 100% of their capacity under public health rules. 
"As a temporary measure during the winter months when outdoor dining can be a challenge, I consider this ordinance to be an important lifeline to help our restaurants survive," Councilmember Curtis Gardner, who sponsored the law, said in a statement. 
Gardner said some Aurora restaurant owners were suffering under "exorbitant" delivery fees during the pandemic. Currently, Aurora restaurants can't open up indoor dining to any customers, forcing many to rely on delivery orders when they don't have the capacity. Patrons can only sit outside restaurants in specially-regulated situations, order take-out or opt for delivery, which is controlled by a handful of tech companies. 
At rates of more than 15%, many restaurants are actually losing money when customers deliver through the third-party apps, said Patrick Armatas, co-owner of Sam's No. 3 diner at 2580 S Havana St. 
"You end up basically paying to serve them food," he said. 
He said some restaurants were paying as high as 30% commission to Grub Hub. The company did not respond to the Sentinel's request for comment. 
Armatas said he had already negotiated a 15% cap for Sam's No. 3 deliveries after the pandemic shifted sales to delivery and take-out. He said the rate is "fair for delivery and fair for restaurants." 
In separate statements, DoorDash and Uber representatives argued Aurora's rules actually threaten restaurants. 
"Regulating the commissions that fund our marketplace forces us to radically alter the way we do business and ultimately hurt those that we're trying to help the most: customers, small businesses and delivery people," said Sarah Ashton of Uber.
The pandemic has proved to be a windfall for delivery apps while restaurant workers account for high shares of new unemployment claims in Adams and Arapahoe counties. 
DoorDash reported revenue of $1.9 billion in the first nine months of 2020 after years of losing money. 
After Denver capped food delivery charges, DoorDash began charging customers a $2 "Denver fee" this month. 
When asked if Aurorans could expect a similar charge, DoorDash spokesperson Campbell Matthews said the caps "could cause us to increase costs for customers, which could lead to fewer orders for local restaurants and fewer earning opportunities for Dashers."
Aurora's rules also go into effect one week after DoorDash launched a initial public offering garnering $3.4 billion, making it the second largest IPO so far this year, according to Renaissance Capital, which tracks IPOs. 
Aurora's rules also require third-party deliverers to include the delivery fee as a line item on a customer's receipt. The law also specifically bans companies from cutting into delivery drivers' tips to make up the difference from the 15% cap. 
The plan rules drew unanimous support from the city council — something of a rarity in Aurora — and Mayor Mike Coffman. The mayor has touted a "challenge" for Aurorans to tour the globe while quarantined by supporting Aurora cuisineries from around the world. 
"The fact that the ordinance received unanimous approval from council (members) and me speaks to its importance as another way to help our local businesses during the public health crisis," Coffman said in a statement. "To those who are able to purchase takeout or order delivery from a favorite local or independently owned restaurant in Aurora, I encourage you to do so."
— The Associated Press contributed to this story.