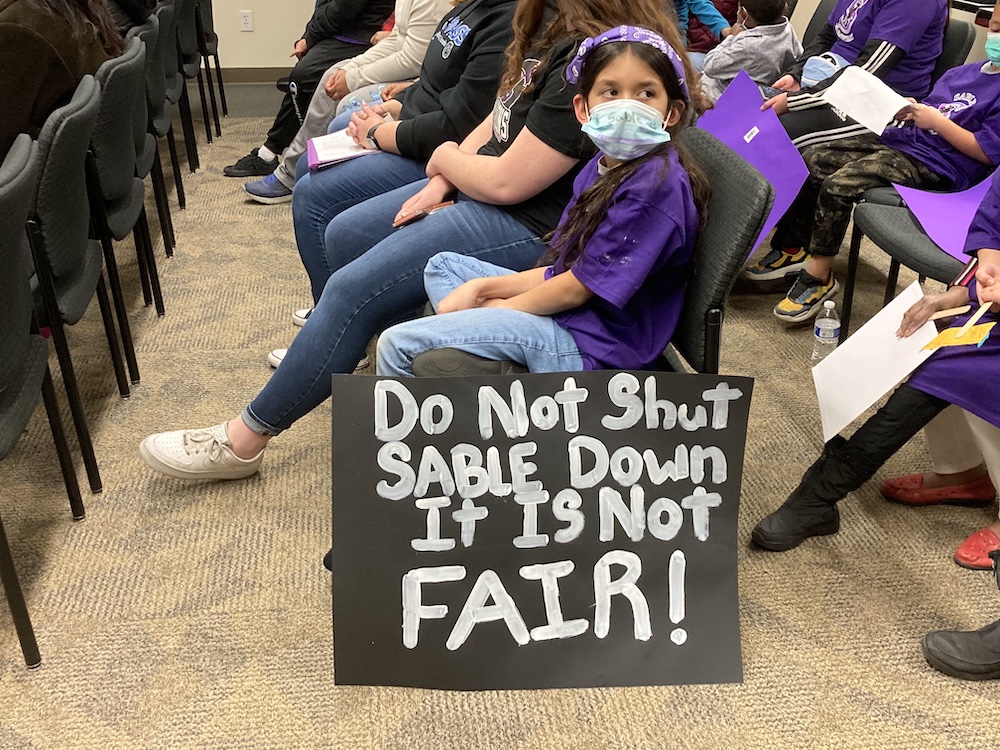 AURORA | Aurora Public Schools has announced plans to close Sable Elementary School as part of its Blueprint APS project, causing frustration among community members and families who say the decision came as a shock.
Blueprint APS is the district's multi-year plan for managing its school buildings in response to changing enrollment trends. As part of the plan, some schools with low enrollment will be closed and seven campuses will be turned into specialized magnet schools that students located anywhere in the district can apply to attend.
The plan has multiple phases and has been underway for several years. It divides the district into seven geographic regions, and in October the district said it would soon be making building recommendations for regions one and five. An initial document released in 2019 identified Crawford Elementary, Paris Elementary, Park Lane Elementary and North Middle School as region one schools that were under consideration for being closed or repurposed.
Last week however, the district announced that it would be recommending Paris and Sable Elementary for closures, taking Sable community members by surprise. At a school board meeting Tuesday night, dozens of Sable families and employees arrived to protest the change, wearing the school's purple colors and holding signs. 
The subject was not on the agenda for the meeting, but the board heard over an hour of public comment from parents, teachers and students who urged the district to reconsider.
Several teachers the Sentinel spoke to said they felt like the district had not been transparent when making the decision.
"The only way to describe it is that we were blindsided," said Leslie Burton, a Sable employee.
Parents of Sable students expressed frustration that the district would close a school their children loved.
"It's a good school," said Berenice Suastegui. "I don't know why they want to close it."
Suastegui has several children who currently attend Sable as well as a 6th grader who graduated last year. She said she's concerned about how they would adjust if moved to a different school.
Several speakers made note of the school's afterschool program in partnership with the city of Aurora and its newly created classroom for students with autism. Alex Majalca, a Sable paraprofessional who works in the new classroom, said the students have improved significantly since being placed in the new class and worries about their continued educational development if it goes away.
A letter from Superintendent Rico Munn to Sable families announcing the decision said that Sable would need significant building upgrades to continue to serve students, and that neighboring Altura and Park Lane elementaries have enough capacity to serve the surrounding area due to declining enrollment.
The decision will go before the board of education for a vote at its February meeting. If approved, Sable and Paris will close in June 2023, allowing current 4th and 5th grade students to complete their elementary education at those schools. Decisions about where younger current Sable students will be rezoned will take place after the February vote and be announced in the fall of 2022.
"Our current structure of operating low-enrollment buildings and underutilizing buildings does not allow APS to maximize its resources to serve students and families," Munn said in the letter. "Please know that these recommendations are extremely difficult to make. However, our priority remains on how to best serve our community while planning for the future."
Region one is where the district's health specialization is located. APS plans to build a magnet school focusing on health on the campus of North Middle School that includes space for a technical high school program. That will also go to a vote in February.
At the meeting, board president Debbie Gerkin thanked attendees for sharing their concerns.
"These are hard, emotional, gut-wrenching choices that are ahead of all of us," she said. Chants of "save Sable" broke out after she spoke.
Munn told the Sentinel that the initial list of schools under consideration should only have been considered a draft, and not a guarantee that certain buildings were safe from closure. 
"The language of it we thought made that clear, but we're certainly hearing from staff and families that that's not how they read it," he said.
Now that the district has recommended Sable for closure, it will start the process of determining how the building will be used in the future. He acknowledged that school closures are always difficult, but that they are necessary for APS' future.
"Any decision is going to be painful and it's going to cause impact to our families," he said. "Part of this recommendation when you look at the entire regional plan is, how do we minimize those impacts?"
The district will have a series of virtual information sessions in January to further discuss the planned closures.