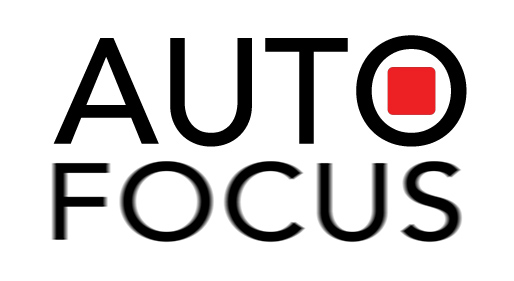 Aurora voters this November will decide whether to permanently green light the city's contentious photo-red-light program.
Following nearly a decade of knotty spats at the state Capitol and at city hall, the Aurora electorate will finally have a chance to weigh in on the 14 cameras in 10 intersections that snap photos and issue tickets to motorists who steal through intersections after the traffic signal has turned red.
Aurora has used photo-red-light cameras since 2009, when the city awarded a competitive contract to operate the devices to Xerox Solutions, which has since been renamed Conduent State and Local Solutions. Aurora City Council members have made an annual habit of extending the contract with Conduent for a year at a time, fearing any longer contracts could become embroiled in a legal morass should the state Legislature and governor's office collectively sign off on a state law banning the cameras.
Efforts to pass such a measure have become an annual affair under the gold dome. In the years since Aurora began its photo-red-light experiment, state lawmakers — including several from Aurora — have crafted about half-a-dozen bills aimed at clipping the wings of the disputed devices. All of the measures — which have ranged from outright bans to more porous proposals that only would have allowed the cameras near security-sensitive areas such as schools — have failed. Gov. John Hickenlooper vetoed a trio of bills intended to limit photo-red-light programs in the weeks following both the 2015 and 2016 legislative sessions.
Aurora city council members have nervously defended the city's photo-red-light program through lobbying and appeals to the governor's office, largely because the city has come to rely on the some $2.75 million in revenue the cameras rake in each year.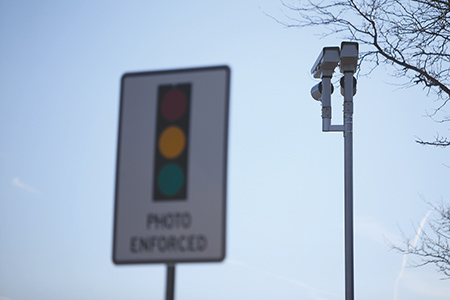 A photo-red-light violation in Aurora carries a fine of $75, although that sum can quickly swell with the addition of late fees and court costs. The total price of a photo-red-light citation cannot exceed $175, according to city code.
Aurora handed out 46,612 photo-red-light violations last year, according to city data, with the most productive intersection being the nexus of Peoria Street and the eastbound side of East Alameda Avenue. But the annual number is about 15,000 fewer violations than the total from 2013.
That sag in citations has resulted in decreased photo-red-light revenues for the city. The cameras have netted less money in each of the past five years, according to revenue reports. Red light cameras generated a total of about $2.4 million last year, with about $1 million going to Conduent; about $600,000 was used to cover city maintenance and staff salaries; and about $1.1 million went to various social programs, including NEXUS, victim services and teen court. The program brought in $3.2 million in 2014.
If voters decide to ban the photo-red-light program, that nearly $1.1 million of revenue used for local programs and non-profits will either disappear or have to find a new funding mechanism.
UP IN THE AIR
That was the biggest fear of putting the measure on the ballot for councilman Charlie Richardson, also the former city attorney for Aurora. He was the only council member who voted against sending the measure to Aurora voters.
"It was one of my frequent 10-to-Richardson votes," he said jokingly, adding that he believes it'd still be in the best interest of the council members to make the final decision on the program.
Earlier this year two council members — Marsha Berzins and now-mayor Bob LeGare — offered resolutions to take the issue to voters. The city council eventually approved one final question, but not before some tussle over whether asking voters was worth the possibility of losing the revenue.
The revenue breakdown in 2018 is as follows: $203,842 was adopted for problem solving courts; $214,571 was allocated to Aurora For Youth, which includes programs such as D.A.R.E.; $321,856  was allocated to Victim Assistance and Law Enforcement Training (called V.A.L.E.T. by the city) and more than $311,128 was allocated for various non-profit organizations in Aurora, including Comitis, Aurora Mental Health and Gateway Domestic Violence Services.
That money is held in a separate fund specifically for those causes. Ticket surcharges and fines typically make up approximately 50 percent of total revenue in the fund, according to the city.
Last fall, city council members agreed to increase the surcharge for each ticket from $29 to $50, marking the first increase since 2006. Council members reasoned the hefty bump was in tune with inflation.
Over the summer, after the ballot question was already approved, council members reworked the wording of the question to include information about where the money from the photo-red-light program is spent.
Richardson's charge for a more accurate ballot question came partially when he polled attendees of a ward meeting about their support of the program.
"I did a survey almost a year back saying how many support photo-red radar and there was about 30 people, one raised their hand," Richardson said. "I named off the agencies that are beneficiaries… and it pretty much flipped the same crowd."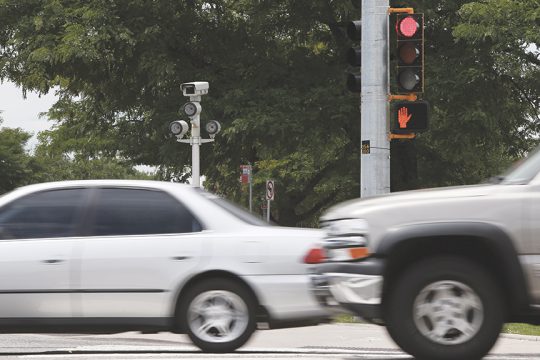 Outside of Aurora, various social organizations have repeatedly come out in support of, and in opposition to, the cameras.
The Colorado Cross-Disability Coalition, a Denver-based advocacy organization, has repeatedly rebuked the state Legislature's attempts to outlaw the cameras in Colorado.
Julie Reiskin, executive director of the CCDC, said she believes the cameras help correct the habits of erratic drivers that could otherwise strike a blind or wheelchair-bound person crossing the street.
"I think that distracted driving is a huge issue for pedestrians and particularly pedestrians with any kind of mobility disability," she said. "Hopefully the cameras will act as a deterrent."
Reiskin, who uses a wheelchair herself, said her group has not taken a formal stance on Aurora's ballot measure, but reiterated her support for photo-red-light programs. She said she believes Aurora's program has been successful.
"If they're handing out that many infractions at just 10 intersections, that to me says it's working," Reiskin said.
On the other side of the debate, Denise Maes, public policy director at the American Civil Liberties Union of Colorado, said the cameras are ineffective and serve only to pad municipal bank accounts under the guise of public safety.
"Boots on the ground, if you will — law enforcement, traffic officers, longer yellow lights — would also contribute to public safety in the same if not better way than what red light cameras do," she said. " … Municipalities should not be making money on law enforcement tools — that's not the point. Law enforcement tools are supposed to be directed at public safety — not to keep the city coffers full."
The ACLU of Colorado has repeatedly supported the some half-dozen attempts to reign in use of the cameras at the state Legislature in recent years, according to Maes. She said the local branch of the ACLU has not taken a formal position on Aurora's ballot proposal, but the organization will be keeping a close eye on the results.
"I'll be watching this election closely," Maes said. "It might give a good precedent for things to come."
PRYING EYES
Maes said the cameras are also wrought with potential privacy concerns.
"The photos that they pick up from the red light cameras — I don't know to what use they're put, how long they're kept, who has access to them, who can tell you where I've been, at what intersection and when — there's a lot of data to be mined in those photos that are very problematic," Maes said. "It's just big government keeping an eye on you at all times, which is just offensive."
Jake Laperruque, a lawyer with a Washington D.C.-based watchdog group concerned with government overreach and corruption, said red-light cameras are just one aspect of broad government surveillance. Facial recognition software and license plate scanners are also a source of unease.
"In general, the proliferation of government and police cameras is a big concern for privacy advocates," Laperruque said. "As automated technology … becomes more simple and easy, the risk of government having cameras all over the place becomes stronger."
Red-light cameras are bulky and box-shaped, and are usually accompanied by strobe lights. They aren't the white, motion sensor cylinders usually perched on street lights, which are used to time traffic lights.
Aurora police do utilize dome-shaped security cameras that Aurorans may have noticed around town, according to Dan Mark, a lieutenant with the Aurora Police Department's electronic support section. However, Mark said Aurora uses them differently from other agencies, including the Denver Police Department.
"Denver has an actively managed system where they have people who sit in front of cameras and move them around, but we do not have that," Mark said.
He said APD simply doesn't have the staff for such an operation. Instead, they check security camera footage only if a crime has taken place, and chuck the footage if it isn't pertinent to a criminal investigation.
Even so, Mark said Aurorans often confuse the cylinder traffic sensors, which pepper intersections like Havana Street and Mississippi Avenue, for surveillance cameras.
"I get calls from people quite a bit," he said. "Havana and Mississippi is a good example, because we don't have any cameras there."
The city does, however, have a team of staffers who specifically review photo-red-light violation images to ensure they're legitimate and later send tickets to culprits. The city has outlined various remedies for disputed photo-red-light claims.
Law enforcement officials in Aurora have vigorously defended use of the cameras, claiming studies suggest the devices reduce cataclysmic "T-bone" front to side crashes, but increase minor front to rear "fender benders."
"Yes, we are seeing an increase in lower-level rear end crashes, but the increase in rear end crashes isn't as dramatic in the decrease in T-bone crashes," Deputy Police Chief Paul O'Keefe said at a city council policy committee meeting regarding the cameras last year.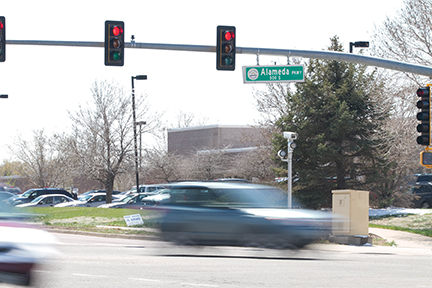 Crashes at photo-red-light intersections gradually ticked up from 2013 to 2016 before dipping last year. The total number of crashes at camera-enabled intersections in Aurora dropped from 115 in 2016 to 80 last year. The number of T-bone crashes slightly shrank from 2016 to 2017 — from 24 to 20 — while rear-end collisions diminished by more than a third — from 91 two years ago to 60 front to rear bumps in 2016.
Still, both types of crashes are up at photo red intersections when looking at the past five years, according to city data. Front to rear crashes were up 25 percent last year over what they were in 2013, and T-bone incidents increased 18 percent over the same period. Reported injuries in those accidents are up 188 percent, and complaints of injury rose from zero in 2013 and 2014 to 22 such complaints last year.
Aurora cops have hedged the increases by saying car crashes are up across the country.
Nationally, police-reported crashes have increased each year since 2011, according to the National Highway Traffic Safety Administration. In 2016, there were approximately 7.2 million police-reported crashes in the U.S., about 30 percent of which resulted in an injury, according to the NHTSA. The 2016 total, which is the latest available data, tallies about 1 million more crashes than in 2015. But the NHSTA changed its reporting technique two years ago, which could account for the leap.
Citywide, the total number of car crashes tracked up each year between 2010 and 2016, according to city data. The city bucked that trend for the first time in nearly a decade last year with a dip to 13,317 total crashes.