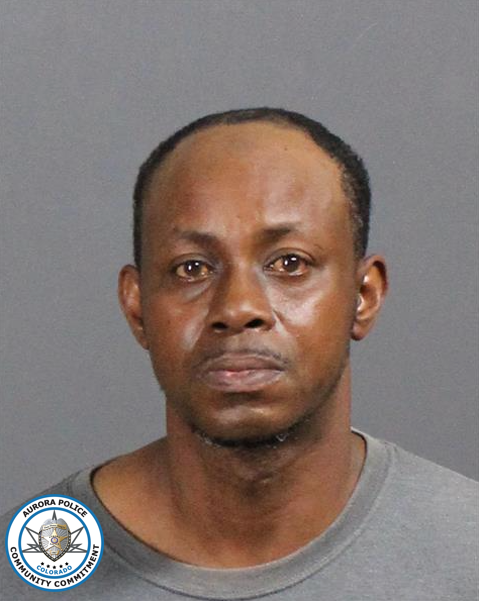 Editor's Note: The name of the victim injured in this shooting has been removed at his request.
AURORA | Police have arrested a 46-year-old Aurora man accused of attempting to murder a waiter at a local sports bar last month.
Investigators on Thursday announced the arrest of Charles Wrighton in connection with the shooting at Challengers Sports Bar and Grill on East Iliff Avenue the evening of Feb. 27.
Police in February said a conflict occurred at Challengers after an employee at the bar asked Wrighton to leave. Surveillance footage released in March showed a man dressed in a plaid shirt exit the bar and fire a gun in the parking lot.
Courts documents released Monday revealed that the conflict was precipitated by a dispute over payment. The 35-year-old male server who was shot told police that he asked a patron matching Wrighton's description to leave the bar because he thought the man was attempting to exit without paying. Wrighton had provided staffers with his credit card, though he ultimately paid for the transaction with cash.
Authorities said Wrighton and the waiter got into an argument near the entrance of the building, at which point the former called the latter the N-word. Officials said Wrighton then tried to offer the Challengers staffer an additional tip, "but (the server) declined due to the suspect being so rude," according to the affidavit.
The two men then exited the bar, at which point Wrighton produced a handgun and shot the server once in the right side of his body. The server then ran to a nearby 7-Eleven and called 911, and Wrighton fled the area in a silver sedan.
Police originally said a security guard at the bar was shot, though court records show the man was employed as a server. He survived his injuries.
Detectives identified Wrighton more than a month after the shooting after receiving anonymous tips when police posted images of the suspected shooter to their social media channels, according to the affidavit. A local pawn shop worker also tipped off police, telling authorities that he recognized Wrighton in the surveillance footage as a regular customer at his Chambers Road shop.
The employee later told investigators that Wrighton had come to his pawn shop several hours before the shooting wearing the same clothes that can be seen in the surveillance clip. He provided police with CCTV camera footage from his own shop to corroborate his claims.
Police have recommended charging Wrighton with attempted first-degree murder, assault and menacing, all of which are felonies.
He is currently being detained at the Arapahoe County Jail in lieu of posting a $100,000 bond, according to county records.
He's scheduled to appear next in district court at 1:30 p.m. on May 12.
The shooting in February came amid a spate of weekend gunfire in the city that resulted in five people sustaining injuries from gunshot wounds.