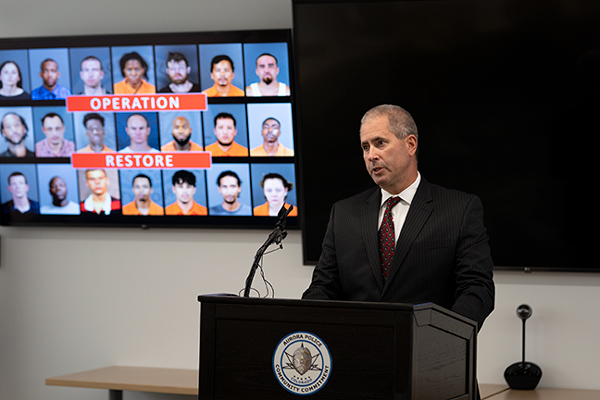 AURORA | A smattering of officials from across the strata of government on Wednesday announced the conclusion of a two-week sting operation that resulted in the arrest of more than 100 people tied to a bevy of violent crimes in Aurora.
Investigators with the Aurora Police Department, the U.S. Marhsals Service, the Drug Enforcement Administration and several other agencies arrested 104 people between July 26 and Aug. 6 in a probe dubbed "operation restore," according to information by Aurora Police. More than a dozen other people targeted in the inquest were apprehended shortly before or after the two-week span, bringing the total number of arrestees to 117.
Authorities began assembling the sting in April by thumbing through the most egregious and open felony warrants with Aurora ties, identifying people wanted on suspicion of crimes like murder, aggravated assault and sex assault on a child, according to Aurora Police Division Chief Terry Brown.
At least three of the investigations culminated in arrests out of state, including in Los Angeles and Chicago.
Police Chief Vanessa Wilson cited rising crime rates across the metroplex when explaining why the operation was initiated this summer.
"I think we've seen across the nation, startling headlines about the increase in violent crimes," she said. "And we knew something needed to be done."
Crime in Aurora was up about 30% in the first six months of 2021 when compared to the same time last year, according to Aurora police statistics. When stripping out burglary, larceny and car theft — the latter of which is up some 90% in the city year over year — violent crimes like assault, robbery and murder are up 22.3% through the end of June.
All told, a combination of some 70 police personnel and 40 U.S. Marshals nabbed two people wanted for murder, five people wanted for attempted murder, a dozen people wanted for aggravated robbery, another dozen wanted for felonies related to domestic violence and nine people wanted for sex crimes with underage victims, according to Brown.
"Hopefully the citizens of Aurora can sleep a little bit better knowing that these people are off the streets, especially our children," said U.S. Marshal David Weaver. "These perpetrators are out there causing great, great harm to them."
About a quarter of the arrests stemmed from drug charges, and half of the accused had previously been charged with crimes related to narcotics, according to DEA Assistant Special Agent in Charge David Olesky. At least one drug trafficker accused of pushing thousands of opioid pills laced with fentanyl into the international market was also taken into custody, Olesky said.
Officials also seized nine guns and three stolen cars.
On July 6, Aurora SWAT officers shot an injured one of the individuals identified in the roundup, a 35-year-old man wanted for attempted murder. He survived his gunshot wounds sustained at an East Colfax motel room.
Wilson said no other injuries were reported during the 10-day span the actual operation took place in late July and early August.
Brown said police initially identified 130 people targeted for arrest when the program began earlier this spring, and efforts to apprehend the remaining 13 suspects are ongoing. Several of the warrants had been active since last year, though the majority were issued in the past six months, data show.
District Attorney John Kellner, who is prosecuting the majority of the cases as most of the alleged crimes occurred in his jurisdiction of Aurora, said most of the accused have made initial court appearances to determine whether they will be afforded bond.
Kellner lauded the proactivity of the multi-faceted strike.
"You're hard-pressed these days to open up your newspaper or go to wherever it is you get your news online and not see another shooting, another violent incident in the city of Aurora or the Denver metro area," he said. "It's a daily occurrence."