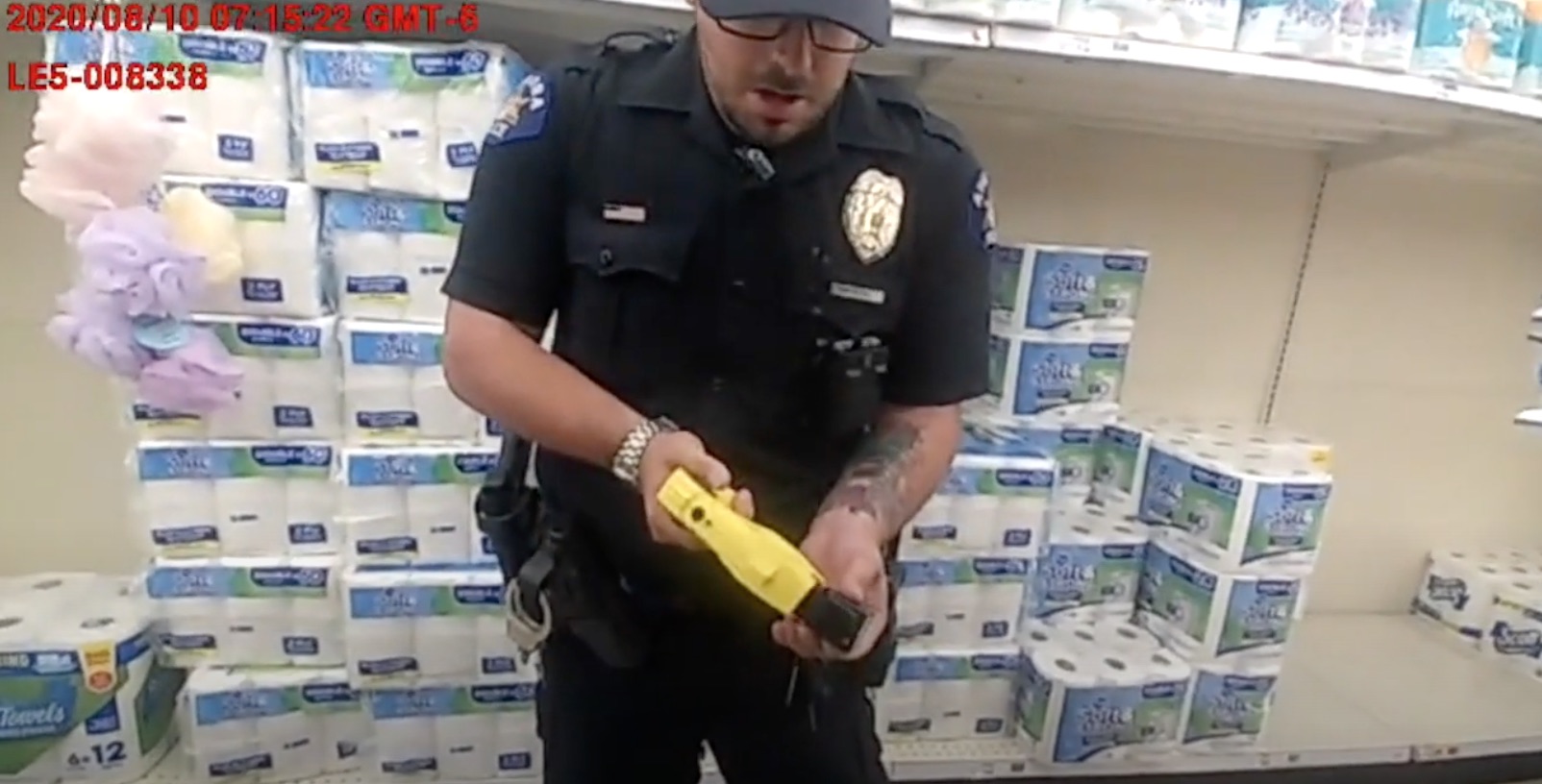 AURORA | Aurora Police Chief Vanessa Wilson on Thursday fired one of her officers for repeatedly punching and using a Taser on a man suspected of trespassing in a local grocery store last summer.
Wilson fired Officer Robert Rosen for how he handled the arrest of a man inside a King Soopers store at 6412 S. Parker Rd. shortly after 7 a.m. on Aug. 10, 2020, according to a news release.
Aurora Police Department Spokesperson Lt. Chris Amsler said Rosen repeatedly punched the unnamed arrestee in the ribs and deployed his Taser on his lower extremities five times for a total of 27 seconds in a two-minute window.
Rosen was the second officer to arrive at the scene, according to body-worn camera footage of the encounter. The first officer who interacted with the man subdued him in aisle 14 of the store and ordered him to lay prone with his hands under his torso.
The man, who was wearing a backpack emblazoned with unicorns and rainbows, complied.
However, Rosen promptly ordered the man to surrender his hands behind his back, and repeatedly punched him in the ribs when he refused to listen to his commands.
"During the arrest Officer Rosen never attempted any lesser means of force nor did he make any attempts to deescalate the situation in accordance with Aurora Police training," Amsler wrote in a news release.
Rosen did not activate his body-worn camera at any point during his encounter with the man, Amsler said. The footage police provided was from the first officer who arrived on scene.
An internal panel found Rosen violated a slew of department rules related to activating his body-worn camera, use of force and operating his Taser, according to the department.
"Members of the Aurora Police Department have been working tirelessly to rebuild trust in our community and I want to thank those officers who do it right every day," Wilson said in a statement. "The actions of Mr. Rosen were in direct contradiction of those efforts. The poor decisions he made that day do not meet the high standards that the community and I expect from my officers."
The 18th Judicial District Attorney's Office reviewed Rosen's actions, but declined to pursue any criminal charges, according to Amsler.
The city's police force hired Rosen in 2017. He was docked 10 hours earlier last year for violating a department rule related to "lawful orders," according to Amsler.
If he wishes to contest Wilson's decision, Rosen must file an appeal with the city's Civil Service Commission in the next 10 days.
Rosen's firing comes just two days after the city's civil service commission agreed to uphold Wilson's decision to fire three other former officers implicated in a photo scandal mocking the death of Elijah McClain.
To mend ties with local residents, Wilson in October launched a new initiative intended to rejigger how local police interact with Aurora residents. City Manager Jim Twombly, too, has orchestrated and complied with multiple internal and external investigations into how the department conducts business.