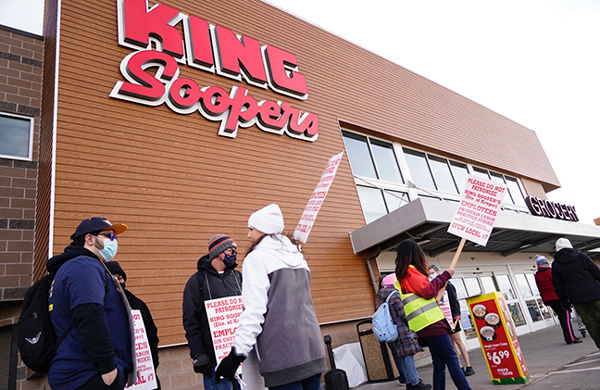 AURORA | Workers at Aurora's 10 King Soopers stores joined thousands of union members across the Denver metroplex Wednesday in a strike against what the union says are unfair labor practices.
The strike began at 5 a.m. on Wednesday at more than 60 stores in the Denver metro area. Outside the King Soopers on S. Peoria St. in Aurora, union members picketed in front of the store with signs asking passerbys not to patronize King Soopers during the strike.
"We as workers, we're not asking for anything crazy," King Soopers clerk Andres Becerril told the Sentinel on Tuesday. "I'm hoping we get a contract that ends up making this place a place worth working at."
King Soopers and City Market are both owned by Kroger Co., the nation's largest traditional grocery store chain.
Members of the United Food and Commercial Workers Local 7 allege unfair labor practices by King Soopers. King Soopers has accused the union of the same thing.
On Tuesday, the union rejected a contract offer that included $170 million for wage increases and health care benefits and bonuses ranging from $2,000 to $4,000 for ratifying the contract, The Denver Post reported.
"Our original offer on the table was $148 million in wage increases. We raised that to $170 million this morning, which is the largest wage increase in the history of King Soopers and City Market," Joe Kelley, president of King Soopers and City Market said Tuesday.
Union President Kim Cordova said King Soopers has not provided information it needs on items including wages, pensions and health care to evaluate the proposal. It also included unacceptable provisions, including restricting workers' ability to work overtime, she said.
A survey of 10,287 Kroger employees in Colorado, California and Washington published by Economic Roundtable this week found that nearly two-thirds of employees reported not making enough to pay for basic expenses, with 44% of that group saying they are unable to pay rent and 39% saying they can't afford groceries.
More than a third of all employees say they fear eviction. The survey also found that about 14% of the employees surveyed were homeless at the time of responding or had been homeless in the previous year. For 86% of workers, Kroger was said to be their sole employer.
And seniority affords little security, with 8-9% of respondents who had worked for the company for more than five years reporting they had been homeless at some point in the past year.
Becerril is a front end supervisor at the King Soopers on Mississippi Ave. in Aurora. He's worked for the company for over 12 years at stores across the Denver metro area.
He came to the Aurora store from a Denver location in March of 2020, hoping it might be a bit less hectic. Two weeks later, the pandemic arrived in full force and grocery stores became some of the only places people could gather.
"It went from being a semi slow store to making money hand over fist," he said.
Grocery store employees were dubbed essential frontline workers, and hailed as heroes by their employers and a grateful public. Becerril received "hero pay" for about six weeks during the start of the pandemic, which he said was the only time in the past two years he's felt like he's had a liveable wage.
But as time went on, he said it felt like the company began to take health measures less and less seriously. One of his biggest concerns right now is how short-staffed the store is. Workers aren't able to take time away from their other tasks to clean when the maintenance person is gone, which could lead to unsanitary and potentially dangerous conditions.
"Most of the things we're asking for in terms of safety are all preventative," he said.
In March 2021, a gunman entered a Boulder King Soopers and killed 10 people, including three employees and a maintenance worker. Afterwards, Becerril's store removed 15-second timers from emergency exits and put signs in the bathrooms pointing to the exits. He appreciated the changes, but said he was frustrated the company didn't have more measures in place beforehand.
"People either have to get hurt or die for policies to get changed, and they're usually policies that we asked to get changed," he said.
According to UFCW Local 7, over 95% of its members voted in favor of the strike. Becerril is proud that the union is taking a stand.
"Hopefully this is something that can change the way people are treated in the workplace," he said. 
On social media, state representative Iman Jodeh, D-Aurora, shared her support for the strike and asked people not to cross the picket line.
Grocery store employees "are one of the groups of people that have really felt the effects of COVID in a different way than the rest of us," Jodeh told the Sentinel.
A woman listed as the media contact for King Soopers on the Kroger website did not return phone messages left Tuesday and Wednesday. In a statement released Wednesday, the company called the union's decision to strike "reckless and self-serving."
"Local 7 is putting politics before people and preventing us from putting more money in our associates' pockets," said Joe Kelley, president of King Soopers and City Market, in the statement. "Creating more disruption for our associates, their families and Coloradans rather than negotiating for a peaceful resolution is irresponsible and undemocratic."
The strike is currently scheduled to last three weeks, with employees at Colorado Springs locations joining in later in the month. Kroger has said King Soopers and City Market stores will remain open throughout.
The affected King Soopers locations in Aurora are:
15250 E Mississippi Ave

655 Peoria St

19711 E Smoky Hill Rd

17000 E Iliff Ave

15109 E Colfax Ave

4271 S Buckley Rd

6412 S Parker Rd

18221 East Hampden Ave

3050S Peoria St

1155 S Havana St
The Associated Press contributed to this report