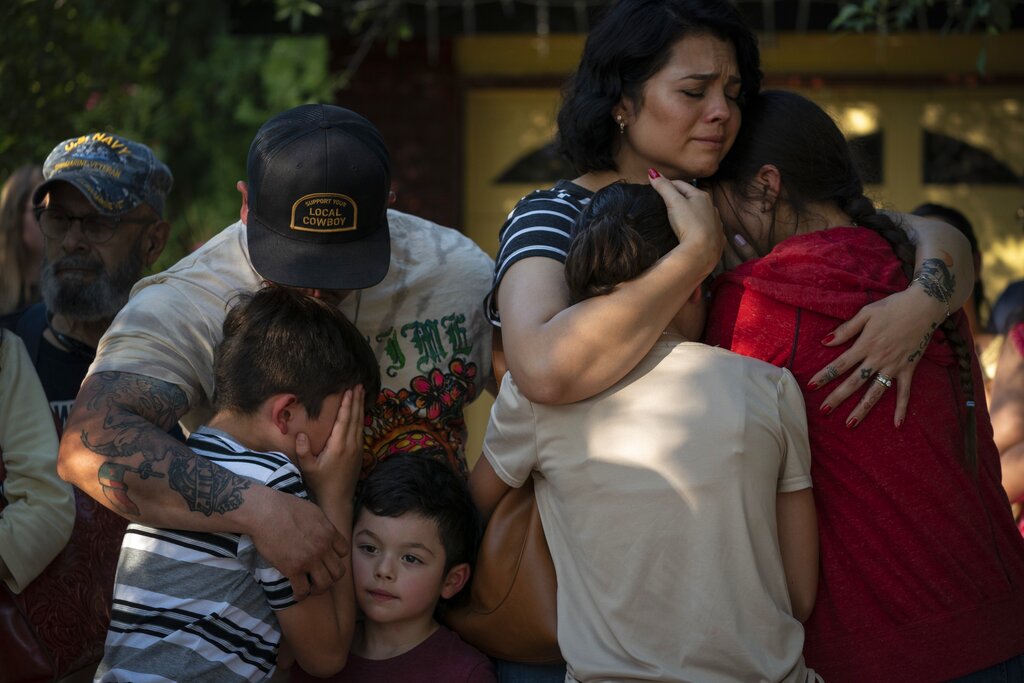 "It takes a monster to kill children. But to watch monsters kill children again and again and do nothing isn't just insanity — it's inhumanity. The truth is, one nation under guns."
Over the past few weeks, those words from poet and activist Amanda Gorman have been on my mind as our nation has once again been devastated by tragic, repeated outbursts of mass gun violence. 10 people died at the hands of a white supremacist gunman in a supermarket in Buffalo, New York. 21 people – including 19 children – were murdered in Uvalde, Texas. Days later, four people were murdered in Tulsa, Oklahoma. All together, the U.S. has suffered at least 246 mass shootings in 2022 alone.
Those communities join an ever-growing list, alongside now-familiar names – Boulder, Columbine, Sandy Hook, Las Vegas, Parkland, and our own community here in Aurora – that have been shattered by such senseless, and preventable, tragedy.
Attention-grabbing, mass shootings like these are horrifically common, each one adding a fresh layer of horror that families across the country feel every day due to gun violence, breaking communities apart and leaving devastation in their wake. 
I know firsthand the pain of losing a loved one to gun violence. In 2005, my son, Javad, and his fiancée, Vivian Wolfe, were murdered. Right here in Aurora, my beloved son was shot and killed – a tragic memory that has left a mark on my family forever. There are no words to explain the pain and grief I still feel every day, a pain I share with far too many. But somehow, I kept going and turned my pain into purpose – my son's death is the reason why I ran for office and it's the reason why I am calling for an end to this senseless violence today.
In 2020, 45,222 people died from gun-related injuries in the U.S., according to the CDC. That's more than 100 of our friends and neighbors, our parents, our siblings, and even our children who are shot and killed every single day, casualties of our nation's obsession with guns.
And yet, shamefully, we as a society haven't found it within ourselves to loudly proclaim that enough is enough and put an end to this senseless violence once and for all. 
We've taken steps here in Colorado to address the problem where we can. After 10 people were killed in the King Soopers mass shooting in Boulder, we passed six gun violence prevention bills, making 2021 one of the most productive gun reform sessions in Colorado legislative history.
Those bills strengthened our background check system, further restricted those with violent records from accessing any firearms, mandated safe storage requirements, and removed the statewide preemption so that local governments could pass their own gun violence prevention ordinances. 
Thanks to that work, Colorado communities have recently passed measures to ban the sale and possession of assault-style weapons, raise the minimum age for firearm possession to 21, and  limit ammunition magazine sizes – measures that  have been proven time and time again to  prevent gun violence.
We also established the Office of Gun Violence Prevention, which treats gun violence in communities as the public health issue that it is, and in 2019, we passed a 'Red Flag' law, which enables a family or household member or a law enforcement officer to petition the court for a temporary extreme risk protection order if a person poses a significant risk to themselves or others by possessing a firearm.
Those efforts have proven successful, and I am hopeful that more is to come. Yet the bloodshed continues, here and across the country, and a patchwork of state laws can only do so much to address the problem. How much more violence are we willing to accept? How many more kids have to die before we take widespread action and put an end to these tragedies?
It remains far too easy for individuals in this country to obtain weapons that can kill so many in such a short amount of time. There is no place for assault-style weapons on our streets or in our neighborhoods, and it will take federal action to truly address this crisis once and for all.
The time to act is now. Doing nothing in the face of such utter tragedy is nothing less than an unacceptable act of cowardice. The United States is the only country in the world where this happens regularly. Allowing children to be murdered in their schools is a policy choice. Allowing our neighbors to be murdered at the grocery store is a policy choice. 
It's time to stand up to the gun lobby, and to Republicans in Congress, who are holding this country hostage and demand action on gun violence prevention.
Congress must take the reins and enact real, meaningful gun safety legislation that will improve public safety and save lives. Raising the age to buy semiautomatic weapons, like the ones used in Uvalde and Buffalo, is only the first step. We must go further. We must expand background checks to keep guns out of the hands of those who pose a threat to society. We must improve our safe storage laws, so that folks who do legally own guns can do so safely and securely. We must reinstate the federal assault weapons ban, which was successful in reducing instances of gun violence in our communities before it expired.
There are any number of ways we can act to create the safer communities we deserve – the only thing we cannot do is nothing.
I am pleased to see that a bipartisan group of U.S. Senators has reached a deal to start addressing gun violence and safety. It's an improvement that will save lives and keep guns out of the hands of those who want to harm others. I am hopeful this framework passes, and that it represents the beginning, not the end, of Congress' efforts to reduce the staggering amount of gun violence in our country.
Gun violence in America will never end completely. But this is the moment – we cannot let this opportunity go by without making real change to improve public safety – because thoughts and prayers will never stop this endless cycle of pain and suffering across our country. By taking a few commonsense steps, we can save countless lives and keep more families and communities together. 
My son's life mattered. All of our kids' lives matter – we can show this country that we value our children's lives more than guns. Let's prove it. 
State Sen. Rhonda Fields is an Aurora Democrat, representing Colorado Senate District 29.