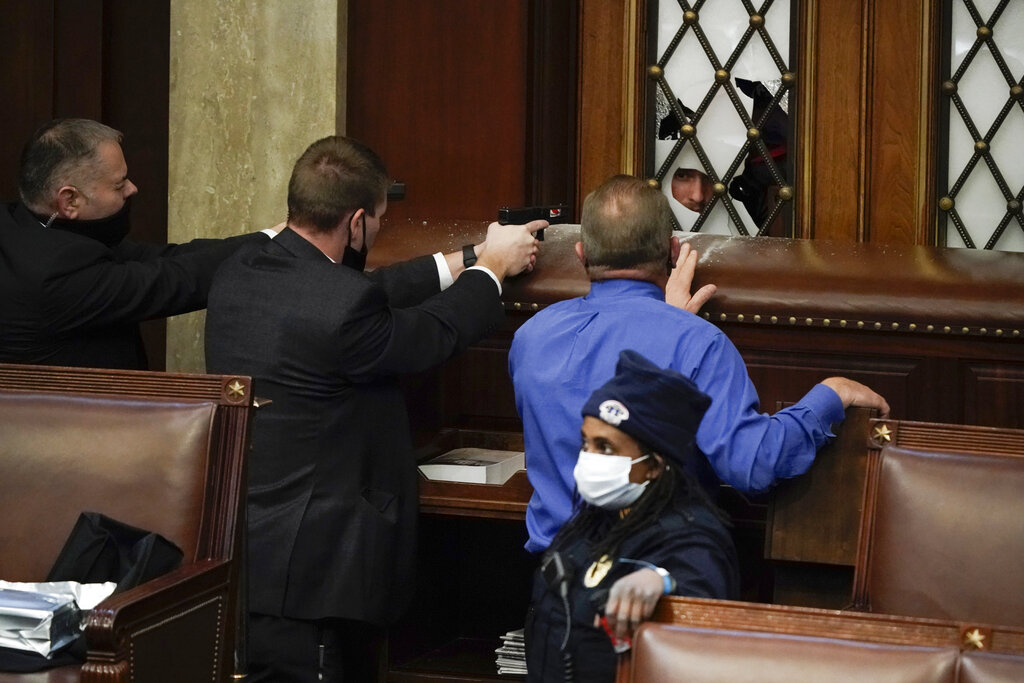 In trying to read the tea leaves swirling in the 2022 smoldering cesspool of American politics, one year after our own citizens attacked the U.S. Capitol, we keep overlooking the same problem: The Jan. 6 insurrection was a symptom of our malaise, not the cause.
Even before Donald Trump set aside his lurid personal life for that cornball ride down an escalator in New York, the generations-long conservative-vs-liberal policy war had taken on a new and garish direction. It was about the time the Republican Tea Party marched their soldiers into the Capitol about 2010.
It's when rabid flag wavers began calling themselves "patriots" in earnest. Most were thinly veiled bigots of one flavor or another. Many were outright and vocal racists.
The naked racist attacks on Obama and his family, especially the birtherism bandits, were the hallmark of a tribe that just became increasingly cruel and brazen, paving the way for Donald Trump. 
These people were loud about "others," which especially included people not born in the United States, or, worse in their eyes, born here to immigrants who were undocumented.
There never seemed to be any kind of hard and fast platform from the caucus. Anything that served the purpose of elevating stuff like gun rights, Christianity, prayer in schools, ending abortion, slicing taxes, boosting the military or packing up immigrants and shipping them anywhere but here, was good stuff.
At first laughed at and dismissed for their cruel, vulgar propaganda, it eventually became their stock in trade.
Trump used it to leverage motivated Republican voters and snag the 2016 GOP nomination, much to the chagrin of millions of distracted conservatives.
The movement elevated a herd of stellar humans, besides Gingrich, such as Minnesota Congressperson Michele Bachmann, Colorado's own Tom Tancredo, Texas Sen. Ted Cruz, Kentucky Sen. Rand Paul, Sarah Palin and Glenn Beck.
Whether their flagrant populism and "'murica-ism" ever did anyone any good was lost in their increasingly shrill racist taunts against former President Barack Obama, fueled by the explosion of social media.
Trump didn't bring the Tea Party mentality to government. He galvanized it with his own brand of mental illness, corruption and deceit. Trump used the power, the prestige and the credibility of the office of U.S. president to normalize the very autocracy and fascism Americans abandoned Britain for and have since fought against around the world.
Drained by years of senseless and corrupt banter by people like Rush Limbaugh, Tucker Carlson and Glenn Beck, most Americans just started tuning out of politics.
Most of us rarely, if ever, read anything of depth or consequence. Newspapers, just like this one, beg for people to pay attention and pay for the news. Even the last bastion of shallow insight, TV news, has become something fewer and fewer people pay any heed.
We get our news from Facebook posts, Youtube video commercials and maybe a trickle of something from Yahoo.
For one day, however, that shifted. On Jan. 6, 2021, Donald Trump, foaming at the mouth with lies about being cheated out of a second term in the White House, drew his rabid mob to Washington.
Every radio and every TV station forced us to watch in revulsion as Trump worked up the mob with outlandish lies and notions, and then told them to march to the Capitol and take care of business. He publicly told Vice President Mike Pence to execute a coup against the U.S. government.
The entire world watched as Trump instructed his army of misfits to install him as America's first dictator.
Had his MAGA freak show just wandered back home, it would have been an unnerving event, warranting a barrage of ways for Congress to prevent such a thing from ever happening again.
Instead, as every single one of us watched, while it unfolded, the crowd became a rioting mob and seized on the Capitol.
To this day, Trump and his corrupted and delusional followers try and tell hundreds of millions of Americans that what they saw for themselves, often filmed and photographed by the perpetrators, wasn't a violent, murderous attack on the very seat of our democracy, intent on upending the valid votes of millions demanding Trump and his cronies vacate the premises.
Everyone witnessed the treasonous violence and arrogance that nearly ended America's gold-standard of democracy: the peaceful transfer of power.
The entire nation watched a majority of Congress and Vice President Pence fight and ultimately win the battle over insurrectionists determined to bring dictatorship to America.
You didn't dream or misunderstand a damn thing. America was invaded by a horde of its own citizens but won the war against them and their own failed commander, Donald Trump.
It was nothing less than what you saw, what we all saw.
Don't let people like Colorado Congressman Ken Buck snidely persuade you that the insurrectionists were just "knuckleheads" who got a little carried away. Don't let people like Colorado Congresswoman Lauren Boebert persuade you that she doesn't perpetuate Tea Party racism and hatred by fanning her flaming "patriot" fanhood of "we the people," with endless diatribe about Muslim members of Congress being part of a "Jihad Squad," or that the presidency was swiped from Trump by election fraud, which never happened.
Don't let everything millions of Americans have worked for, suffered for and even died for fall away for something so preventable as the societal disease embodied by Donald Trump and his posse.
We are so much more than this insurrection and the minority of people who tried to pull it off and are working to try again.
You saw what happened when you weren't paying close enough attention. Rest assured Trump and his gang will attempt to finish the job if you turn away now.
Follow @EditorDavePerry on Twitter and Facebook or reach him at 303-750-7555 or [email protected]