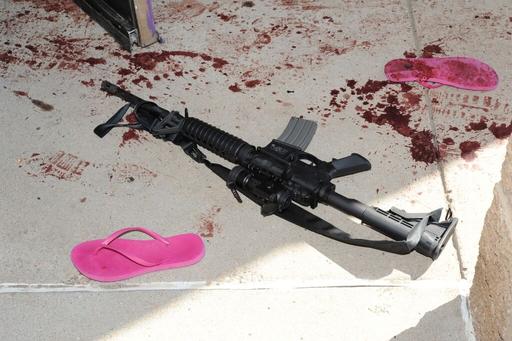 It seems that this brave new world is less than courageous when it comes to constraining no-limits gun zealots.
Again.
After a school-room filled with children were shot dead in Uvalde, Texas, and, more recently and closer to home, Club Q in Colorado Springs became the site of a gun massacre, the talk about gun control got tough.
Just like before.
Aurora, like the growing list of communities where gun massacres change everything, knows what this is about.
Even before the Aurora theater shooting, the horrific massacre at Columbine High School launched an effort to finally discard the revisionist history of Second Amendment extremists and enact meaningful, national gun control.
The passions were palpable and pervasive in the months after Columbine. I remember sitting in a Sentinel Editorial Board meeting with then-GOP Congressman Tom Tancredo as he explained his rationale — as a far-right conservative — for supporting serious gun control measures.
Of course tough talk inevitably led to all talk and no legislation.
Year after year, shooting after shooting, members of Congress or the Colorado Legislature, promised that "this time," after this shooting, after these senseless deaths, we would finally do something about the limitless profusion of guns.
The numbers don't lie.
Every day, an average of 321 Americans are shot. Among those, research compiled by Brady United reveals that:
111 people are killed;
95 are intentionally shot and injured;
42 are murdered.
Every day.
The vast majority of Americans have continued to agree that meaningful gun control is needed to stem bloody gun massacres and daily injuries and deaths.
They still do. Poll after poll, year after year reveals a nation that sees the wisdom in reining in ubiquitous guns, including "so called" assault rifles.
And, inevitably, the millions of dollars of cash raised by the gun lobby, to be wielded by lobbyists against anyone who dares to press for real gun reform, has quelled each and every attempt, including here in Colorado.
Even after Columbine, the Aurora theater shooting, the shooting at Arapahoe High school and a Boulder grocery store, guns win.
And this time, just months after the Club Q massacre in Colorado Springs, guns win as the Legislature now backs down from its own fleeting promises.
Again.
While lawmakers like Democratic Rep. Andrew Boesenecker said this is finally the time to ban assault rifles, the expected push back from gun lobbies changed all that.
Just like before.
This week, the promise of getting rid of the gun of choice for mass shooters and GOP Congressmembers Lauren Boebert and Ken Buck ended.
Data shows that these deadly military rifles carry a special allure for people who end up using them to shoot other people, rather than delinquent raccoons, which is what Buck insists rural residents use them for.
Instead of finally banning assault rifles, a proposed bill will now seek to ban only the sale of these deadly weapons.
But possession of such firearms in the state would still be allowed. 
"We know that when we create space between the motive to do something horrific and the ready availability of a firearm with which to do that we save lives," Boesenecker told the Colorado Sun this week.
Still, he caved to the Colorado gun nuts who've scared away support for the bill by fellow lawmakers.
Instead, Boesenecker's bill would allow anyone to go get their assault rifle in neighboring states and bring them back to Colorado, or just keep the ones they already have.
This is nothing more than an economic development plan for Wyoming. Banning sales and not ownership is like sending a get-well card to someone bleeding to death.
Another year of brave talk and little more.
So, no, folks. The grisly violence we live with because of our obsession with guns, and our delusion over the fictionalization of the Second Amendment, continues.
Maybe next time.
Follow @EditorDavePerry on Mastadon, Twitter and Facebook or reach him at 303-750-7555 or [email protected]