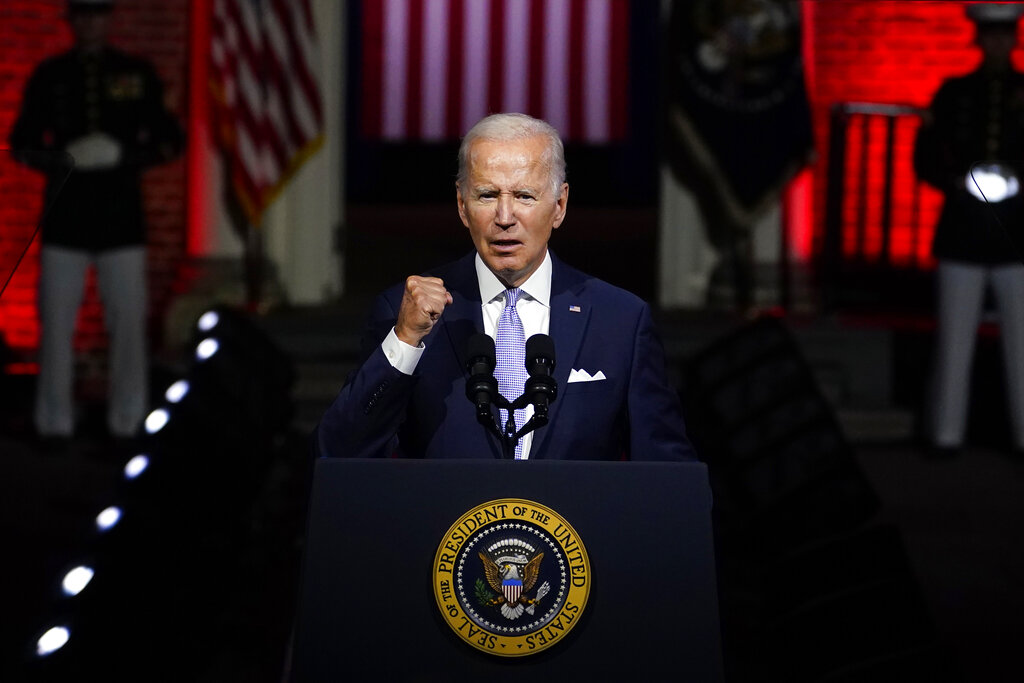 Spare us the pearl-clutching by Republican extremists over President Joe Biden's divisive observations that Trump's MAGA cultists threaten the nation.
In an unusually terse and critical prime-time speech Thursday, Biden outright accused the unabashed devotees of Trump of trying to undermine the nation and the tenants of the democracy it's built on.
Biden has continued attacking Trump extremists as anti-democratic insurgents and existential threat to the nation.
Despite the Trumpists' howls of, "well, I never!" it's hardly a novel idea or accusation.
Biden did little more than repeat, more loudly, the exact accusations that Republican icon Rep. Liz Cheney has been making for months.
"Equality and democracy are under assault" in the U.S., Biden charged, casting Trump and his backers in the GOP as a menace to the nation's system of government, its standing abroad and its citizens' way of life, the AP wrote Thursday night.
Trumpy MAGA-loids "promote authoritarian leaders, and they fan the flames of political violence," he said. They "are determined to take this country backwards."
Backward? This is a wholesale shove into the depths of Word War II Italy.
Last week, Biden launched the f-bomb into the camp of seething Trump cultists, coyly calling them "fascist," by saying they are "semi-fascist."
At what point does the very of definition of fascism by dictionaries, every expert and Trump himself not sink in here: "An authoritarian and nationalistic right-wing system of government and social organization"?
All of this is only controversial because the media, while willing to label people who commit overtly racist acts and make racist statements as "racists," fear tabbing those who commit overtly fascist acts and make undeniably fascist proclamations as "fascists."
We, the media, are to blame for "both-siding" a regime we would never allow to go unchecked in our stories if they were from outside the United States. This isn't fair, accurate or accountable journalism; it's a hot mess and tacit complicity.
If you believe the unhinged, autocratic and absolutely untrue load of crap that Trump uses to cover his trail of crime, lies and corruption, you might have a problem.
All Biden, and thousands of others are trying desperately to point out, including courageous Republicans, is that if you find yourself philosophically connecting with people like GOP congresspersons Lauren Boebert and Marjorie Taylor Green, you not only have a problem, you are the problem.
Trump gathered his MAGA forces to storm the U.S. Capitol with the explicit hope of undermining the United States Presidential Election that he lost and have himself installed as "president" by force or by undermining the constitutional election process.
If that sounds pretty dictator-ish to you, it does the rest of the world, and cogent Americans, too. That would include Cheney and a handful of elected Republicans destroyed by their own, who saw their brave honesty dangerous.
Well of course seething, shrill and unhinged people like Colorado self-proclaimed "ULTRA-MAGA" Lauren Boebert is a Trumpy fascist. She unapologetically continues to insist that Trump is the nation's president, with Biden having "stolen" the 2020 election.
She unabashedly insists that the United States should behave like the theocracy she says it is.
"I'm tired of this separation of church and state junk that's not in the Constitution,"Boebert said at a public event in June. "It was in a stinking letter, and it means nothing like what they say it does."
Trump's militia and allies tried to overthrow the U.S. government, and his dwindling but increasingly desperate adjutants, like Boebert, and the equally shrill and indicted southwest Colorado county clerk Tina Peters, are not your father's Republicans, folks.
They are unapologetic fascists who don't like being called out, and Biden, Cheney and all the other adults in the room are absolutely right. They're dangerous.
They're also not representative of most Republicans in Colorado or anywhere else.  They're certainly not representative of the vast majority of Americans.
A July New York Times/Siena College Poll — taken before Trump's classified document theft and obstruction scandal — reveal what's behind the noisy fascists trying to overthrow the GOP and the nation:
– Only 28% of Americans currently identify as Republicans
– Of those, half, as of July, do not support Trump
– 16% of Republicans would vote for Biden again.
It's up to American voters to make sure none of these extremists hold positions of power in the Senate, the House, state capitols or even local school boards.
It's up to Republicans to drag these extremists off the political stage, reinsert democratic conservatives as party leaders and bring them back to the ranks.
Follow @EditorDavePerry on Twitter and Facebook or reach him at 303-750-7555 or [email protected]