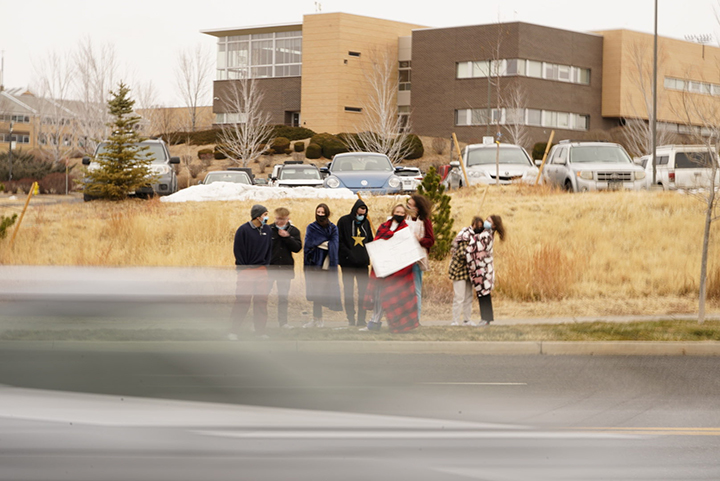 If you're wondering how a nation like our ever got to the point that educated people believe in highly uneducated things, you can look to Aurora's Regis Jesuit High School to help understand how we got here.
The private high school in southeast Aurora came under fire last week from inside and out after they retracted an entire student-produced magazine and fired two journalism teachers that administrators saw as somehow responsible for publication of a student-authored essay about abortion rights.
Regis is a Jesuit high school, and it's been an educational icon in the region for more than a century.
If you're like a lot of people, you're probably peeling off a loud, "well, no duh," when hearing about a Catholic private school slamming the book on students espousing the need and wisdom of respecting a woman's right to choose an abortion.
The Catholic Church has never been shy in its staunch insistence that humans are beings from the moment of conception and shalt not be aborted under any circumstances.
But Regis Jesuit is not a Catholic Church. It's not just another Catholic school, either.
It's a Jesuit school, inspired by Spaniard Ignatius of Loyola almost 500 years ago. Creating The Society of Jesus, generations have polished the image of the society of priests and followers who are devout scholars and proponents of philanthropy.
While many church-run schools, including Catholic parochial schools, have suffered from reputations of the church prejudicing academics, Jesuit schools have long touted their independent devotion to scholarship. The well-served philosophy is, do the research, weigh the data, think critically, discuss openly and form a conclusion. Those are the tenets of modern education and science. 
It's a big reason why a Catholic school can command better than $20,000 a year in tuition for a high-school education.
Regis has taken the Jesuit mission as far as it can, marketing their pursuit as the cure for what ails the planet these days: polarizing disengagement.
"Recognizing that divisive rhetoric permeates nearly every interaction around the social and cultural issues of the day, we engage our community of students, teachers and families in dialogue about how to move the conversation away from an 'either/or' mentality to developing a productive, nuanced understanding of our complex and increasingly interconnected world," Regis Jesuit brags on its website.
It clearly does not practice what it preaches.
In December, the student journalism department published its quarterly literary and news magazine, Elevate. It's a glossy, well-done endeavor, filled with stories about the same kind of things that make headlines across the nation. In the back, students opine about the issues of the day.
In the Winter 2021 issue, one student took on the perennial controversy of abortion rights and wrongs. The author hit the usual high points: the science of human biology, the misogyny, reality and the law.
It probably would have gone relatively unnoticed had a letter from the school not suddenly appeared in the email box of parents a few days later, apologizing for the essay and announcing that the entire edition was being retracted, even though it had already been distributed.
If that sounds like a serious overreaction by a scholarly clan that prides itself on promoting "dialogue about how to move the conversation away from an 'either/or' mentality to developing a productive, nuanced understanding of our complex and increasingly interconnected world," the overreaction got much worse.
Not only did the school — under the approving nod and prod of the local archdiocese — censor the essay, it fired two journalism teachers who were on the clock when the essay was published. That happened even though the published school guidelines insist staff remain hands-off student opinions.
In an appeal to parents, school officials apologized for what they saw as a failure — not to seize the opportunity to have a scholarly debate about abortion rights, but for failing to ensure students would never feel the need to express an opinion so contrary to that of Catholic dogma. 
No one there bothered to think through the shrill hypocrisy of an institution that freely wields the same Constitutional amendment that guarantees nearly carte blanc for just about anything calling itself a religion, and in the same clause guarantees a free press and speech.
The school immediately opened itself to the flood of criticism about where the school draws the line between such dogma and the truth. Not so long ago, Darwinism, The Big Bang Theory and the very biology of life were influenced by Church officials, a practice the Jesuit Schools forbid and capitalized on.
For a very long time, Jesuits have prided themselves, rightfully, on discussing the awkward and the uncomfortable in a grail to reveal the truth about our world, no matter how inconvenient that might be, or to whom.
The clear message sent by a long-standing program that seeks to bring civil dialogue to a world fractured from disinformation and propaganda about global warming, immigration, vaccines, fraudulent voter fraud, guns, racism and, right now, abortion, is that some people's opinions are just more equal than others.
It eats at the school's credibility by begging the question just what do they teach in biology classes? Science, or sanctioned science?
Silencing open discussion is what leads people in enlightened nations to believe vaccines can make magnets out of their foreheads to stick metal spoons to.  
Regis Jesuit officials aren't alone in abandoning the sacred principles of seeking the truth and having an honest and open discussion about it, they're just the latest institution to resort to such intolerance.
It further erodes a world filled with nuance, exchanging it for a place where people shun people they disagree with rather than debate them in an effort to further the cause of understanding, and more importantly, the truth. 
Follow @EditorDavePerry on Twitter and Facebook or reach him at 303-750-7555 or [email protected]