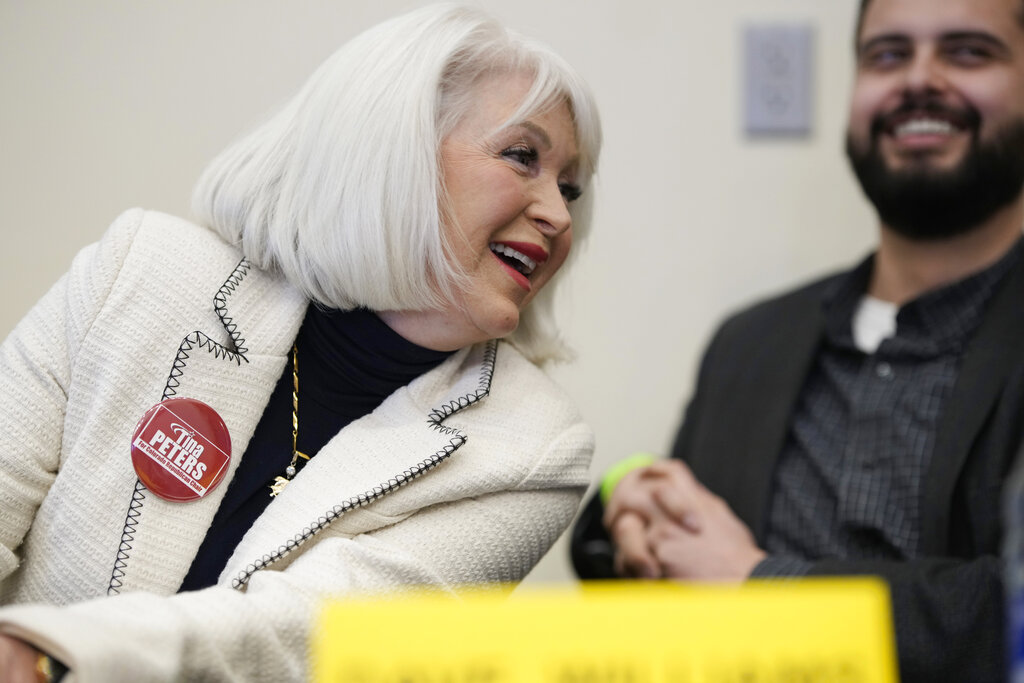 It's time to wave bye-bye either to reality or the new Republican Party.
"Wave bye-bye" is a euphemism for shoo-ing the scary crazy political types off the stage, out of the room and, for the sake of the Colorado GOP, out of town.
As a newspaper editor, it's customary to side with political decisions or directions and the individual politicians who make those calls. I can assure you, however, for a mainstream journalist to warn everyone that an entire political party has become a danger to the wellbeing of the party itself, and the state, just doesn't happen. Even more rare? Republicans themselves are saying the same unnerving thing.
The word local life-long Republicans all agree on in talking about the folks at the head of the GOP parade is "crazy."
In fact, "scary crazy" is what one local GOP stalwart said about most of those primed to become the next leader of the Colorado Republican Party.
That job is currently up for grabs, and grabbing at it are state GOP sideshow circus stars like Tina Peters and former state legislators Dave Williams and Kevin Lundberg.
Like GOP Congressperson Lauren Boebert, Peters, the former Mesa County clerk, practically made herself one of the nation's most flamboyant whacks over the past two years.
Peters went even further than just offering up full-time crazy talk. She actually walked the walk, right into a secure server room back in 2020. There, she helped to hand over secret voting machine codes to another crazy Trump supporter and voting conspiracy theorist.
As a reward, Peters now faces seven felony charges connected to the stunt.
Rather than offering to take the walk of shame off the political stage to await her criminal trial, Peters last year ran for Colorado secretary of state, coming in third in a three-way primary election last year.
She's continued to make the political TV and extremist radio circuit, insisting that the criminal charges against her are politically motivated, even though they were lodged by a Republican district attorney. 
During a debate in Parker last week among six Republicans vying to become state GOP chairperson, Peters laid out her strategy to eating her cell, assume control of the Republican Party and lead the herd to power in Colorado.
"There's no way a jury of 12 people is going to put me in prison," Peters said with a sly smile to the crowd of Republican faithful, according to an Associated Press story.
Nice.
Straight from the Trump playbook of Diversionary Chaos and Corruption, criminals are only guilty if the lawyers run out of appeals or interest, Peters argues.
While Peters is, currently,  the only candidate for state GOP chairperson facing criminal election charges, her five running mates also have a variety of past statements credited to them implying or outright insisting that the 2020 Presidential Election was stolen from Donald Trump.
Other than Aurora veteran Erik Aadland — who ran unsuccessfully for Aurora's 6th Congressional District seat last fall against incumbent Democrat Jason Crow — the candidates represent a raw extremism that belies the sense and sensibilities of conservatism.
Way back in the day, like five years ago or so, a GOP extremist would have stumped for a flat-tax rate, school vouchers and deregulating taxi services.
Those issues are now nothing but the daydreams of woke Republicans.
Welcome to 2023 where most of the Colorado GOP chief hopefuls want to end mail-ballot elections, because they believe they cheated Trump out of a second term. The Second Amendment, for these people, means "shall not be infringed," like the infringement in Colorado, unenforced in crazy-GOP strongholds like Colorado Springs, created to keep guns out of the hands of mentally ill people. 
Schools boasting copies of the Ten Commandments and holding morning prayers? You betcha.
Schools boasting AP African American History and transgender bathrooms? Oh hell no.
These are people who aren't offended by Colorado Christian Nationalist Congressperson Lauren Boebert's repeated push for Talibanning the United States during the "last days" and for other loopy evangelical fascists to "rise up," like they did at the Capitol on Jan. 6.
Boebert's sister-from-another-mother, Georgia total piece of work and GOP Congressperson Marjorie Taylor Greene, has recently taken her GOP extremism even further. Greene is saying that she's not calling for civil war — wink, wink, nudge, nudge — but a "national divorce" from "woke" Americans who insist on stuff like forcing police to stop indiscriminately killing Black people.
In a better world, not a perfect one, normal Republicans would just say "none of the above" and insist the GOP hide their crazy and not make it the face of their party.
Rather than shake their heads and turn away, it's time for your father's Republicans to return to the scene of the crimes and push for the return of conservatives, not extremists, to govern the party again.
Otherwise, the dwindling number of elected Republicans will dwindle further, and those remaining will sing raving duets with Boebert or Peters.
Follow @EditorDavePerry on Mastadon, Twitter and Facebook or reach him at 303-750-7555 or [email protected]