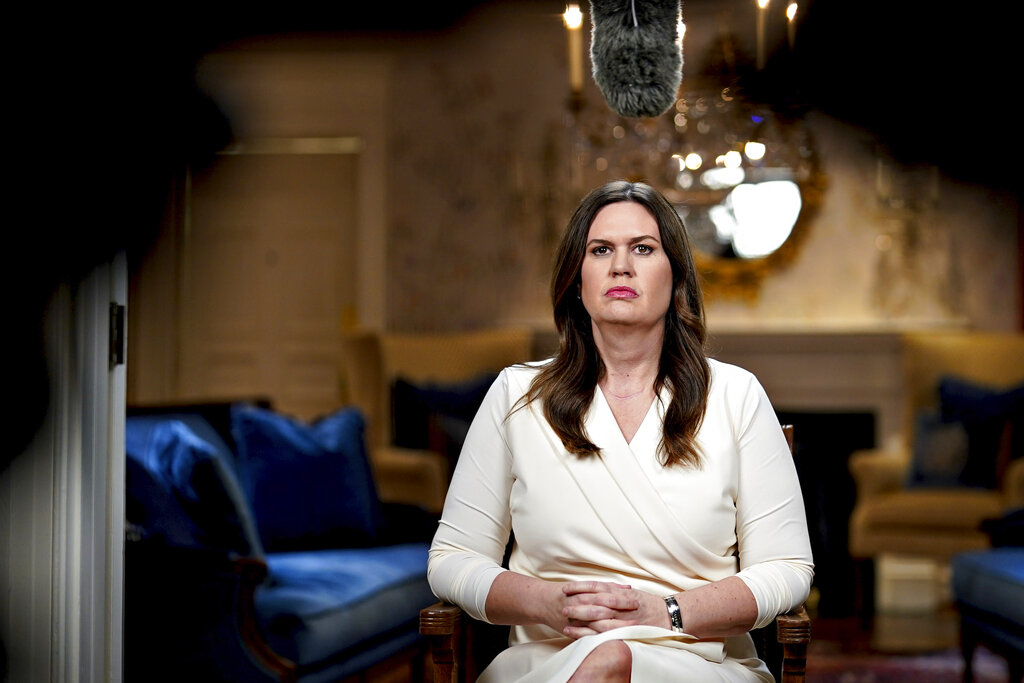 In a world filled with astounding things, it's bewildering that so many Republicans have become shameless champions of bullies and bigots.
Republicans near and far are not even remotely coy about bashing people or children who are gay, Black, Asian, old, poor or immigrant.
Minutes after President Joe Biden told the world during his State of the Union address that the nation must learn to respect the rights of one another, Republicans offered this rebuttal.
"Most Americans simply want to live their lives in freedom and peace, but we are under attack in a left-wing culture war we didn't start and never wanted to fight," Arkansas Gov. and former Trump Press Secretary Sarah Huckabee Sanders said Feb. 7 in the GOP response after Biden's speech. "I'm the first woman to lead my state, and (Biden is) the man to surrender his presidency to a woke mob that can't even tell you what a woman is."
Like so many Republicans, she pulls the "woke" card as a way of insulting the vast majority of Americans who have moved past the racism and homophobia entrenched in the country.
She refers to backward states like Arkansas and others that fight against the ability of people to describe themselves as men or women or neither, rather than have that described to them.
Sanders, and her "freedom-loving" acolytes insist American liberty ends with deciding your own sexuality, attire or what you think about gender.
Deep-thinking GOP governors like Sanders and Ron DeSantis want to decide all that for every American.
They say that supporting people's right to self-determine such deeply personal issues is being hopelessly "woke."
Equally "woke-alarmed," Sanders, Trump, DeSantis and Colorado GOP Rep. Lauren Boebert say we must shun children whose families include two dads or two moms or a brother that at one point was dubbed a sister.
They don't want public schools to pretend anything outside of what Focus on the Family would approve of even exists.
What honest and accepting people would call "enlightened," these Republicans call "woke" and "groomers."
Science, real science, just explains it as reality. It's not just glands and politics. Human gender and sexuality can be as complicated as humans.
On the racist side of Sanders' intolerant America, fellow extremists are demanding that Blacks admit not one of them are actually slaves or former slaves, and that they just get over the fact that their ancestors were.
Republicans like Sanders, DeSantis and Boebert insist that Black and white Americans unhappy with pernicious and systemic racism are nothing but "woke" whiners. White people who question the wisdom of perpetuating white-washed myths about U.S. history? Woke sympathizers, according to the far right and talking-points directors at Fox News.
Myriad established statistics about Black and brown Americans owning far fewer homes, making far fewer wages, attaining far fewer college degrees, being incarcerated at a far higher rate, living far fewer years and even being bitten by police dogs far more frequently than white Americans? Well, Sanders, Boebert and DeSantis insist Black and brown Americans choose all that, and they're free to do so.
To insist that systemic racism — easily identifiable and well documented by credible scientists and sources — is partly responsible for the widespread equity problems is un-American "woke craziness."
"The Biden administration seems more interested in woke fantasies than the hard reality Americans face every day," said Sanders, during her nationally televised rebuttal to Biden. She meant the reality white Americans face every day. She said the right-wing extremists like herself, whom she describes as everyone not woke, "are under attack in a left-wing culture war we didn't start and never wanted to fight."
No doubt. That's the point. America moved on from the Jim Crow era and treating gay Americans as third-rate citizens, and Sanders and friends are mad as hell about it.
Sanders became the face of the GOP last week picking up on her vast credibility and integrity where she last left it off as press secretary for Donald Trump. 
The new face of the GOP is the same one as key part of the Trump White House that denied Trump's presidential hush-money skidoos, lied about Trump creating more jobs for Black Americans than President Barack Obama — she was wrong by as much as four-fold — and offered a sack of whoppers to Americans about Trump never promoting violence by telling proudish boys to punch racism protesters "in the face," knock "the hell" out of police-murder protesters — "I promise you I will pay for the legal fees" — or advising cops to smash the heads of suspects they arrest against police cars.
Woke is no insult to cogent Americans who take the time to unpack the truth behind the bigoted slur.
Most Americans believe that racism and bigotry toward our fellow LGTBQ citizens is repugnant and worthy of the fight to suppress.
First graders aren't malevolent or vapid like DeSantis, seeing that one of their pals has two moms and just wondering what that's about.
Denying gravity or planetary motion doesn't prevent it. Pretending that cheerful white pilgrims benevolently offered up a Turkey Day dinner to indigenous people, who decided moving to reservations was a keen idea, only perpetuates inequalities created by generations of dangerous propaganda.
Black and Latino Americans don't choose to fall short of the American dream more than white Americans do. Enlightened Americans understand that choice is too often made for people of color, and that can be changed, if more of us embrace the ideas behind being "woke"  instead of creating fear with it.
Follow @EditorDavePerry on Mastadon, Twitter and Facebook or reach him at 303-750-7555 or [email protected]