These are onerous days for journalism.
Many of us are still raw from the terrorist murder of the French Charlie Hebdo journalists,  whom killers deemed insensitive to Islam. The accusation of being insensitive or irresponsible comes our way, and my way, a lot. It came this way again today because of Aurora's own horror story.
Some family members of victims of the Aurora theater shooting want us to change how we cover that story to keep from inflicting additional pain on victims. And they hope that changing the way we cover this and other stories will help prevent a future attack.
They might even try to shame journalists who are insensitive to their call to keep the names and pictures of mass-murderers out of the news. Today's mass murderer is James Holmes, the man who shot 12 people at the Aurora Century 16 theater and wounded dozens more. Jury selection in his trial started Tuesday. The trial is being watched by the whole world, including the hundreds of local victims and their families, like Tom and Caren Teves.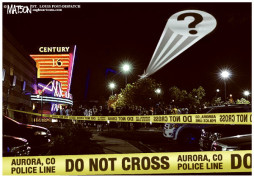 The Teves are some of the bravest people I know. Their son, Alex Teves, was among those shot to death during the massacre, more than two years ago. Since then, they've chosen to honor their slain son by using their unfair position in life. It's a selfless act that I doubt I would be capable of if it had been my daughter killed in that theater. They have spent a lot of time during the past two years working to persuade members of the media, ranging from CNN to the Aurora Sentinel, to not use the name or show pictures of the man who unleashed that unimaginable attack on July 20, 2012.
They call their effort "No Notoriety" and have a website dedicated to the cause at www.NoNotoriety.com.
The Teves want the media to follow their guidelines on keeping Holmes' name out of print, TV and radio. They've also stepped up their campaign to get news media across the country to follow "no notoriety" guidelines after all mass killings.
"Rampage shooters crave the spotlight, and we should do everything we can do to stop them," Ari Schulman, executive editor of a magazine called New Atlantis: A Journal of Technology and Society, states on the Teves' website. They quote Schulman and link to a column on the subject he wrote for the Wall Street Journal. The Teves aren't alone, the FBI, too, has made an official push for the media to limit identifying mass murderers and focusing on their stories. Both NoNotoriety and the FBI point to some research about whether such coverage of perpetrators entices others to act in similar ways.
This is where journalism gets really hard. I'm not convinced of what the Teves and other proponents say about the research. I don't think anyone really is. I, and thousands of other journalists, think about these things a lot.
Despite what so many believe about reporters and editors, most of us are far from the heartless, thoughtless goons that can't wait to be the first to get in the face of victims of unspeakable tragedies. It's one of the worst jobs on the planet.
I'm not saying there aren't whacks like that in our profession, but I can guarantee you that the majority of us struggle every day with how to be sensitive to the people we write about, whether it's about a football game, a legislative bill at the State House, or the parents of a kid killed during a vicious attack on a movie theater. When the story is about death, we not only struggle, we agonize. When people like Holmes unleash a mass tragedy, the agonizing grows exponentially.
Journalists struggle with such things because we weigh our sensitivity to victims with the very real need for the public to know and understand the world around them. The public, the victims and I want to know why Holmes did this. How did he do it? How can we prevent this from happening again, or can we?
This trial will help provide answers to those questions, but don't be fooled into thinking that Holmes' trial is about providing the public with information. The purpose of this sanity trial is to make 12 people decide whether Holmes will be executed for the attack he's admitted to. As journalists, we give perspective to the trial, telling readers "why" and "how." Neither the defense nor the prosecution will present anything that remotely resembles the truth or reality during this ordeal. Each side, by nature, will try any way and every way they can to persuade jurors to take their side.
To explain this odyssey accurately, fairly and truthfully, as best we can, we have to be clear and unfettered. Contriving a story to talk about "He Who Shall Not Be Named," or refuse to show images of Holmes during the trial is a contrivance that leads to propaganda, and as journalists, we can have no part of that. If Holmes' expressions, mannerisms or clothing helps the world understand who he is and why he did this, then those details must, and do, guide our decisions of what we include or omit in our news coverage.
This isn't new. We do it every day. They're hard choices that require us to read our public, our sources, our mission and the times we live in.
Just days ago, 12 people were murdered in France in a newspaper office because of the choices journalists made. Just after that, an entire world of journalists had to make difficult choices about whether to run depictions of the cover of Charlie Hebdo and cartoons they published that were at the center of the horrendous slaughter. At the Aurora Sentinel, we chose to include some of those images in our AP stories about the attacks. We did it because not seeing the newspaper covers and cartoons keeps readers from understanding the story. The decision had nothing to do with siding with Charlie Hebdo staff, or terrorists, or sympathizers or anyone.
I can't agree to what the Teves are asking us to do. I understand it. We would never include anything in any story without regard to how it affects a source, a subject or a reader. Knowing what we do causes anyone pain causes us pain, too. We couldn't, however, agree to leave out integral aspects of a story, just because it hurts.
I get the theory that people commit these crimes for the sake of media notoriety, but I believe that's a symptom of these criminals, not the problem itself. I think these people would work to commit these crimes even if we referred to them only as "Suspect A" and never ran their picture. In the long run, shaping the news to promote any cause or agenda, other than working to accurately, fairly and truthfully tell the story, is misguided and dangerous.
The Teves on their website under a section called "Approved Media List" state that reporters from CNN, The Denver Post and 9News have agreed to their requests. Reporters and editors there say they've talked with the Teves but haven't made any kind of formal of agreement. Also on the website is a "Media Shame List." There are no names as of Tuesday.
I'm hoping you won't see my name there. I could never agree to turn control of what we do over to the sources or subjects of any story, no matter how much I admire them or sympathize with their cause or case. And I am the Teves' greatest fan when it comes to their working to prevent atrocities like this from continuing. But I'm not afraid nor ashamed to use Holmes' name and picture to help others understand everything they can about him, his crime and the shattered lives and community he left behind. I feel so strongly about it, that I put my name on it just about every day.
Reach editor Dave Perry at 303-750-7555 or [email protected]