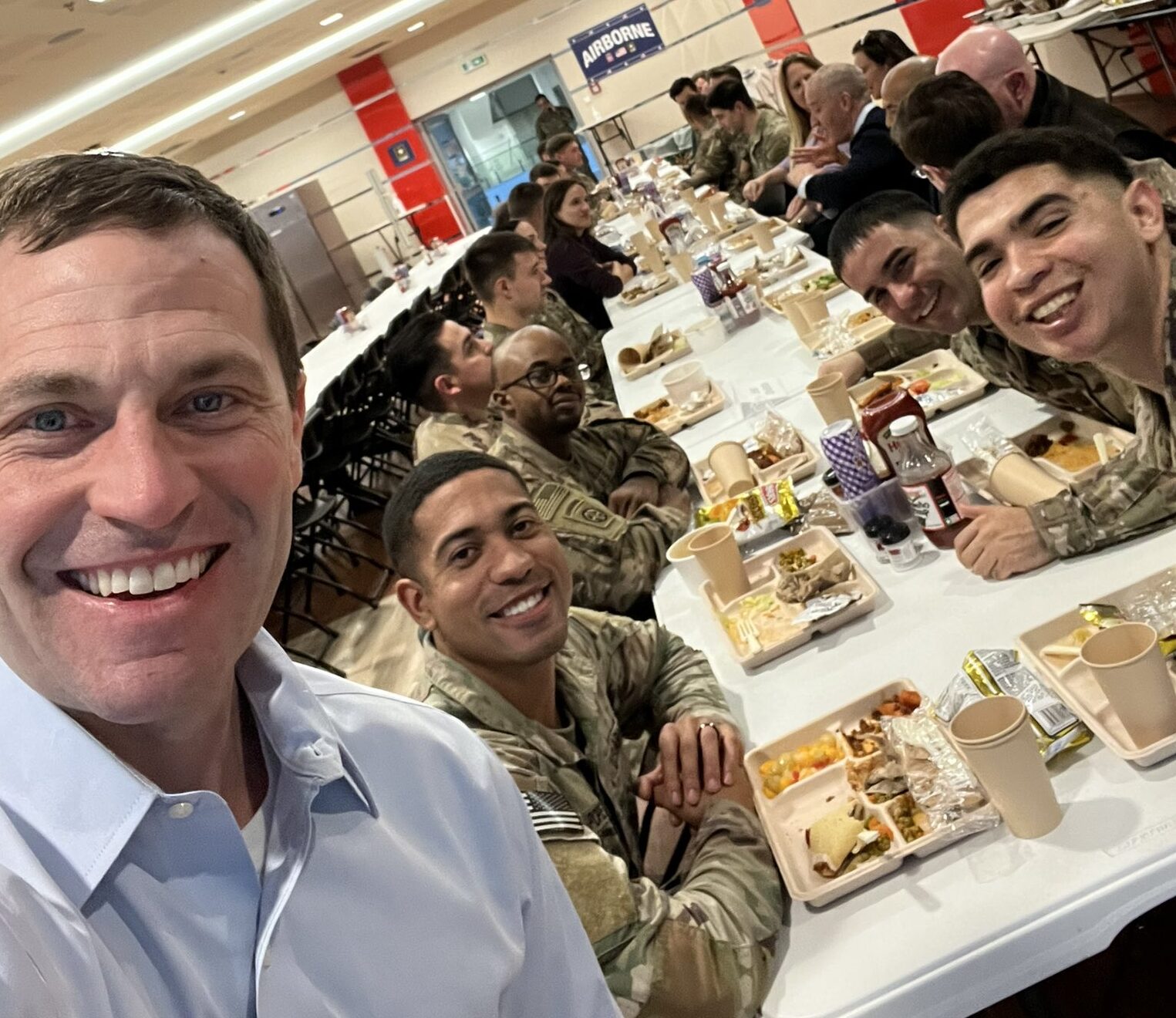 There's only one thing is worse for gun-loving Republicans gnashing their teeth at Aurora Democratic Congressperson Jason Crow over his credibility and his honored bronze star tenure as an Army Ranger.
His validity and military creds are wrapped up in his congeniality, popularity — even from across the aisle — staunch support of immigrants, minorities, LGTBQ people, active duty and military veterans, his star time as a Trump Impeachment manager, hero to the horrified during the Jan. 6 Capitol insurgent attach in House gallery, and one of the few people who seemingly never takes public flack for calling out GOP Colorado Congressperson Lauren Boebert for her excruciating vacancy.
"We've known for a very long time that Lauren Boebert doesn't know what she's doing and is not interested in legislating or even knowing the issues and knowing the facts, but it becomes increasingly clear the level of her depravity, which is deep," Crow told reporters after Boebert's infamous March 1 tantrum during President Joe Biden's State of the Union address.
It came as an edict from a position of authority here in Colorado and inside the U.S. Capitol. It's so damn awkward for a party that worships all things vets and cops to try and find a way to demurely hate on them when they carpet bomb stuff like absolute gun rights.
But worse than having someone like Crow confidently evaporate so much Republican extremist bilge with a cool head and a bronze star, is for Crow to take aim and get a bullseye in the most sacred of GOP daemon: the Second Amendment.
As newspapers like The Sentinel struggle to keep track of number of victims of mass shootings now racking up like the fleeting totals on a premium gasoline pump, Crow took the time last week to insert himself in the cacophony of GOP extremists trying to justify how their right to build home and hip armories supersedes everyone's right not not have their children shot to death at school or fall victim to another mass shooter at the grocery store.
Far beyond inane and annoying, the NRA and GOP tripping over their own anointed "good guy with a gun," and passionate pleas to virtually expand TSA security lines to all of the nation's 135,000 public schools, was Colorado's own Congressperson Ken Buck. On Twitter, he preened with his over-the-top insistence that assault rifles are just plain ol' normal guns and that, "In rural Colorado, an AR-15 is a gun of choice for killing raccoons before they get to our chickens."
As the authorities still try to clarify the details, it's irresponsible for us to be considering these bills today.

If we don't yet understand what happened than we don't know that this legislation would make a difference in preventing such tragedies in the future. pic.twitter.com/pZCtZjnUrU

— Rep. Ken Buck (@RepKenBuck) June 2, 2022
Set aside, just briefly, that this guy, born of New York lawyers, himself a product of Princeton law school, and who lived in Greeley — home of the University of Northern Colorado and the mega-meat-corporation that owns the Colorado Rockies — thinks that city is "rural." Buck thinks all that is genuine basis for his creds to speak for people in Colorado who really do live in far-flung rural places.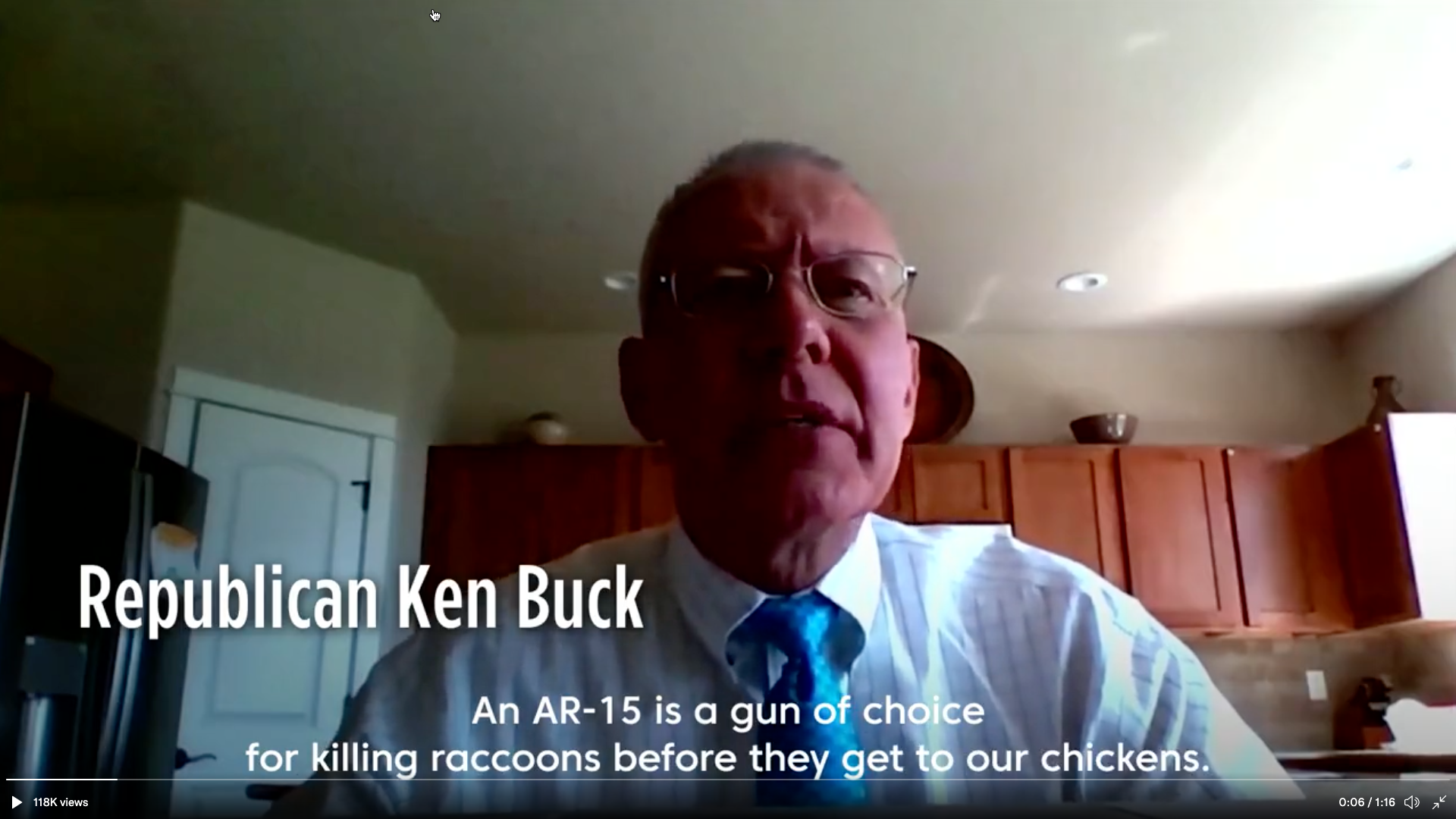 I'm from Manzanola, Colorado, a town I considered an urban Mecca over nearby bergs like Swink and Olney Springs, which actually had rural route mail boxes plugged on dirt roads.
But even along the wilds of the Rocky Ford Ditch and endless plains surrounding Lake Henry, I can't recall anyone around there who wouldn't be insulted by some guy in Greeley trying to persuade the world that rural Coloradans are the creepy, stupid hillbillies he makes them out to be.
Dude. You can actually build a chicken coop in Karval or a backyard in the Denver Highlands that'll keep raccoons out. You clearly don't know that raccoons come out after dark, when you have no damn business shooting at anything, and especially with a rifle and rounds that are so explosive that they'll make a child shot to death in a classroom unrecognizable to even their own parents.
Dude. You don't need a semi-automatic assault rifle to stay alive and collecting eggs in Vroman or anywhere. Get a dog. Maybe a broom and some chicken wire that won't leave tens of thousands of innocent mass murder victims shot and dead at the end of each year.
Buck and his NRA cronies expect that kind of stuff from me, which they wave away as just the "lame-stream" liberals in the media who just don't get guns.
But they can't wave away Crow, who almost overnight released his own video, calling "bull" on the GOP argument that assault rifles are just plain ol' guns that should have a place in every American heart and hearth. 
"I spent most of my life around guns," Crow says in his video. "Hunting as a kid, fighting for this country as an Army Ranger, and even now as a gun owner. The American people deserve some truth, and here it is."
For generations, Americans have hunted and defended their homes with regular firearms.

Gun manufacturers want us to think we need weapons of war. Don't be fooled.

It's time to get assault weapons off our streets. pic.twitter.com/T8qV1fyaYZ

— Jason Crow (@JasonCrowCO) June 3, 2022
So he shows a deer-hunting rifle, and how it's built for and used for hunting big game. Then he shows an assault rifle, explaining how semi-automatic rifles with explosive rounds are created and used in military battle.
"This nonsense about using AR-15s for ranching or home defense  is a sales pitch by the gun lobby. Don't be fooled, ranchers don't fight armed platoons of raccoons. And if you say you need an AR-15 to protect your home, you're just not shooting straight."
That's it. Short and sweet. Right from the mouth of a decorated military veteran that is the extremist GOP's worst nightmare, a decorated veteran who says we can live with sensible limitations on the Second Amendment.
Crow makes it clear we don't have to live in fear of being slaughtered by armed mass shooters who are enabled by leaders confused about rural Colorado, assault weapons and how to keep varmints out of the hen house.
Follow @EditorDavePerry on Twitter and Facebook or reach him at 303-750-7555 or [email protected]