I will wager that you can't recall or never even knew about the last five mass shootings in the U.S.
I win, huh?
As of Tuesday, for the record, the mass shootings include four shot, one killed, in Walnut Creek, Calif. That was Sunday. Also on Sunday, four shot, all injured, in Burlington, North Carolina. The same day, four shot, one killed in a mass shooting in Toledo, Ohio. And later that day, six shot, two killed in a mass shooting in Tucson, Ariz. On Saturday, seven were shot, and 1 killed, during a mass shooting in downtown Portland, Oregon.
That was our weekend, America.
It was nine years ago early on this day, July 20, 2012, that 12 friends, sons, dads, daughters and neighbors were shot dead in an Aurora movie theater and 72 others were injured.
It was back when mass shootings were far more noteworthy than they are these days.
Rest assured, the survivors, the family and friends of victims remember every excruciating and sordid detail of when a wildly mentally ill James Holmes carried out his sinister scheme.
For months after, then years, the family members of Jonathon Blunk, AJ Boik, Jesse Childress, Gordon Cowden, Jessica Ghawi, John Larimer, Matt McQuinn, Micayla Medek, Veronica Moser-Sullivan, Alex Sullivan, Alexander Teves, Rebecca Wingo grieved over the loss of what were mostly kids in their 20s as they watched Holmes' trial take shape and play out.
These stricken moms, dads, siblings and friends watched as Colorado and the nation later worked to prevent people like Holmes from inflicting mass terror from the barrel of a gun. The stakes got even higher later in 2012 when another mentally ill gunman shot dead 20 little boys and girls and six teachers at Sandy Hook Elementary School in Connecticut.
The nation tripped over horror and politics in a feeble effort to prevent further chaos.
Tom Sullivan has been one of those determined not to just shrug and walk away as the nation argues whether nearly limitless gun rights are better than 20 murdered children, 12 of your Aurora neighbors and so many mass shootings you can no longer keep track of them all. Sullivan's son, Alex was one of those inside the Aurora theater when Holmes revealed what endless gun rights can do in the hands of sick or malevolent people.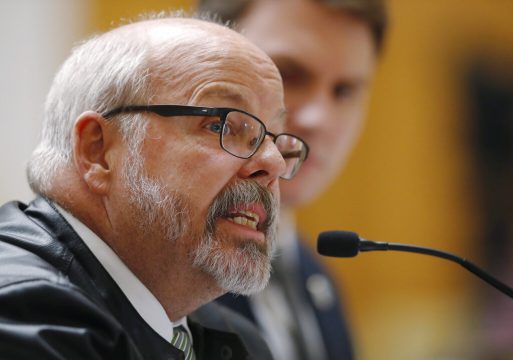 Sullivan is now a Colorado legislator from Centennial. He has made it his life's work to stop mass shootings.
More than any of the hundreds of traumatic memories I have from being entrenched for years in the Aurora theater shooting, Tom's face that morning nine years ago still haunts me regularly. I still cannot get past listening to his tortured voice as he pleaded with others for information about Alex, who'd gone to the movie to celebrate his 27th birthday. Tom was the among stunned survivors and other desperate parents collected at Gateway High School just a few hours after the shooting looking for loved ones and answers.
It was Tom's raw and searing pain that propels me still to work to make others understand that mass shootings and gun violence can so easily reach out and touch any of us at any time, any place.
And they still do.
Despite courageous and tireless efforts by Sullivan and others to enact meaningful gun reform laws, about 40,000 Americans each year lose their lives to a bullet. More than another 100,000 each year are just maimed by gunfire.
As I write this, nine years after dozens of people were getting ready just to head to a summertime lark for a midnight movie, there have been 42 mass shootings already this month in the United States.
The shootings come so frequently that they pour over us like traffic reports.
Along the lines of my betting you can't name the last five mass shootings in the nation, I'll bet you can't tab the last mass shooting in Colorado.
No. It wasn't the horrific King Soopers shooting in Boulder, which left 10 dead and 2 injured there on March 22.
The most recent mass shooting in Colorado was in Aurora. Five people were shot, one killed, in a parking lot Juneteenth party just a month ago on June 20.
Not making the cut as a "mass" shooting recently was the murder of an Arvada cop killed by a gunman who opened fire in Olde Town Arvada. Remarkably, no one was killed last week in Aurora when a clearly psychologically disturbed man hailed bullets on police for hours during a standoff at his condo.
Even the mass shootings with astounding numbers of dead and injured blur into the cacophony of nightly reports of gunfire: 11 shot in Chicago on June 27; 11 shot in Wildwood, Fla, the week before that. Eight in Richmond, Calif. and eight in Dallas on the same day. Another 13 in Glendale, Ariz and 14 in Austin, Texas in the middle of June. A ghastly 23 shot in Hialeah, Fla. and 10 in San Jose, Calif. round out the bloody blur since Memorial Day.
So much regular gun mayhem threatens to dilute the horror of the Aurora theater shooting just nine years after it happened.
Don't let it.
James Holmes' abominable crime was a blueprint for how gun proliferation and indifference can be exploited by mentally ill or malevolent people to inflict unimaginable terror.
After nine years, not nearly enough has been done to meaningfully restrict the access to and use of guns, which other free and modern democratic nations clearly show, impacts gun violence.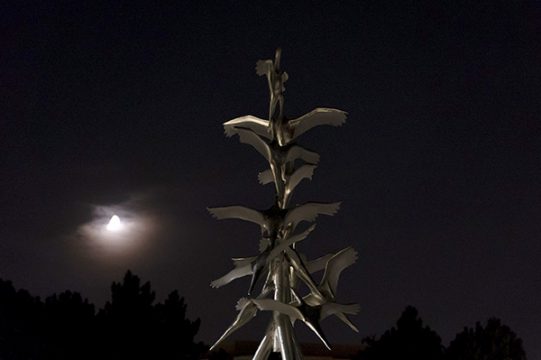 In the hours and days after the Aurora theater shooting, it became clear that the immensity of the carnage could quickly overshadow the losses of each person robbed of their life, their security or a loved one that night. It was so horrific, that it easily became its own entity, rather than the act of one man and the dozens of victims he exploited. A memorial park in Aurora pushes against that.
Each year, some of us demand you look again at the people who lost so much, not just the event itself. We push against a nation that has learned to just look beyond each victim and even each mass shooting because there are just so many.
Eventually, as too many find out, gun violence and terror quits being an abstraction and becomes as personal as it does for those involved in the 400 or so mass shootings in America each year. After nine years, it's more apparent than ever that standing back from the fight is the last thing we should do.
Follow @EditorDavePerry on Twitter and Facebook or reach him at 303-750-7555 or [email protected]