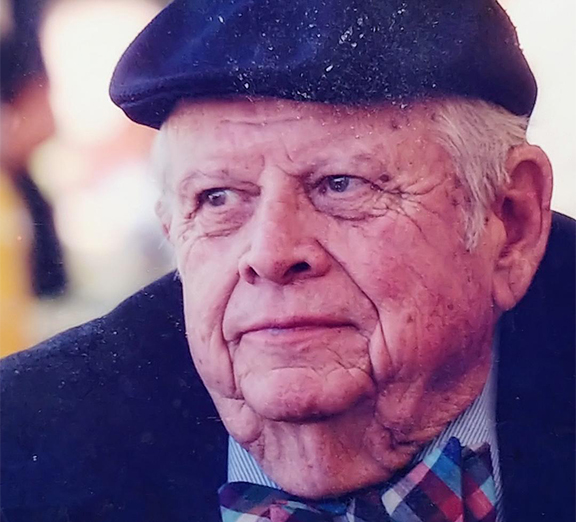 If you never knew Aurora's indefatigable Bill Murray, you still know the things he cared deeply about.
Bill cared deeply about the power of intellectualism.  He obsessed over how libraries were where thinking intersects with reality.
He was passionate about the charge that equal means equal, that everyone be accountable, especially anyone in charge, and he was serious about making time to catch up with friends and acquaintances.
Bill is gone now, after 93 years, most of it tending to Aurora, he did his last good deed, gave his final harrumph, and departed the world for something different on Jan. 18, 2021.
He was rarely William Aloysius Murray Jr., except on his birth, death, military and other official certificates. He was, "Hey, Dave, it's Bill Murray." His voice poured through the phone in a decisive New York accent that was as compelling as his stare and tweed cap. If Anne Meara had been a baritone, she would sound like Bill.
Murray was a master of small talk. He wielded it like a chef offers amuse bouche for what you knew was almost always going to be a hefty main course.
After decades of listening to Bill say, "well, Dave — insert effective-yet-brief dramatic pause here, sometimes with quiet sigh — lemme tell ya." The small talk was about my family, his family and home. I knew more about his beloved Kirkegaard Acres neighborhood on Aurora's eastern edge than I did my own.
"Neighborhood" might be kind of a stretch for what was actually a smattering of mostly horse properties and other widely spaced, modest homesteads where, "if there are four cars in 20 hours it is considered a traffic jam," Bill once said. Actually, he often said such things.
Forever, though, he wrote the neighborhood Upward Trail newsletter, offering practical news about road upkeep schedules, annexations, political tidbits and the occasional intellectual or historical bon bon.
Just before the election last year, Bill was advising fellow Kirkegaardians to try a nice walk along the banks of the nearby Sand Creek as a treatment for months of pandemic isolation.
He then talked about how important a free, unfettered and accountable press was to the election and to life in general, at least life like we would want to lead it. He scolded city officials for closing libraries during a pandemic when they would be needed most. He was an ardent voice in Democratic Party politics.
He rang up as he was perusing The Sentinel's cavalcade of election content in October to recall a time he personally saw the press muffled.
"Well, Dave — pause — I hope you can keep telling things like they really are. It's never been more important."
It was important, personally, to him back in 1950, when he was a student at Colorado College in Colorado Springs, which has long been a magnet for serious thinkers.
One summer, he decided to start up a newspaper, The Bengal, he said. Volume I Issue No. 2 featured a story from a Canadian newspaper about a hockey player who had recently skated the ice at the nearby, iconic Broadmoor Hotel during a game against CC.
"There was a phrase in it which related the empty liquor bottles at the (Broadmoor) related to the death of Spencer Penrose, founder of the hotel," Bill wrote in the October 2020 edition of, Kirkegaard Acres "The Trail" newsletter. "Mrs. Penrose still lived at the hotel and took umbrage at the paper and related this outrage" to the college president.
Bill said Issue No. 2 was promptly collected by college employees and, "well, Dave," retired.
He said The Bengal led to an invitation to meet Colorado College President Gen. William Gill on Lake Avenue, which led directly to the exquisite grounds at the Broadmoor.
The conversation, he recalled, quickly went from polite niceties to the business at hand.
Bill could either resign his short-lived role as a newspaper editor of The Bengal, or leave the college.
"Bill graduated from Colorado College in 1950," he wrote in the October Upward Trail.
There was a sweet satisfaction, however.  Bill went on Mrs. Penrose's payroll for the rest of the summer, trading stories with other higher-ups about the Misses, and keeping it secret he was working there.
Bill regularly had advice for me as a journalist as if his tenure at the Bengal had been eons long. His life as a World War II Navy vet, a lifelong educator, staunch journalism supporter and irrepressible do-gooder was a potent mix.
While his kindred liberal spirit were often the basis of our mutual grumbling over the lack of social justice, he sometimes took exception to the ways we covered issues or points made in house editorials.
Once he called to argue I was dead wrong about pushing back against an Aurora measure trying to make it illegal to give money to people pleading for it on street medians and highway exit ramps.
"I thought you were a journalist," he wrote to me in a rare, harsh rebuke. He insisted I was blinded by misguided kindness, a grave mistake that was just a euphemism for ignoring the facts.
"Well, Dave," Bill said. "That's all I wanted to go over with you," leaving me to come around to his side.
Neither of us changed our minds about panhandling.
The "here we are" speeches were an outgrowth of his most profound passion: libraries.
For decades, Murray was first a history teacher in Aurora Public Schools, then he went on to become the district's director of library and media services.
In 1988, he was honored for his tireless work to improve media centers to give kids the tools to learn. The American Association of School Librarians said, "Bill did more to improve the libraries in our schools than anyone — improving the educational opportunities for so many children in Aurora."
Although he retired from the district in 1992, he never stopped working toward improving Aurora's school and public libraries, regularly taking exception to anything, anything, that diminished their importance or detracted from their resources.
His second love was June, his wife since they got married in Wisconsin in 1950, and his kids, grandkids and great-grandkids.
He not only boasted regularly about liberal accomplishments and progress in the city, but especially how his own kids carried the torch, working across the country and world on causes to make life better for other people.
He was endlessly curious and thoughtful about what he observed. His commentaries ranged on how there used to be only two restaurants in all of Aurora to what's to blame for anyone in their right mind thinking there was anything salvageable about Donald Trump.
Bill outlived McCarthyism, polio, serious heart problems, the scourge of Nazism, the personal threat of the pandemic and, importantly, the greatest mistake America ever made: the presidency of Donald Trump.
Each conversation with the gazillions of people he eagerly had them with left a little nugget of Bill we get to remember, like pebbles on a gravestone. Such a mensch, Aurora needs to honor and remember. So, lemme tell ya.
Follow @EditorDavePerry on Twitter and Facebook or reach him at 303-750-7555 or [email protected]