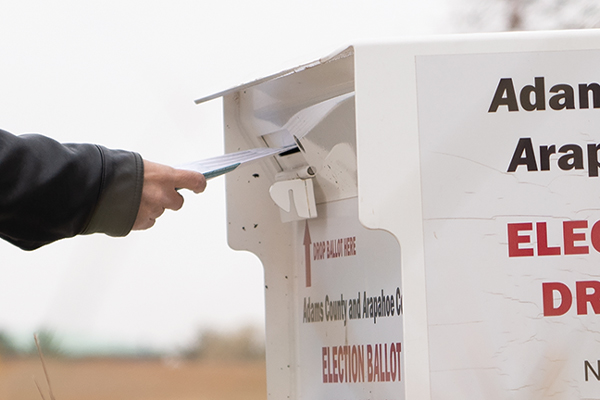 Despite continued partisan war drums on both sides of the aisle, the 2021 Election is now over, and the bevy of critical problems facing local communities are still there and waiting to be addressed.
It would be a lie as big as the one Donald Trump perpetually spins about non-existent, widespread voter fraud to say the vicious partisan politics at the capitols in Washington and Denver have not flooded local governments everywhere, including Aurora.
For months, the Aurora City Council has deadlocked on critical matters that beg for collaborative solutions instead of stubborn political vindications.
While winners have yet to be officially announced in five city council seats, state Republicans were claiming a partisan victory in what have long been demurely partisan city races.
Pointing to what looks to be wins for Republican city council candidates, "Last night was the first big step in Colorado's fight to elect responsible leaders who actually care about our state," GOP Chairperson Kristi Burton Brown said in a statement to the Sentinel Nov. 3. The announcement came with insistence that Colorado Republicans had assumed authority in Aurora and elsewhere across the state in other non-partisan governments.
"Aurora  — WE NOW CONTROL," the statement said, adding that Republicans, who did not run as Republicans in a non-partisan race, "now control the Aurora City Council."
Sentinel reporters have repeatedly pressed Democrat and Republican candidates about the coy-not-coy practice of being partisan when it helps and hiding their Rs and Ds when they find it uncomfortable or unfashionable.
Councilmember Juan Marcano, totally a D, pressed the issue last month, insisting that the city make clear the party membership of city council candidates and members.
Democratic candidates for Aurora City Council and a local school board similarly banded together as Democrats earlier in the election season, working to make it clear their partisan flavors meant something when they vote on the dais.
It shouldn't. Sure, dismal voter turnout to choose among obscure candidates amid the chaos of the pandemic, and just trying to keep it together these days, is a strong argument for picking a party so you don't have to sort through candidate details. But we're not there yet.
And the problems unsolved by the last partisan-ized city council still exist.
No matter who gets seated on the Aurora City Council in a few weeks, after election results are finalized, it's critical that new representatives be given a fair chance to lead and be held to serious and unbending expectations.
Aurora is facing a crisis not of homelessness, but of people who have no home. It's infinitely easier to look away from problems like this when challenges become things and not people who are suffering from things. Aurora, like the rest of the region, is afflicted with tens of thousands of people suffering from addiction crises, the vast majority of them have homes but many don't.
Aurora, like all of the metro area, is plagued with people shooting each other, stealing valuable car parts and personal possessions. The region is thick with children who live in tentative homes, unsure about so many things most of us take for granted: breakfast, a car to get to school, a coat or a parent that's always there and ready.
Aurora needs leadership to solve so many things that affect people, not just impersonal problems. When city leaders see that Aurora is awash in children, fast-food workers, old women and ailing veterans camping along streets, parking lots and in parks, it's easier to make choices that improve their lives, and all of our lives, rather than just get the problems out of our faces.
Aurora residents, and the world, have watched in horror as Aurora police, repeatedly, and without doubt, abuse people they encounter, often Black people. We cannot deny that state justice officials are stepping into Aurora law enforcement to end what they say is clearly a pattern of malfeasance and abuse.
It doesn't matter whether city leaders are Republicans or Democrats, they must each and all press for the unequivocal understanding that the city and its police department are here for Aurora residents.
It doesn't mean Aurora residents don't want a police department, and for officers to be rewarded for one of the hardest jobs in the world, one that demands as much art as skill. Everyone wants law and order, and the abuse to stop. Everyone wants the police department to reveal everyday how it's working to make those things happen and can prove that they're successful.
These and so many non-partisan problems should and will elicit a bevy of ideas and possible solutions. Because each of them are so vast and complicated, there will be no right or wrong here. But the best answers will focus on creating solutions for the people who are impacted. Despite a tragic and unnerving slide away from the nation's historically strong alliance with science, the scientific method and provable outcomes, Aurora must seek out data-driven solutions and rely on the wealth of expertise at its fingertips.
Everything the next city council does must meet the critical touchstones of being transparent in how it will work and how the government will account for progress, or the lack of it. Every solution must be built on a foundation of accountability.
Those are bi-partisan formulae for success.
Gov. Jared Polis in his recent release of a draft state budget for next year outlined an astounding level of possible investment in communities like Aurora to target solutions for people without homes, people hurt by rising violence and crime, people who work hard and can't enjoy even modest security in their lives, people who can't find a reasonable way to get to work or the store or to school.
It's not hyperbole when Polis says these are once-in-a-lifetime opportunities to solve serious problems affecting all of us.
It would be unforgivable if Aurora's elected leaders were unable to shed their political parties on the dais to strive for mutual ground rather than partisan divides.
I hope any newly elected Republicans prove their state GOP chairperson, Kristi Burton Brown, dead wrong about the Colorado Republican Party having taken control of Aurora. I hope neither party takes control of a unique form of government that allows leaders to act as people, not politicians, to solve problems for people.
Follow @EditorDavePerry on Twitter and Facebook or reach him at 303-750-7555 or [email protected]