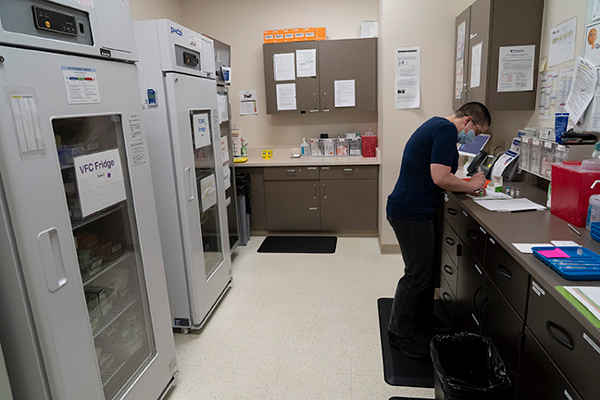 Sorry to interrupt your endless-pandemic summer of political angst amid crises surrounding shootings, fentanyl, inflation and untreated mental illness, but this is important.
At a time when a rock-solid health department has never been more vital, here in greater Aurora, we don't have one of those right now.
Although it seems like lifetimes ago, the state's largest health department, Tri-County Health, was politically torpedoed last year by far-right extremists in Douglas County.
I know. It's always something with the people elected to run that place. It's Colorado's version of Florida Man meets the Pillow Guy for a Texas hee haw massacre.
Douglas County was joined by Arapahoe and Adams counties for more than 70 years in funding Tri-County Health Department. The department has quietly and efficiently gone about the business of keeping restaurants safe, tuberculosis at bay and handling the hundreds of things health departments do that you pay no attention to until they stop doing them.
One of the things they did well — under the direction of Dr. John Douglas, a savvy and experienced public disease expert — was help Aurora and the other bevy of burgs and communities in the southeast region navigate an honest-to-god killer pandemic.
Using solid science and experience, Douglas and Tri-County officials fought against a wishy-washy state effort to keep the masses well enough to prevent overwhelming hospitals and igniting a cataclysm.
Pumped full of effective vaccines now, many have already forgotten how desperately ill COVID-19 made hundreds of thousands of people in Colorado, killing 13,000 of us.
In a valiant attempt to limit the COVID-19 dead, intubated and "long-haulers"  — still suffering — Tri-County Health officials had to deal with cranks that Douglas County commissioners saddled the health department board with over the past few years. Citing plenty of pseudoscience, these DougCo health-board plants essentially whined and kvetched Tri-County Health Department out of existence.
Forced to face facts, and the adults in the room, Douglas County leaders eventually had a Trumpertantrum and pulled the plug on decades of successful public health management. The decision ended millions of tax dollars in savings.
The huff sent all three counties scrambling to create three, new, health departments, where there previously was one.
Douglas County moved quickly to find a leader who apparently assured commissioners that science versus politics over public health mandates is unnecessary and no longer in the cards for Douglas County.
Good luck with that.
Adams County declined any further association with Arapahoe County, because it's Adams County, and nobody really knows how else to explain it.
That leaves Aurora to be dominated by the Arapahoe County Future Department of Health and split among three health departments that will be as different as the counties themselves.
Thoughts and prayers to Douglas County residents living in Aurora.
If you live in Arapahoe County, however, the picture is looking as good as it can under the dire circumstances.
The first board of directors includes Bebe Kleinman, who runs Doctors Care in Littleton, providing medical care to thousands of people who would go without any if not for Kleinman and others like her creating groups like her group and STRIDE.
Also on the board is Dr. Heather Signorelli, a pathologist who ran the COVID-19 testing program for the 190 HCA hospital system she works for. She's an integral part of the science explaining what helps and hinders the pandemic spread of pathogens. Just as importantly, Signorelli says she wants to ensure the new health department ensures that mental health issues are addressed like all health issues, a critical move.
Shawn Davis also joins the new Arapahoe County board as a public health professional, working in leadership positions for Tri-County Health, and on a state level, for health equity concerns. He says his emphasis will be to ensure the health department delivers "honesty" to everyone as well as equity to underserved populations.
Two outgoing county commissioners also make up the nascent board: Nancy Jackson and Nancy Sharpe. Both commissioners of opposing political parties boast years of supporting effective and pragmatic public health programs. Jackson has been a strong proponent of boosting mental health services for the region. Sharpe has long stood behind ensuring children get the health services they need. 
The board has now hired Tri-County Deputy Director Jennifer Ludwig to head up the new health department beginning next year. Ludwig, who worked closely with Douglas, was a strong proponent of following the science and the data as the region moved through the pandemic. While not a medical doctor, her peers say she's a strong voice for long-accepted public health goals and goals.
All in all, it's a good sign that the parts of Aurora and the region inside Arapahoe County will eventually be well-protected by its health department.
Douglas County? Sorry about that, but elections really do matter. That county's board of health is stacked with the same problematic characters that destroyed Tri-County over following real science during the pandemic.
If proper healthcare and smart public health policy were whimsy, we wouldn't need grown-ups making hard decisions for all of us.
The public health future at Adams County, which includes everything in Aurora north of East Colfax Avenue, is unclear, like so much of that county.
Both Adams and Arapahoe counties missed an important opportunity to collaborate on a two-county model, with Adams County officials giving no good reasons to go their own way. I believe it was Thursday or something like that.
Tragically, the split up among Tri-County members will cost taxpayers millions of dollars in providing the same or fewer services as before the break-up, according to reports from each county.
Maybe light a candle for Douglas County, folks.
Aurora, county and health department leaders, however, now have two important considerations as they form new entities.
Since Aurora will be served and governed by three agencies, it's vital these departments coordinate to ensure disparities don't become problematic for businesses and residents.
Most important, the pandemic has not ended, even in Douglas County. In addition, the greater Aurora region, just like the rest of Colorado, is struggling with large parts of the population needing mental health services and unable to get the treatment they need. Related to this is a growing number of residents in the region struggling with a host of addiction problems, specifically deadly opioid and methamphetamine additions, even in Douglas County.
Currently, the state is undergoing foundational restructuring of how it funds and coordinates mental health services. There's little doubt Aurora's three counties will handle the issue of addiction and mental health services vastly differently.
It's an opportunity for local health departments to play a much larger role in ensuring mental health services are far more accessible than they have been.
To deliver that, however, the region is going to need insistence from the community and determined, cogent leaders allegiant to sound science.
Despite numerous serious recent distractions, this really is important, especially in Douglas County.
Follow @EditorDavePerry on Twitter and Facebook or reach him at 303-750-7555 or [email protected]