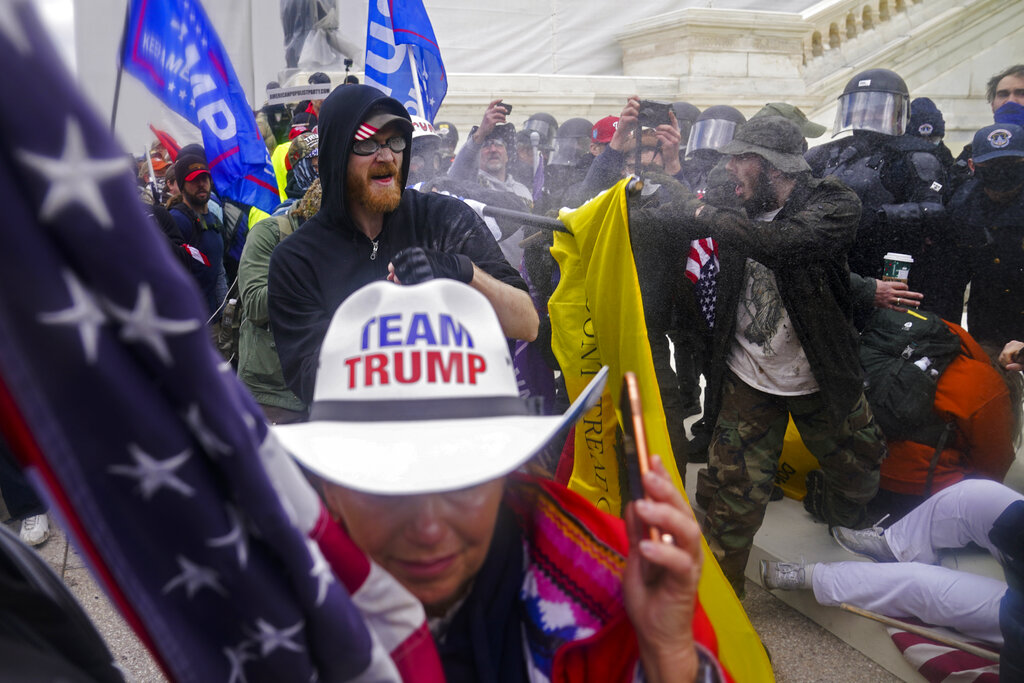 Like so many, I feel cheated by 2021. 
We all do for one reason or another. 
I've spent more than just a few hours this year lamenting the growing tribe of Americans who act like or outright claim they're entitled to exempt themselves from the tiresome burden of the pandemic, highway speed limits, fretting about our cancerous politics or a planet so hot it will kill all of us. 
Those are the people who make you want to pick at your schadenfreude in public and smirk as they grouse about filling their 50-gallon gas tanks for their bus-sized SUVS at upward of $4 a gallon — twice a week.
Come on. Admit that, at least privately, you get that Grinch grin hearing about some rabid anti-masking anti-vaxxer publicly recanting their stupidity after coughing up a lung for weeks and hoping that, someday, their sense of smell or taste returns.
What bothered me most about 2021 is that it all came so fast, in a massive, undulating and endless surf. I never had time to take it all in and be properly appalled by lifetimes of assaults condensed into mere months.
Can you believe it was just one year ago that we all watched a woman in Colorado get the first dose of COVID-19 vaccine?
I can still feel that astonishing sense of relief as not one but three vaccines began to roll out, signaling what was sure to be a premature end to an unthinkable pandemic that changed life for us like nothing else has.
Wrong.
Who knew as we scrambled for places in line to get a dose of anything we could that among us in Colorado were about a million grown ups with dangerous child-like science sensibilities?
Sure, there were plenty of anti-vaxxers in Colorado before the pandemic. But it was easy to dismiss them as just conspiracy driven annoyances, easily explained because these people have never seen the ravages of viral disease up close and personal.
After all this time, the vast majority of rational Americans ask themselves almost daily, why would anyone in their right mind not get a COVID-19 vaccine, knowing what we all know, having seen what we've all seen, having lost what we've all lost?
But here we are, one year after a virtual miracle of science delivered the only way we were going to end the pandemic, and we blew it.
We allowed the coronavirus to fester in unvaccinated herds of people and now come back to us in a new and improved form, in just under a year.
We haven't had much time to lament our astonishing failure because we've been so busy marveling over our foundering to put the brakes on carbon dioxide pollution that has now turned the planet against us with historical wrath.
We watch in amazement instead of horror as the polar ice caps melt away before our eyes, knowing full well that billions of people living on continental coasts will soon be living underwater or somewhere else. The rest of us? We'll live every summer now, choking on endless forest fire smoke, ducking tornadoes or finding homes in places that won't kill us during our new-normal deluge rains and winds.
All that seemed to mostly bore most Americans in 2021.
What were they worried about? The high price of the gasoline that isn't just threatening some future generation, it's killing us now. They whined about their children having to wait for new toys or the stupid price of a new car they can't find.
There was hardly time to mull all that over this year, however, because we've all been gobsmacked by hundreds of angry Trump loyalists marching to the Capitol on Jan. 6, storming the security of the heart of American democracy and trying to overthrow the legislative government to install Trump as a dictator.
It was just about a year ago that America and the entire world watched in horror and amazement as the greatest democracy on the planet was plummeted not by the Russians or Al Qaeda, but by Trump's army of bigots, thugs and felons.
It all happened so fast, and then the GOP propaganda machine trying to explain it into nothingness was so massive that Americans had little choice but to run to the next calamity as the death toll from the pandemic soared and Trump appeared to be reduced to the boorish moron he was all along.
Not even a full year ago, Trump was impeached — for a second time. And even as the world watched him on live TV work to criminally cancel the millions of legitimate votes of Americans who wanted his felonious ass out of the White House, his quaking underlings in Congress refused to convict him of the crimes we all witnessed him commit.
From that roaring tumult, one of the most astonishing things happened in all my years of having a front row seat to the weird carnival of American politics. Wyoming ultra-conservative Republican Congressperson Liz Cheney became a champion voice of reason because she, by default, became one of the last elected Republican moderates in the country, unafraid of Trump and his fascist followers.
And that, ladies and gentlemen, all happened by the end of February.
From there, it's been an endless roller coaster of battling one binge on bedlam after another.
In Colorado, just as the need for masks, mitigation and vaccine mandates became the only clear way out of the pandemic, the push from anti-science cults ramped up their game, outweighing the needs and wishes of about 75% of the state, too tired and too stunned to keep fighting the good fight. 
In Douglas County, quackery on almost every level of government there inspired parents to demand their children, and everyone else's, be exposed to the virus in school, putting at risk the lives of tens of thousands of children and hundreds of thousands of adults. The lost souls of Douglas County chose to believe crank doctors, disinformation crones on Fox News and local talk-radio channels.
Their delusion overtook them during the end of the summer, dissolving Tri-County Health, the state's largest and arguably best health department in Colorado. The nuclear wedge issue? Mandating masks during a viral pandemic.
That really happened.
At the same time, in Aurora's backyard, top state and federal agencies concluded what years of evidence unmistakably revealed: Aurora police have systematically harbored cops that mistreat people of color at a far greater rate than they mistreat white people.
We learned, also, what we already suspected. The department itself had become an insular fiefdom, allowing police to police themselves, in secret.
And as all the world was ablaze with the pandemic, wildfires and Trump's army endlessly chanting The Big Lie, we also learned that not every officer in Aurora's embattled police department is a racist or a bully. In fact, the woman appointed to lead police out of its morass keeps trying to tell everyone to help her remake the police department into something that everyone but the racists, the bullies and fearful want.
What 2021 taught us is that it's hard to hear someone yelling for us to stop backing toward the ledge when we're listening to others screaming at us to ignore it, because it doesn't exist.
If there's a metaphor for 2021, it's the fact that we don't have to bother watching sequels of The Matrix or Die Hard. We've all lived it.
Follow @EditorDavePerry on Twitter or Facebook or reach him at 303-750-7555 or [email protected]