Ignore the distracting and meaningless noise over which Colorado Attorney General candidate has enough experience for the job.
What it comes down to is deciding whom you would want representing you against dubious moves by the Trump Administration, a thirsty and powerful state of California, and a bevy of commanding industries always on the lookout for themselves, not consumers.
Phil Weiser is best suited for that job.
To understand why you should choose one good candidate over another to be the next Colorado attorney general, you have to understand what the AG office is not. The state's Department of Law is not the criminal justice arm of Colorado. Under the state constitution, the AG has very little to do with any criminal matters, especially specific cases.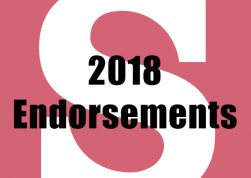 Attorney general candidates have for years tried to make the job more glamorous and compelling than it really is. It's a huge law office boasting about 300 attorneys who mostly spend their days pouring over contracts, Colorado statute and attending the myriad daily meetings held by other state agencies that make the state government run.
So when Arapahoe County District Attorney George Brauchler echoes inaccurate nonsense that Weiser isn't qualified to hold the job, he's wrong. In fact, it's Weiser's qualifications and experience that wins our endorsement and should win that of anyone who thinks this through.
Weiser was an admired law student and won the enviable role of law clerk for Colorado's own Supreme Court Justice Byron White and then Justice Ruth Bader Ginsburg, who succeeded him. No small feat.
Critics have tried to get traction with their baseless "unqualified" argument by saying Weiser's "professional" experience was brief, and that he hasn't "practiced" law in Colorado. It's silly. They misled voters by understating Weiser's experience that directly relates to the office of AG.
He's a former University of Colorado Law School professor who became dean of the school. Weiser has been a stalwart legal policy wonk during his career, which is what Colorado voters should want in an AG, because that's what the job entails.
What critics don't tell you is that current GOP AG Cynthia Coffman also didn't personally litigate Colorado cases, according to media reports. She was a longtime Colorado state attorney who rose through the ranks to become deputy AG. Her tenure has never been marred by her lack of courtroom experience.
As far as we can tell, no Colorado attorney general has ever personally litigated a state case. That's not what they do.
They do what Weiser did in the Clinton and Obama administrations, where he managed large teams of lawyers and a plethora of complex cases about industry, technology, environmental and civil rights laws.
It doesn't mean Brauchler is unqualified to be AG. He's led what is arguably the largest and most diverse district attorney office in the state as chief of the 18th Judicial District. He's worked hard to push for enhanced victims rights and a level of transparency in the prosecutor's office that is the envy of the rest of the state. Brauchler has been innovative in finding ways of helping to move criminal issues as they become apparent to the state Capitol, where they prompt discussion on related legislation or actual bills.
While we've been consistently critical of Brauchler's 2012 call to reach for the death penalty in the Aurora theater shooting trial, which predictably failed and cost taxpayers millions, Brauchler has been an exemplary district attorney.
That experience would certainly give Brauchler, a Republican, a leg up over Weiser, a Democrat, if the jobs were similar, but they're not.
There is no doubt that Colorado will be doing legal battle in the near future with the Trump Administration and the Republican Congress on issues regarding open lands, legal marijuana, water, elections, energy, gas and oil production, environmental safety, greenhouse gases, pharmaceuticals, internet speed and access, consumer data protection, technology advancement and development, and sooner rather than later, immigration.
Both Weiser and Brauchler have made it perfectly clear each is adamant about setting aside partisan and personal considerations when it comes to defending the state's voters, residents, legislature, autonomy and interests. And we believe both would do commendable jobs at that.
It's clear, however, that Weiser's superior experience in constitutional and policy law is a winning trait, having practiced and taught it. It makes him the person you'd want guiding which legal tactics and arguments to use in cases against the federal government or against big corporations. At stake is Colorado's right to save sage grouse habitat, the state's nascent marijuana industry, its right to keep the feds from forcing police to act as immigration officers, its need to regulate a fair and workable internet, and protecting Colorado consumers from complicated and global fraud efforts.
While we agree that experience counts in any role in government, including as attorney general, it's clear both candidates are capable of doing the job, and that Weiser's experience makes him the better candidate.