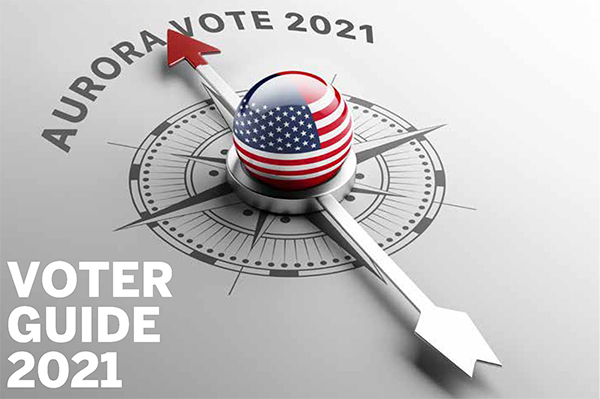 The City of Aurora has likely never been in a more enviable position in its 130-year history, nor has it faced more precarious challenges.
Residents and businesses that call Aurora home are fortunate in that the city is well-run, in strong financial condition, virtually awash with clean, developable water and home to the most culturally and racially diverse community in Colorado.
Part of the reason Aurora finds itself in such an enviable position is because of its government. The city is run by professionals, not politicians, and the policies that guide how the city is run are created by, for the most part, residents, not politicians. Mayor Mike Coffman, formerly a state legislator, state treasurer, secretary of state and member of Congress, is the city's only career politician.

It means that the 11 members of Aurora's "board of directors" have a vested interest in making decisions, and those decisions are the result of who they are and what they bring to the table.The next five people sent to the city council by voters face the toughest challenges in the city's history. Who voters choose among the 15 contenders may never matter more than it does this year.
Here's some of what the next city council faces:
• A broken police department. The Aurora Police Department continues to be scrutinized by a host of federal and state officials for its pervasive abuse of Black people by some officers. The very structure and culture of the department has helped perpetuate these abuses. A new police chief, Vanessa Wilson, has embraced strategic reforms to ensure accountability and transparency. Wilson is getting building resistance from police unions. This next city council will set the tone and direction for these critical police reforms.
• Aurora, like much of the metro area, is facing a wave of criminal and violent activity. The city is home to near daily shootings, often among juveniles or young adults.
• The city, like the region, has been besieged by homelessness, with hundreds of people camping in public places and being only the visible part of this critical and growing problem.
• A disappearing middle class, once the foundation of the city, is giving way to a widening gap between a community of haves and have-nots.
Four years ago, a new class of engaged, progressive city lawmakers was sworn in, bringing long overdue change and new ideas to Aurora. In 2019, additional wins solidified a narrow majority of left-of-center city legislators, driving the conversation for change. It's created a political schism between a faction of Republican lawmakers determined to hold back changes proposed by a group of Democratic council members. With the loss of a key liberal from the council in June, the city council has been locked in an unresolvable stalemate on critical issues.
Using those key issues as touchstones, The Sentinel recommends these candidates best represent the community and offer the best opportunity to address the city's grave problems.
Ward I: Crystal Murillo
Councilwoman Crystal Murillo hails from northwest Aurora and keenly understands how so many residents and families there struggle to keep from losing ground to the rising rents, tenuous employment and endlessly slow redevelopment. Just more than a decade ago, the creation of the Anschutz Medical Campus was hailed as the catalyst for a regional economic boon. Instead, the campus has become a veritable island in northwest Aurora. East Colfax continues to be haunted by pawn shops, check-cashing outlets, vacant properties and other businesses that thrive on public misfortune.
Nascent projects focusing on arts and the ability to draw from the richly diverse cultures and backgrounds of the area's residents have the best chance of success with Murillo back on city council. Murillo has proven herself an apt voice and reality check for legislation that addresses the demands of the city's most vocal residents and often not the neediest.
Ward II: Bryan Lindstrom
Of the three candidates hoping to represent Aurora's northeast region, only Bryan Lindstrom offers a realistic sensibility for the diverse residents and neighborhoods in a ward that boasts tony golf-course communities, rural horse properties, vast commercial warehouse projects and dense urban regions.
Lindstrom best represents the ward, and the entire city, in pressing for strategic police reforms that ensure the police department is accountable, transparent and provably able to reject officers who cannot treat people of color with the same dignity and respect as they do white people.
Lindstrom is a veteran teacher for Aurora Public Schools and has long been an advocate for bringing the city on board to address problems that perpetuate the so-called "achievement gap" between wealthier and poorer students. Lindstrom has insisted residents have a strong voice in regulating the impacts of local commercial interests when they negatively affect people's homes and lives. He supports efforts made by his predecessor, Councilmember Nicole Johnston, in ensuring the city can force oil and gas developers to mitigate the noise, traffic and environmental damage created by drilling and pumping sites. It was a sea change in Aurora and across Colorado.
Local restaurant operator Steve Sundberg, also a candidate, offers enthusiasm to sit on the city council, but he has steadfastly avoided clarity on the police reform issue. At a televised candidate forum, he coyly said he supports the current police chief, "until there's another option." He has aligned himself with a misguided clique of elected and potential city leaders who falsely dismiss Aurora police crimes as the result of a few bad officers.
He said his wife and children, who are Black, have been treated only respectfully when they've had encounters with Aurora police.
That's good news for Sundberg's family. It has no bearing on overwhelming evidence brought to light by internal and outside investigations revealing longstanding, critical problems. It has no bearing on the horrific acts caught on police body cameras and consistently told by credible and consistent people of color, including local community leaders.
Aurora should shun candidates for this or any office who try to gaslight the community into thinking that the Aurora Police Department is not a problem that warrants serious reform.
The Colorado Attorney General, in reporting on a year-long investigation, was unequivocal in pointing out that problems with racism, transparency, accountability and training are widespread in the Aurora Police Department and have been problematic for years.
Sundberg also joins a handful of other candidates touting their small-business tenure as a case for their election over other candidates.
It's not a compelling argument.
Aurora is rife with lobbyists and proponents for small businesses, and all businesses, in Aurora. The city boasts an active and powerful Small Business Advisory Committee that regularly weighs in on issues and proposed legislation, ensuring its loud voice is heard at council committee meetings and public hearings. The Aurora Chamber of Commerce, Aurora Economic Development Council, Small Business Development Center, Havana Business Improvement District and other groups, associations and activists ensure Aurora staff and lawmakers are well-aware of the concerns of business operators when considering every proposed change.
The interests of business and developers have long won the day on the Aurora City Council.
Aurora residents need champions for the interests of those whose lives are staked to their homes and their schools.
Instead, Sundberg raises questions about his dubious judgment as a restaurant owner — working with the public in an industry nearly decimated by the pandemic — he said during a televised forum that he has "not yet" decided to vaccinate against COVID-19.
Ward II needs a strong proponent for sensible, pragmatic and effective changes in the city to address serious problems. Lindstrom is the only candidate in Ward II offering that.
Ward III: Ruben Medina
Ward III candidate Ruben Medina has seen the neighborhoods he wants to represent from every angle, for years. A longtime resident, Medina has been a project manager, a community organizer, a wrestling coach and even former fire department medic. A stalwart community activist, Medina has served on a variety of regional boards, including the Denver Foundation and RISE Colorado, promoting success for people of color.
In the decades he's lived and worked in his Aurora community, he has worked tirelessly to improve the lives of young people in the area. He worked hard to create a program to provide food for disadvantaged youth and was a catalyst behind a stunning transformation of the Moorhead Recreation Center.
Now, he's ready for a seat at the Aurora City Council.
Medina understands that it will take persistence and diplomacy to push through critically needed police reforms and find meaningful, sustainable solutions to the region's growing homelessness crisis.
During a televised candidate forum, his opponent, Jono Scott, a Baptist minister at a Denver congregation, displayed wincing naivete in the Aurora Police reform controversy. When asked by reporters what city lawmakers can do to resolve the police reform quagmire, he said the priority should be for the city council to show its support for the police.
Aurora police have had no shortage of support from this city council nor any before it, going back generations. It is, in fact, part of the current problem that some members of the current city council and far too many in decades past gave their unquestioning support to Aurora police and administrators. It is that pandering, for whatever reason, that has contributed to a department that is so insular and so unaccountable that officers fired for egregious racist behavior or astounding unprofessional stunts are returned to duty.
Scott showed a similar lack of understanding and insight on other critical issues the Aurora City Council faces. In addressing the homelessness crisis, Scott repeated simplistic tropes about people who "choose" homelessness and drug addiction, complicating a way to provide shelter for those who choose not to be homeless. Scott, and others like him, misunderstand the complex dynamics of addiction and mental illness and how people who cannot or do not find their way out of the morass of homelessness and addiction almost always have their drugs or circumstances making their choices for them.
Medina will bring not only wisdom and valuable community experience to the council dais, he'll bring a much-needed collegial demeanor, an integral need to help the next city council navigate through hard decisions.
At-Large: John Ronquillo and Candice Bailey
Virtually all of the candidates for two at-large positions offer valuable experiences and deep interest in city government. Each of them would bring thoughtful discussion to the city council as a whole.
Danielle Jurinsky, a Republican restaurant owner, knows first-hand that restaurant businesses like hers depend on people who can't afford cars or Uber rides and depend on inadequate public transportation. She sees a need for the city to be more involved in helping RTD solve route problems.
Jurinsky's shortfall is her misunderstanding of the Aurora Police problem. She, like other pro-police candidates, dismiss the gravity of a department gutted by exposed racism and malfeasance. She attributed much of the problem to a lack of city council supporting police.
She, too, raises questions about her judgment by revealing publicly that, even as a restaurant owner, she has not been vaccinated against COVID-19.
Council hopeful Dustin Zvonek, a Republican, would bring years of political experience and contacts to the dais, and he shows keen insight into the complex nature of how the Aurora Police Department interacts with many other agencies, and how those interactions can enhance accountability.
Elsewhere, Zvonek falls far short on showing how he would do anything as a city lawmaker that would move Aurora forward on critical issues, rather than drag the city back into the quagmire that could sink it. He said he supports Mayor Mike Coffman's failed proposal on using police to sweep homeless campers away without providing an answer for where it is he and Coffman think hundreds of chased homeless campers would go.
Aurora and Denver have for years pushed problems such as homelessness, prostitution and drug sales back and forth the cities' border with targeted police operations that have done nothing but perpetuate these problems at the expense of victims and the public.
Aurora's grave problems with crime and homelessness beg for meaningful answers, rather than stale and failed ideas from the past.
In talking about addressing crime, Zvonek suggests increasing police funding and support as the solution to a growing and complex crime wave in the region.
Like failed attempts in the past, he suggests that boosting the more than 700 officers in a city of almost 400,000 people would or could prevent shootings and drug deals. He offers debunked solutions to problems that can't wait to be addressed.
Police primarily react to crime, and they need the resources to do that. But there's little police can do to prevent shootings, drug use and sales or curb rising violence, often a dynamic problem that affects most shootings.
Becky Hogan, a Republican and wife of former Mayor Steve Hogan, is seeking a place on the city council in what she says is an effort to bring civility back to the dais so the city's pending problems can be addressed and sealed with legislation. In her efforts to appeal as a political and policy moderate, she's created a campaign that comes off as nebulous rather than flexible. In a city council war between polarized factions that too often skirt the truth and even reality, it's critical that voters know what each candidate believes based on what they know. If elected, it's unclear where Hogan would land on concrete questions regarding police accountability. It's equally unclear whether Hogan would fall behind camping bans with few or no meaningful accommodations for people "swept" from their tent homes.
Two candidates don't suffer from any of those burdens: John Ronquillo and Candice Bailey.
Each of these Democratic candidates have made clear that Aurora must ensure any proposals addressing the homelessness crisis draw in other jurisdictions and communities. This is not an Aurora problem, it's a regional one that's only made worse by insular legislation pushing homeless people from place to place. Ronquillo and Bailey both understand that illicit campers create a public health problem for themselves and the community. County and state health departments serving Aurora and Denver have a responsibility to address the crisis just as much as Aurora's city government does.
Most importantly, both of these candidates make clear that being homeless or camping in restricted areas is not a crime problem, and it absolutely is wrong to use police as social workers to move homeless people along to their next forbidden campsite.
Similarly, both Bailey and Ronquillo have deep and profound understandings into Aurora's police department reform crisis. Both are proponents of unloading "non-police-work" from officers, freeing them to focus on addressing criminal and law-enforcement issues. Both Bailey and Ronquillo understand that problems of racism, poor training and unacceptable police behavior standards are systemic, and not a result of the lack of support by city council of the department or its officers.
Both are unapologetic in stating that their allegiance as city council members is to the public, regardless of race, income or where residents live. Members of the Aurora police department deserve the same respect and support as any other city employee, whose job it is to serve and protect the public, not themselves and not their jobs.
Aurora finds itself in this quagmire because too many former city leaders pandered to police for political support or outright rejected warning signs that the lack of independent oversight of the police department would lead to the disastrous situation Aurora now finds itself.
Bailey is a life-long resident of the city, no stranger to the budgetary nuances of city finances and certainly no stranger to a wide range of critical causes that she advocates for as a tireless community activist. She's criticized for her sometimes bombastic approach at rallies to energize people into action. In watching her during committees, Bailey has proven herself to be an open-minded student of change, willing to listen and more than willing to weigh in.
John Ronquillo is a steady hand, badly needed on the city council. He's long proven himself to take thoughtful, academic approach to issues, demanding facts, proof and data before coming to a conclusion. His collaborative approach to working with people, inside and out of the college classroom where he's an instructor, is a desperately needed quality on a city council often too quick to hit the panic button. Each meeting and event we've seen him lead at leaves an impression of mutual respect and a genuine desire to accommodate conflicting opinions based on fact.
Both of these community leaders would be strong assets on a city council mired in complicated and difficult questions, which cannot be solved with simplistic or easy answers.