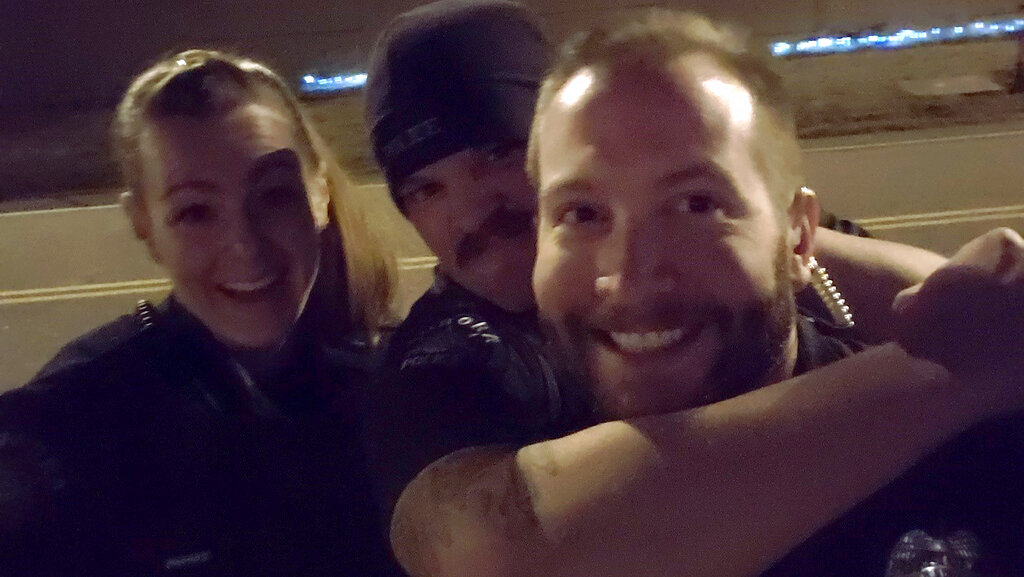 Honor and justice prevailed in a controversy at the Aurora Police Department this week. It was a profound change.
An obscure city board made up of citizens agreed Tuesday to uphold the firing of three Aurora police officers who mocked the notorious 2019 death of Elijah McClain .
For the past several years, police have drawn suspicion upon themselves for either minimizing discipline for appalling, sometimes racist, offenses. Worse, Aurora police have mustered the courage or outrage to fire officers for something so egregious, nothing else will suffice. The firing has often been reversed after an appeal to the city's infamous civil service commission.
Members of Aurora's Civil Service Commission this week, however, unanimously agreed to uphold Police Chief Vanessa Wilson's dismissal of three former Aurora officers who posed for and texted one another a photo mocking the death of McClain last summer, according to a story in The Sentinel.
The debacle only worsened the tragic 2019 killing of McClain, which has since helped put Aurora on the map as a hotspot of deadly racism for Black people.
Commissioners Jim Weeks, Barbara Shannon-Banister and AJ McDonald rebuked appeals from fired officers Jason Rosenblatt, Erica Marrero and Kyle Dittrich, according to the Sentinel. The officers justified the parody as an attempt to cheer up an officer directly implicated in McClain's death. McClain, unarmed, was stopped by police for acting suspiciously, placed in a now-banned choke hold by officers and injected with a tranquilizer. The 23-year-old Aurora man never regained consciousness. 
"The commission simply does not understand how a photo depicting a choke hold at the Elijah McClain memorial could possibly be expected to help" alleviate sadness experienced by one of the officers accused of taking part in the death of McClain.
The decision was a stunning turnaround from civil service commission calls from years past.
Former police chiefs have been outraged by past civil service commissions reducing or outright reversing discipline for errant cops and firefighters.
The role of the commission is historical and venerable. The committee was created to oversee hiring criteria and address the ever-changing issues affecting careers in law enforcement and firefighting.
In theory, the commission serves the public and the sworn officers and firefighters by ensuring cops can act on behalf of the public, even if it aggravates supervisors and police administration.
In theory.
In practice, the commission has been stacked with representatives who believe that virtually nothing cops do while on or off duty warrants dismissal or meaningful suspensions and loss of pay.
A cop who once kicked in the hubcaps of his squad car and damaged it to make it look more "ghetto" because the officer patrolled northwest Aurora escaped full punishment because of the commission.
Drunken cops, racist cops, abusive cops have all been let off the worst of their punishment by past commissions.
Former Police Chief Dan Oates was nearly apoplectic about the inability to keep the commission from reducing or reversing police discipline. Last year, he wrote to the Washington Post to illustrate how dangerous and frustrating it is to allow commissions like the one in Aurora to undermine police discipline.
"In nearly nine years as chief in Aurora…I had 16 cops out of 650 whom I felt should be fired," Oates said in his Washington Post June 2020 essay. "Four I actually did fire. The Civil Service Commission promptly reversed me on three of them. So with the other 12 cops, I bent over backward to negotiate their departures with creative severance packages. I succeeded in getting them out — with deals that protected the city from litigation — but these agreements also allowed the cops to get jobs elsewhere if they could."
In one of the commission's most egregious moves, it reinstated an officer fired for making racial slurs on camera about Black residents observing at a crime scene. That officer still works for Aurora Police.
The problem doesn't exist just at the commission level. In 2019, the Aurora Police Department reputation was further pulverized after a video went internationally viral of an Aurora cop passed out drunk in his police car. Police officials suspended but didn't fire him.
This week's decision to uphold the rightful firings reveals real progress being made in turning around the department's badly damaged reputation, apparently by turning around the department. New Police Chief Vanessa Wilson and a handful of city officials have imposed new, higher standards for officers, and are working to reach out to the public and especially minority communities in an effort to rebuild trust.
While a change in the composition and direction of the Civil Service Commission is welcome, it's not a long-term solution.
City lawmakers, poised to review ongoing analyses and recommendations, must choose changes that will focus on police department transparency, integrity and accountability. That almost certainly includes changes in police discipline and oversight.