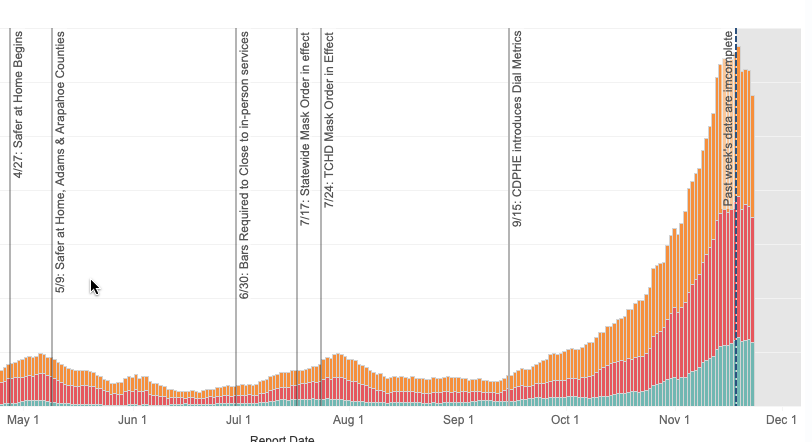 Yes, Colorado. It can get worse.
As the Aurora metro area and the rest of the region reel from a rising flood of COVID-19 cases and rampant infection, many just shake their heads, ignore the science, or blame the messengers and say that it can only get better from here.
We were all warned, repeatedly, that infections would spread again. We were warned the hospitals would fill and thousands more would die if we did not wear masks and stay apart.
Here we are, knowing all that we do about how the virus is spread and how to prevent it, but on the eve of calamity again.
Virus and medical experts warned us we would get to this point by erroneously thinking we were safe in rejoining our social circles and relaxing our diligence in wearing masks and keeping our distance.
They were right.
Infection levels have now surpassed the pandemic's beginning.
Now experts are warning us that if we continue disregarding their advice, we'll be ordered, not asked, to stay home just to prevent overwhelming the medical system and to prevent hundreds of thousands of more from dying. School classrooms are closed again because of community transmission rates, robbing children, especially poor children, of desperately needed teacher contact.
The culprits are clear. People, bored with isolating themselves, began venturing into restaurants, bars and homes with friends and family from outside their households.
They've made the pandemic the same threat to life and businesses that it was in March and April.
We are again facing a health and economic calamity because people think the rules to postpone socializing don't apply to them and their friends and families.
It's startling and aggravating that some public officials are making the situation worse.
GOP Congressperson-elect Lauren Boebert, from Rifle, has been sending out social media missives saying that pleas from federal, state and local health officials and experts to isolate households this Thanksgiving are constitutional and moral violations.
"I'm having a peaceful protest in honor of my deceased turkey on November 26, 2020… and no one is stopping me," Boebert wrote in a Tweet.
New to the political scene, Boebert has shown repeatedly to dabble in a range of braggadocio and conspiracy theories but not science nor reality. She's not alone. Similar messaging by a variety of Colorado officials and even Texas GOP Sen. Ted Cruz are not just irresponsibly foolish but deadly.
A new political generation of adults are assembling to take control of the government and management of the pandemic when President-elect Joe Biden is sworn into office Jan. 20. It will be too late, however, because further damage deniers of the pandemic and science will inflict will likely be catastrophic.
All the testing and indoor restaurant bans Colorado and federal officials can muster are worthless if vast segments of the public refuse to hold off on socializing until the spread of the virus is controlled. Given remarkable news by vaccine companies this week, that could be just months away.
Next week, state lawmakers meet in special session to address a variety of issues associated with the pandemic crisis. This is their chance to prod Gov. Jared Polis into enacting orders or signing laws that make more than just a request that people not meet socially inside homes or public places with those outside a household.
While such a mandate may sound extreme, the clear alternative at this point is for health and elected officials to continue uselessly pleading for compliance, watching the pandemic ravage the region and eventually force all businesses to shut down again.
Such a socializing restriction, likely imposed by cities and health departments but backed by Polis, would be extraordinary. This, however, is an extraordinary disaster. Colorado and the nation are so close to administering effective vaccines into the population and being able to wield a new, responsible U.S. administration against the virus and the economic disaster it's causing.
But allowing segments of the public — who are weary, leery or hostile to common sense, reality and relatively easy ways to contain the virus — to promote infection to the point of calamity is far more extreme, and it's just wrong.
Rather than wait until we're forced to shut down the state again, do more to shut down just the behaviors that are bringing us to our knees, again.