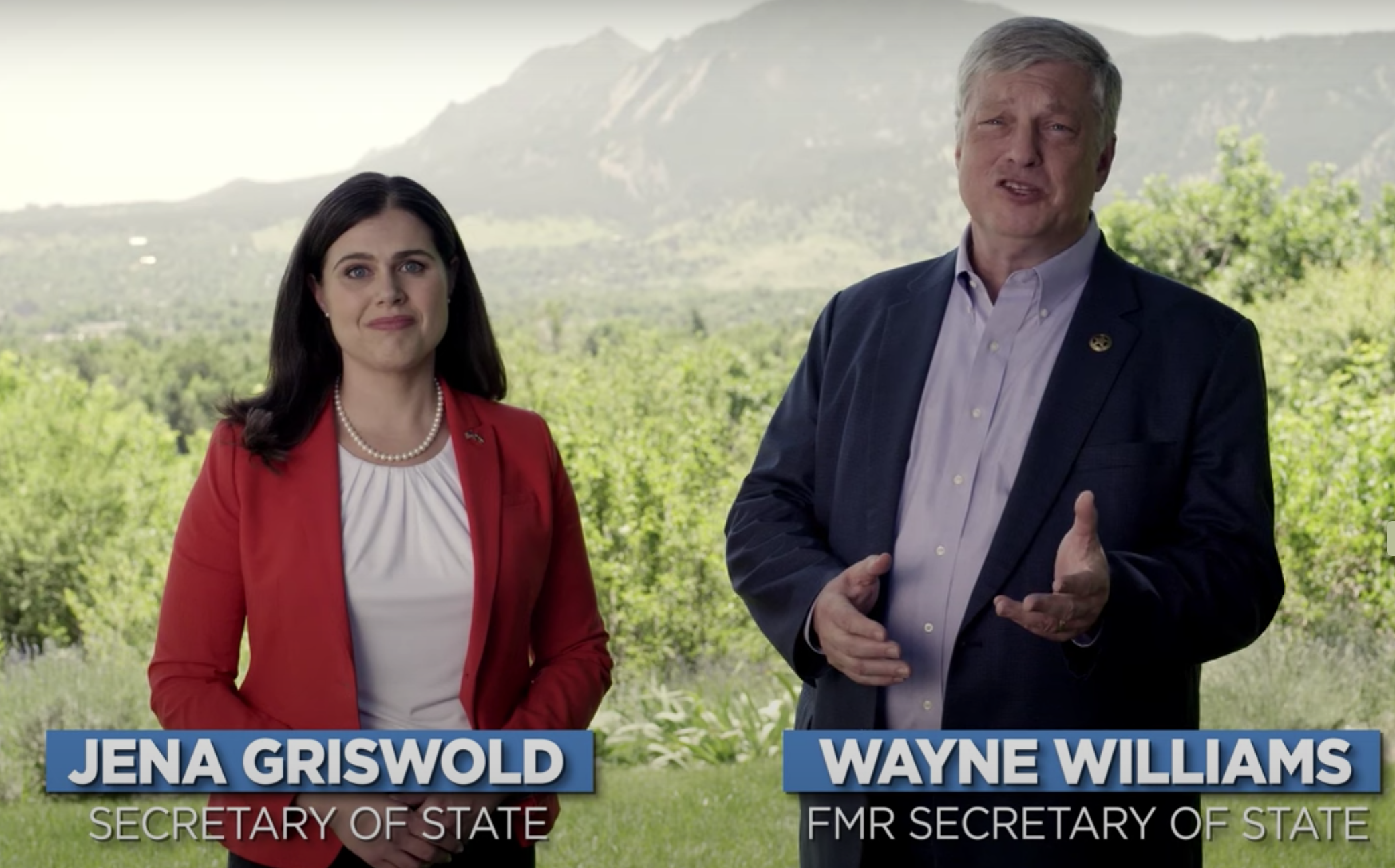 Colorado Secretary of State Jena Griswold made a serious mistake in creating a taxpayer-funded TV ad aiming to fight election disinformation, and she missed a better opportunity to accomplish her goal.
Republicans and some members of the media raised anywhere from eyebrows to howling alarms this week after Griswold launched a pricey TV ad campaign during Sunday's pre-season Broncos game.
Griswold, a first-term Democrat running for re-election, appears in the ad with former Republican Colorado Secretary of State Wayne Williams to talk about how critical it is to fight election disinformation as the 2022 mid-term election gets underway in earnest over the next several weeks.
Alternating 15-second and 30-second commercials are touted as a "bi-partisan" effort to fight against dangerous election misinformation and disinformation, which is expected to soon flood social media channels and dubious propaganda organs posing as news organizations.
Boosting the message that, when it comes to trusted elections and the fight against propaganda, we're all friends in this big Colorado political tent, is the fact that Griswold beat Williams during the last election.
The brief back-and-forth in the ad is laconic.
Griswold: I'm Democratic Secretary of State Jena Griswold.
Williams: I'm Wayne Williams, Republican, and former Secretary of State. One thing we both know is that Colorado's elections are safe and secure. 
Griswold: That's right, Wayne, but voters should be alert to election disinformation. 
Williams: Election disinformation is designed to look real. So always use trusted sources. 
Griswold: Together we can combat election disinformation. To get the facts about election security visit GoVoteColorado dot gov. 
The commercial tries to make a point that both parties agree that election disinformation is bad, it's not a problem here in Colorado, and check your sources for credibility.
It's all good advice. But the spot immediately raised cries of foul from Republicans saying it amounts to little more than a taxpayer-funded re-election campaign ad for Griswold.
The point is well taken.
Griswold is running against Republican Pam Anderson, who was Jefferson County Clerk and Recorder. Anderson won the GOP nod in June amid a nationally watched circus for the Republican nomination. Anderson won overwhelmingly in her race against disgraced Mesa County Clerk Tina Peters. Peters, a conspiracy theorist and avid Trump election denier, faces multiple charges of tampering with election equipment during the 2020 presidential election.
Anderson has repeatedly pushed back against the conspiracy theories and those who dabble or wallow in election denier banter or sermons.
Next on 9News anchor Kyle Clark reported earlier this week that the ads are funded by the federal Help America Vote Act, using tax dollars, and are expected to cost $1,099,999, according to the Griswold state office officials.
It's hardly a million-dollar effort at shoring up elections against treacherous crazy talk from election deniers near and far.
Whether the move was intentional, Griswold sullies her own campaign with at least the appearance of impropriety for using taxpayer dollars that can generate name recognition and some sense of bi-partisan goodwill in trying to tell people, check your sources.
It's an election year, and state voters, and all residents, can expect the holder of this office, above all others in Colorado, to be scrupulous in following and managing campaign laws and rules. The ad, intentionally or not, gives the impression that Republican Williams tacitly or outright endorses Griswold as secretary of state. Those are Griswold campaign matters that need to be handled with her campaign funds, not public tax dollars.
She missed an opportunity to truly impress Colorado voters about the safety and accuracy of our election process by making the same brief commercial with Anderson, instead of Williams.
A joint Griswold-Anderson spot would still tread dangerously into spending tax dollars for political campaign advertising, however such a spot would at least be fair, and wildly more effective.
As to allegations by Republicans that the ads are a gross violation of campaign laws, it doesn't appear to be the case. Being an incumbent for any race, from any party, comes with legitimate, yet unfair, advantages.
Rather, it's a case of gross misjudgment on Griswold's part and reveals how she assesses questions of imprudence by other political candidates.
The message Griswold is trying to deliver is vital and timely. While Colorado elections are the gold standard for being easy, accurate and trusted, the Peters debacle and prominence of local unabashed election deniers, such as GOP Congressperson Lauren Boebert, present multiple dangers. The Republican candidate for lieutenant governor, Danny Moore, running mate for GOP gubernatorial candidate Heidi Ganahl, is an unrepentant election denier, removed from his leadership post on an important election redistricting commission last year.
Any elected official or candidate flirting with or outright backing election denier myths, lies and delusions needs to be clearly identified by credible media and dismissed as plausible candidate.
The anti-disinformation message behind Griswold's TV commercial blunder is sound and badly needed, but not like this.
Griswold's campaign should suspend the unfair ads and remake them, either with Anderson, or entirely different bi-partisan trusted sources who can build confidence instead of criticism.