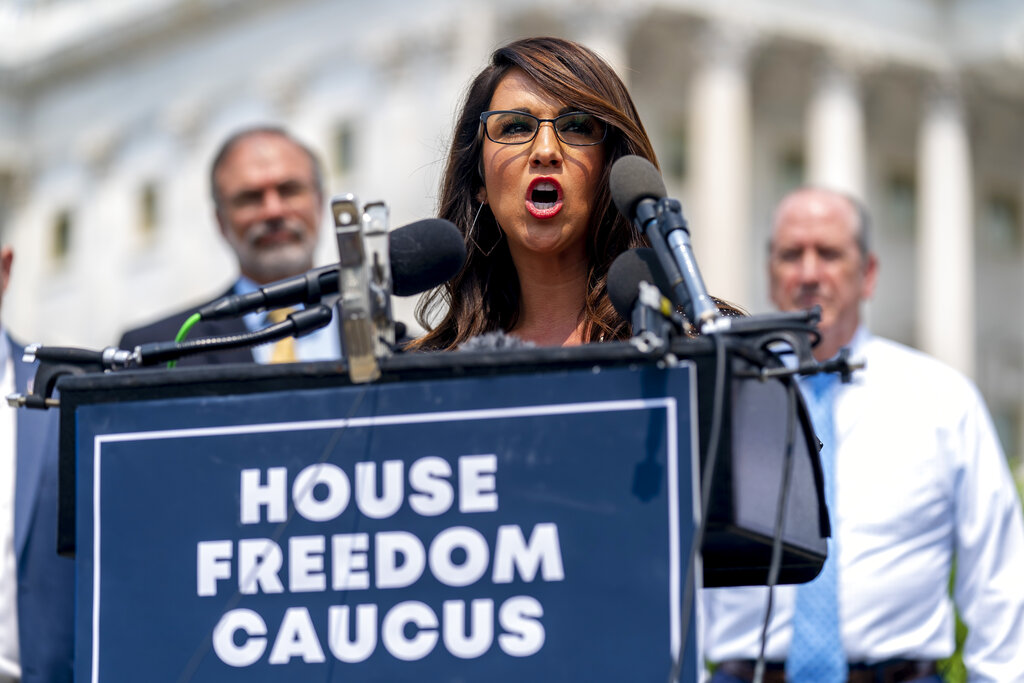 A principled, rational person would never do and say the things Congressperson Lauren Boebert has done and said and would contritely yield to calls to resign after being called out for her hostile stunts and transgressions.
Boebert is neither a principled nor a rational person.
From the moment Boebert launched her Republican political career on the steps of Aurora's city hall during a 2019 rally for then presidential candidate Beto O'Rourke, she has proved herself to be a dubious and corrupt devotee to those obsessed with Donald Trump, gun rights, conspiracy theories, and phobias of science and academics. She is regularly publicly thrilled by performing her racist and homophobic tropes.
Boebert, hardly for the first time, has again reeled in public infamy for her recent performance at a small political rally. In a widely circulated video on Twitter, posted by Patriot Takes, she excitedly recounts what appears to be, at best, an exaggerated few moments in a Capitol elevator "recently."
The target of her racist rant, Democratic U.S. Rep. Ilhan Omar, said Boebert's entire libretto was invented.

Performing for an enthusiastic rally audience of supporters with all the skill she musters regularly during her clumsy orations on the floor of the U.S. House, Boebert said she was inside a Capitol elevator recently when the event occurred. She said she saw a Capitol security officer racing toward the closing elevator door, apparently "fretting" and panicked for reasons unknown to her.
Boebert relays, in the video, that she was unnerved as the doors closed, unclear what the danger might have been. She said she then looked to her left, "and there she was."
Boebert said Omar was also in the elevator, inferring her presence in the elevator was the source of panic by the Capitol police officer.
Boebert then said that she looked at Omar and determined since "she doesn't have a backpack, I guess we're alright," intimating Omar could be a suicide bomber because she is a Somali American and a Muslim.
Pathetically, the crowd laughs at her racist attempt at stand-up comedy. She is the antithesis of a responsible representative of Colorado in the U.S House of Representatives.
She finishes slurring Omar by piggybacking on Donald Trump's equally vulgar and racist trope about Omar and other Muslims and minorities in Congress.
"And I said, 'Oh look, the jihad squad decided to show up for work today,'" Boebert said, finishing her routine.
She refers, erroneously, to 'jihad' as being connected only to terrorist like behavior. The slur mistakes the holy term that comes from the Arabic word for "striving." It is any cause taken up in the name of the Judeo-Muslim-Christian god for the good of the any person or group. On a personal level, it's sometimes compared to Christian Lent, focusing on improving ethical and spiritual behaviors.  
This was hardly Boebert's first foray into anti-Muslim remarks made publicly and far from the only target of her bigotry.
Since she grabbed the public microphone as a candidate for Congress, she's attacked all types of immigrants, gay and lesbian citizens, transgender citizens and even members of her own Republican Party who don't toe the bizarre and dangerous line of pro-insurrectionists like Donald Trump.
Her anti-Muslim rhetoric endangers the lives of Muslims and other immigrants in Aurora and across the nation, seeking to normalize and embed dangerous tropes, making these Americans seem as "others."
Boebert increasingly either produces these contrived "comedy" routines or performs on select TV programs, targeting people like U.S. Transportation Sec. Pete Buttigieg. Boebert attacked Buttigieg, who is openly gay, after he and his husband recent adopted two infants. She disparaged him for taking family leave to try and figure out how to "chest feed" his new babies.
Besides her internal social media productions and routines, she sometimes appears now on the TV shows of other right-wing extremists on propaganda networks like OAN, FoxNews and Newsmax.
Each time she is called out for her outrageous and often fumbling performances, she's emboldened to do more, leveraging the public outrage to lure donations from her own brand of followers across the nation.
Rather than working to represent the real and critical needs of her constituents from western and southern Colorado, Boebert focuses on promoting nearly every insulting meme and claim made by a small but relentless group of Americans drowning in a sea of white supremacy, chaos, un-enlightenment, bigotry and firearm obsession.
Novel to this incidence of racism and outrage was that she issued a tepid apology on the less-read of her two Twitter accounts.
"I apologize to anyone in the Muslim community I offended with my comment about Rep. Omar," Boebert said on her congressional Twitter account. "I have reached out to her office to speak with her directly. There are plenty of policy differences to focus on without this unnecessary distraction."
Boebert's constant pandering to Trump cult members is the endless distraction to the nation's very real crises. Boebert, and those like her, are a growing part of the problem in the country and incapable of taking part in any work toward solutions.
We would be as naive as many of her followers to think she would resign now in deserved shame for this recent and past racist attacks.
Until voters in her district can next year reject Boebert, and her relentless attempt to normalize racism, intolerance and deceit, Americans can only hope her Trump-hobbled Republican Party will keep her, and others like her, in check.
Given the recent Republican defense of similar societal felons such as GOP representatives Marjorie Greene, Matt Gaetz and Paul Gosar, we hold out little hope. Cowering in fear from the Trumpists that Republicans have handed control of their party to, they are silent to Boebert's atrocities, just like those of Trump himself.
Instead, the nation must depend on Colorado residents and others aghast at Boebert's abuse of her seat in congress, minorities, and those who loathe her malevolent mission and message, to remain as vocal as she is.
Speak up, everyone. The nation's indifference to Boebert and those like her is equally as dangerous as she is to millions of Americans, and to our democracy itself.