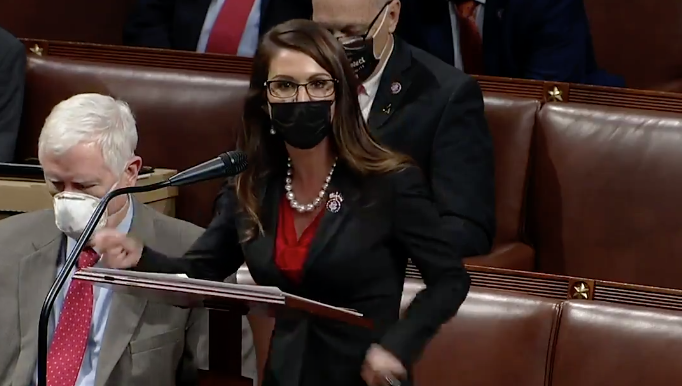 Colorado and the nation have had enough pretentious deflection from the state's newest member of Congress, Republican Rep. Lauren Boebert.
Barely in office for a week representing Pueblo and the Western Slope, dozens of elected leaders across the state have already called for her resignation. Boebert was part of the GOP "caucus" dangerously promoting President Donald Trump's seditious and baseless voter fraud conspiracies. Boebert and those like her undoubtedly helped incite the Jan. 6 Capitol siege with her relentless push to undermine the election during a congressional counting formality.
Taking it even further, Boebert was the author of incendiary messages to faithful extremists such as "Today is 1776," just hours before Trump's mob besieged the U.S. Capitol.
It was shocking but not novel. Boebert has become the congressperson she promised to be on the campaign trail: obsessed with gun rights, obstruction, Trump and feverish, nationalistic nonsense indistinguishable from the current wave of the fascism that swept into the Capitol Jan. 6.
Boebert gave two floor speeches, one before and another after the Capitol siege. Both were shrill pro-Trump propaganda spasms. 
Even stalwart Republican Senate Majority Leader and reliable Trump apologist Mitch McConnell made clear the Capitol siege and those who incited it had undeniably crossed a dangerous line.
"The mob was fed lies," McConnell said Tuesday. "They were provoked by the president and other powerful people, and they tried to use fear and violence to stop a specific proceeding of the first branch of the federal government which they did not like."
Boebert was one of those in the public's eye directing the lies to insurgents.
The nation, the Congress and Colorado were created to weather an onerous mistake by voters like Boebert. Her 3rd Congressional Seat is but one of 441 in the U.S. House, among seven in Colorado. Voters or any state mechanism, however, is unable to immediately rectify Boebert's election. Only members of the House can expel Bobert now, before constituents here can in two years.
Colorado and the House need a way forward until she is gone. Immediately, that means voters need to know the truth about her involvement in the Capitol siege and her past and current political alliances.
First, members of Congress need to determine whether her ties to militia groups, conspiracy cults and the part she played in inciting the Jan. 6 Capitol siege disqualify her from holding her office. 
Boebert's worrisome ties to nefarious gun and conspiracy groups go back much further than her brief career in Congress. Since announcing her candidacy, she has embraced the hackneyed talking points of far-right extremists. For years, she has peppered her tweets and quotes with talk of "revolution" and threats against those who try to undermine her gun rights or try and "take" her guns.
Her claim to fame before running for Congress was operating a restaurant in Rifle where she and her staff openly wear guns on their sides.
She has long bragged on social media about her support for and from gun-rights extremists, including the dubious Three Percent Club, extremists implicated in the Jan. 6 insurrection.
9News reporters and others during the past few days have pointed out that Boebert has begun purging her social media accounts of photos and comments she's made that could easily make a circumstantial case for her complicity in criminal activity during the Capitol siege. 
Congress and the nation must move thoughtfully and cautiously here. Some media and critics have already blurred the lines between facts and fiction in the case against Boebert. An old photo taken at the Colorado Capitol made the rounds as "news," purported to be Boebert recently with insurrectionists at the U.S. Capitol. Such treatment is unfair and undermines very real concerns about Boebert's behavior and alliances. Currently, the nation is trying to climb out of the Trump Republican faux-news feedback loop, calling for investigations based on "news" about invented suspicions. Boebert's own comments and social media trail already provide a sound reason for investigation. Invented or sensationalized reports only undermine the need for an official query.
Boebert has given the public confusing and inconsistent answers about providing "tours" to potential insurrectionists just before the Jan. 6 siege. She's told the Colorado Springs Gazette she gave no tours. She's said in press releases she gave tours only for her family, husband, children, mother, aunt and uncle. She has not formally identified any of those people, and neither voters nor Congress have a clear understanding of what political alliances Boebert's family members have.
From reliable media reports and her own Facebook account, it is clear that Boebert's mother, Shawn Bentz has openly promoted the Q-Anon conspiracy theory and made inflammatory social media posts, much like her daughter.
"Days after the Capitol riots (Shawn-Bentz) posted — and later deleted — a link to a violent, dystopian YouTube video portraying the country's military might under Trump, from rifles to nuclear bombs, and asserting that the military would stand with the president to keep him in office," veteran reporter Nancy Lofholm wrote for the Colorado Sun this week. '"Just when y'all thought My President was hiding out…He will not give up on us! In The End We Win!!" Bentz wrote after first commenting about the post: "If That Ain't America I Will Kiss Your Ass!!!"'
The Sun and other media reported that Bentz has since deleted her Q-Anon and extremists posts from her Facebook account.
Given that Boebert has repeatedly and enthusiastically pressed debunked fabrications about the presidential election, bragged of her alignment with dangerous fringe extremists and been unclear and inconsistent in her explanations about her involvement with insurrectionists and their supporters, House members should immediately investigate Boebert to determine the truth. 
The case for censuring Boebert for her comments and actions so far is overwhelming. The case for her expulsion is so far compelling but unsettled. This isn't about gray areas in political ethics. The plausible allegations are perilous and demand a sober, thorough address.
Clearly, Boebert cannot be trusted to tell the truth. Congress must uncover it and reveal it to Colorado voters and the nation.