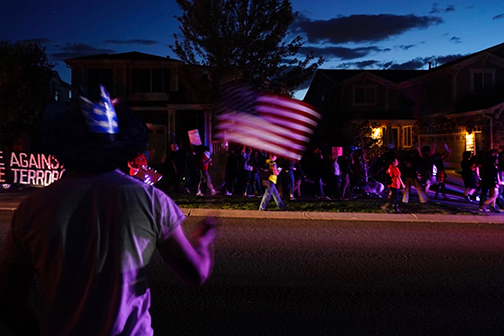 The only thing more insidious than protesting at the home of a private citizen is the government limiting the ability to do it.
Some Aurora City Council members are keen on the idea of further restricting free-speech rights after immigration protesters in September targeted a house in a tony southeast Aurora neighborhood. 
City lawmakers should scuttle any such legislation.
We are in front of the parade of those who abhor the idea of protesting at the homes of bureaucrats, medical workers, educators, government employees, police or anyone else who might be caught up in public controversy because of what they do at work, not inside their homes.
This misguided effort to amend already heavy-handed protest restrictions comes from Councilwoman Francoise Bergan. It was in her council ward that protesters targeted the house of Johnny Choate, warden of Aurora GEO ICE prison. Protesters from the metro area targeted his home because he oversees a detention center that critics say is unfair and unsafe for immigrants detained there.
"Why should Johnny Choate, the warden of the notorious ICE/GEO Group concentration camp in Aurora, get to enjoy quiet evenings in his suburban home after overseeing the torture and terrorizing of our asylum-seeking neighbors?" a Facebook post by Denver Communists said in September. "For at least one night, help us disturb this cruel warden's peace and quiet!"
They said it was important to invade Choate's community so his neighbors would know who was living among them.
In an editorial before the protest, we accurately labeled the stunt as a repugnant act that bordered on violence and extortion.
Protesters accused Choate of being part of a new "Gestapo," and we accurately pointed out that in pre-war Germany it was the Nazis who used such "protest" tactics to terrorize Jews, their supporters and protectors.
But while protesting the homes of unelected bureaucrats or other workers is an abuse of free speech, restricting it is an even more dire mistake.
Few things are as cherished and vital to American government and freedom as the unfettered right to free speech. Nothing sets the United States further apart from nations such as China, Russia and Iran as the ability to peacefully assemble and protest.
Now, more than ever, Aurora and similar governments must strengthen free speech rights, not limit them. At a time when the President of the United States and powerful political leaders are working to undermine the nation's trusted press and supplant it with a campaign of propaganda and outright lies, free speech becomes invaluable.
By restricting when and where peaceful protests can occur, and whether and how protesters can stand or walk, Aurora and other governments endanger a historical and effective way for the public to draw attention to a problem.
All of Aurora, including Bergan and like-minded city lawmakers should appeal to protesters to not stalk private citizens at their homes, but that's all government officials, or anyone, should do.
It's up to police to determine whether protesters are acting peacefully and not endangering the immediate safety of themselves or others. And it's up to the courts to determine whether police are themselves acting lawfully during protests.
But it's the job of city councils and state lawmakers to ensure that good intentions don't encroach on this critical American right that is so tantalizing for some to limit, and so dangerous if we allow our elected officials to do it.