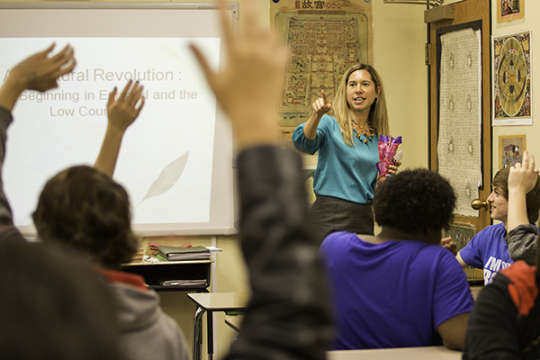 Of course it's about the money.
Despite the nonsense claims of public-school critics, especially those currently in Washington, improving student performance, expressly for poor students, is all about the money.
Many Aurora schools have for years been overwhelmed with students who start their education here months or even years behind many of their Colorado peers. They don't fluently speak English, or even at all. They come from extremely poor or dysfunctional families. Their pressing immediate needs for what most metro area residents take for granted often eclipse daily classroom regimens.
Every school district in Colorado struggles to help these students, but school districts like Aurora Public Schools serve tens of thousands of these students with essentially the same resources as schools in Douglas County and Boulder. Relatively few students there escaped their native nations as desperate refugees or don't even have a permanent home here.
It doesn't mean that APS should or wants to just muddle through this dilemma. But the strain on the system, and especially on teachers, works against meaningful progress.
While state lawmakers keep trying to legislate better student performance in school districts like Aurora, teachers in the trenches know that Colorado is not just one new standardized test system away from greatness. Schools brimming with struggling students need more teachers and more experts to solve non-educational problems for students that deeply affect student outcomes: clothing, food, medicine, homes and mental health care, are just a few unmet needs for thousands of APS students.
School districts like APS need more money for more teachers, and they need to pay teachers enough to live a life that doesn't create untenable financial stress at home compounded by unrelenting job stress in the classroom.
Aurora Public Schools district officials, teachers and taxpayers took a step toward solving at least that part of the school district's pervasive woes last week with the release of a new proposed teacher pay plan.
The bottom line: better pay for teachers, especially teachers who stay with APS.
The plan would pour about $7 million additional dollars into raising salaries for all 2,400 APS educators. The proposal targets pay increases for teachers who stay with the school district.
The plan is made possibly by a 2018 voter-approved tax increase. Much of that money has already been funneled into mental health and social services programs across the APS district.
This plan calls for retaining a traditional "step-and-level" system, rewarding teachers for longevity and further education. But it pushes Aurora toward the top of teacher salaries for tenured teachers in the metro area.
It accelerates raises for teachers who continue their own education and who stay with APS for three years or more. Experienced teachers are an important resource for struggling schools, research shows.
While some education officials say money shouldn't be a prime consideration in developing public education policy, they don't teach in APS for about $43,000 a year, often paying more than half their salary in rent. The hours teachers often need to put into these teaching posts prevent them from working second jobs, an increasingly common necessity for the embattled middle class.
The new APS plan does not make teachers rich, but it does raise pay in a way that makes staying with APS a logical decision for teachers.
A part of the plan that awards teachers in especially difficult classrooms extra money is nothing more than a rational way to solve a real-world problem.
All talented teachers should be paid equitably for the important work they do. But teachers who have rooms filled with students who don't speak English or have never even seen a book before starting school here must be compensated for a job that is astonishingly different than that of a teacher in Highlands Ranch, or even the newest, wealthiest part of APS. The APS proposal does that.
School board and teacher union members should approve the plan.