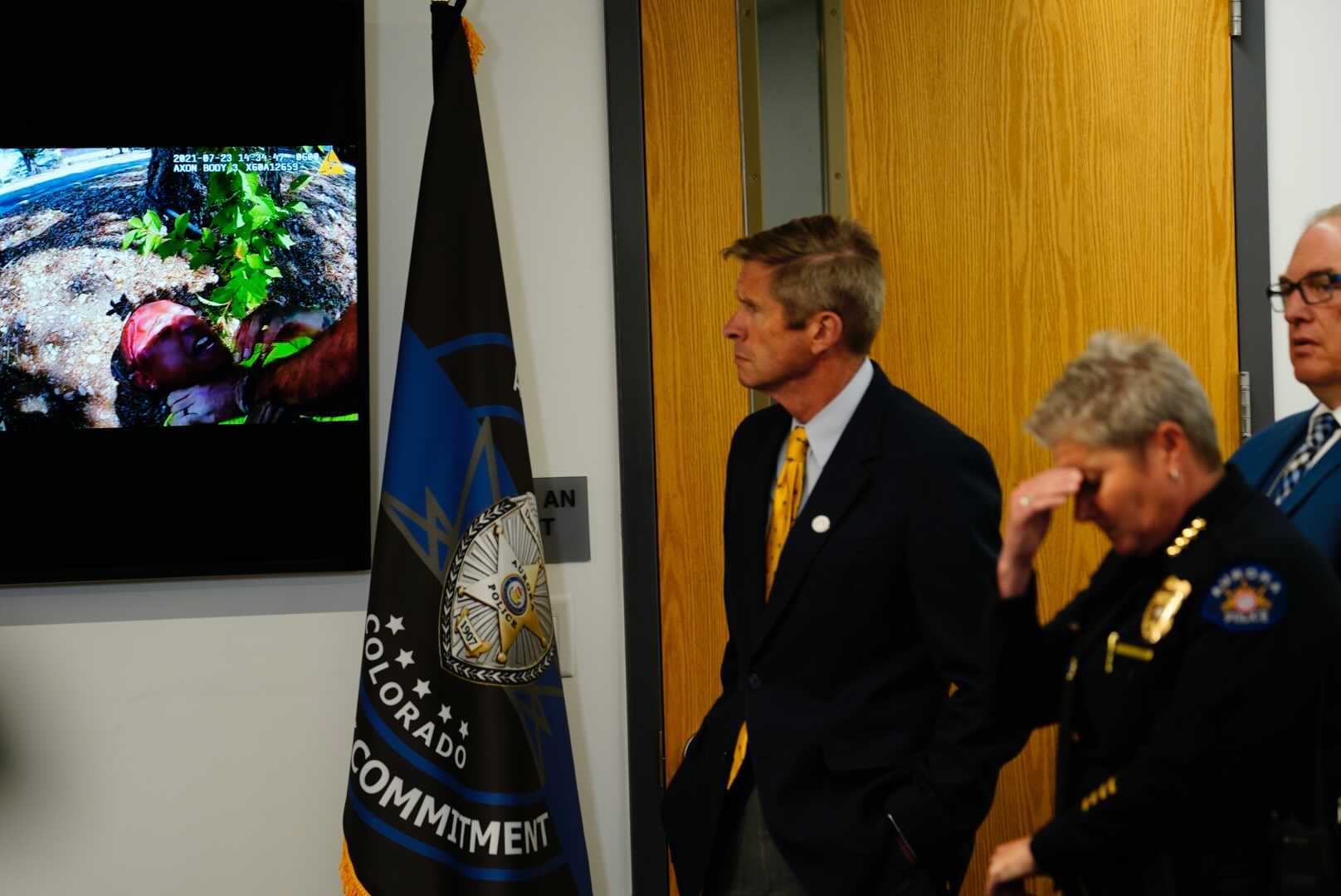 The duality of the latest Aurora Police brutality debacle illustrates how reforming the agency will be an arduous and prolonged endeavor.
Aurora Police Chief Vanessa Wilson accurately described how an Aurora police officer brutally and cruelly pistol-whipped and then strangled a man during an incident that police say had something to do with alleged trespassing.
"This is not policing," Wilson said during an emotional press conference. "This is criminal."
Given the police department's recent past, it was both relieving and encouraging that Wilson and the department reacted to this new catastrophe as assertively and quickly as they did.

It's impossible for the public not to stiffen in horror when watching for themselves on video how anyone — and especially a police officer — could be so ruthless and cold blooded as an APD officer appeared in quickly released footage. The police body camera video made public graphically and unequivocally depicts Officer John Haubert sadistically bullying the young man as his panic built over what Haubert would do to him. At several points, the man hysterically begged Haubert for his life.
When conversing with other officers who arrived as the young man was apprehended, Haubert could be heard saying "All that blood on him is from me f****** pistol whipping him … I was wailing the f*** out of him," Haubert said, according to the video and his arrest affidavit.
Given the recent history in Aurora, where police have been under intense scrutiny and criticism for how officers are responsible for the death of Elijah McClain, forced young black girls face down onto a hot parking lot pavement during a mistaken traffic stop, and infamously had officers take pictures of themselves making light of McClain's gruesome death, it seems surreal that such a blatant episode of police brutality could occur here — again.
As of today, there's a new list of dead wrongs in the Aurora Police Department that require explanation to the public, including:
• How did someone like Haubert ever get hired? In March of 2009, Haubert was accused of DUI, felony menacing and a misdemeanor weapons charge for being drunk with a gun, court records show. He pleaded guilty to the weapons charge in October of that year. The other charges were dismissed.
• How many other officers have similar backgrounds?
• How  and when are officers checked for behavioral or psychological problems, which may have bearing on this episode?
• What kind of training has Haubert, and a second officer implicated in the debacle, undergone recently? APD officials have been very public about pressing for police reform, pointedly addressing the very behavior Haubert inflicted on his victim. Were these officers newly trained?
Despite this new APD horror that only increases the public's distrust of Aurora police —  especially people of color who fear coming in contact with local cops — there was clearly a reason for hope. Wilson, the city, the local district attorney and key police officials were unprecedented in how they handled the disaster.
Whereas in the past, police have always been afforded a separate system of justice addressing potential or obvious criminal acts committed in the line of duty, Haubert's assault was treated as the crime it clearly was.
It now will be up to a court to determine Haubert's culpability and punishment.
Not only was Wilson's action swift and genuine, it was far reaching in that it demonstrated that much recent talk about a new direction for the beleaguered police agency is more than just talk. The response by Wilson, administrators and the DA puts every Aurora officer on notice that the tolerance, at least for such overt acts of malfeasance, is nil.
Just as important, Wilson and APD for the first time reached for new state police reform laws that make it illegal for police to ignore dubious, racist or bullying behavior by fellow officers, and certainly patently felonious acts like this. Aurora Police Officer Francine Martinez faces misdemeanor charges of not intervening in nor immediately reporting Haubert's attack.
Wilson's fast actions were hamstrung by incomplete reform and structure in the Aurora Police Department. The clear attempt to provide speed, transparency and independence in the investigation shows the department is on the right track in how it will handle inevitable problems.
This success in handling the problem would only have been strengthened by an independent entity concurring with Wilson's moves.
Egregious problems like this, however, must end. Wilson has assured the public that Haubert's behavior is anathema to the profession and repugnant to every other cop on the force.
The challenge now is to prove it and ensure it, since the public's tenuous faith in this department has just been devastated. "Trust us" won't cut it.