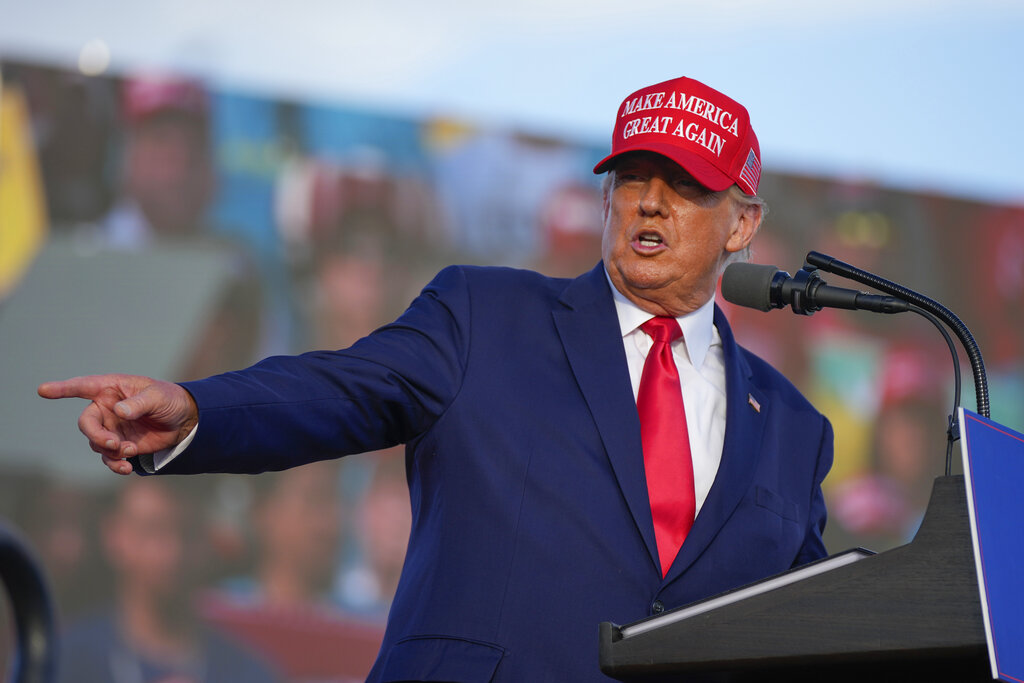 With little surprise and even less public fanfare, the storied House Jan. 6 committee insisted this week that federal officials bring criminal charges against former President Donald Trump.
Federal law enforcement should not delay in seeking justice for the nation against atrocities committed by Trump and his allies during the 2020 presidential election, and the weeks that followed.
There is no doubt that Americans have grown weary from the barrage of disinformation and propaganda that erupts almost daily from Trump, a virtual army of social media trolls and his cronies at media outlets like Fox News.
The facts of the case against Trump for his fervent ploy to undermine and overturn the 2020 presidential election, and his role in the violent Jan. 6 insurrection, are profound, prolific and indisputable.
The work of the Jan. 6 committee serves as a solid indictment of Trump, not just a review of the facts.
With Trump's GOP cronies racing toward control of the House, and their high hopes of undermining the solid work of the Jan. 6 committee, Americans now can look only to the nation's police: The Department of Justice.
The nation can no longer just struggle with The Big Lie — unfounded allegations of widespread election fraud and a "stolen" presidential victory for Trump — it must end it. Trump was not cheated out of a second term, voters rightfully, overwhelmingly and wisely denied him.
For more than six grueling years, Trump has been a cancerous disease, leaving the country badly injured.
The nation ran out of superlative insults for Trump even before he was sworn into office and immediately lied about how many people came to cheer that sad and ominous event.
In his wake, Trump left the White House and the greatest nation on Earth staggered. Never has the United States and the ideas that created it faced such a horrific and destructive foe — from inside the government.
Trump's relentless mendacity and corruption created a stunning catalog of chaos and crime, only part of which was illustrated by the Jan. 6 committee.
In his failed attempt at dictatorship, he left the country unsteady. His allies continue to work to undermine voting rights for millions of Americans in hopes of suppressing the future choices of every eligible American.
Even if the Department of Justice charges and convicts Trump for the crimes he committed, the nation must suffer those who've sworn their allegiance to him out of choice or out of fear.
In Colorado, Trump enjoys devotees like GOP congresspersons Lauren Boebert, Ken Buck and Doug Lamborn. Beyond being run-of-the-mill GOP Trump sycophants, these lawmakers fought against Trump's two warranted impeachments and the accountability of the bi-partisan Jan. 6 committee. Their sudden distraction now cannot be overlooked.
Like Trump, these members of Congress passionately believe in gun worship, eliminating women's reproductive rights, crushing immigrants, isolating the nation, destroying the Affordable Care Act, undermining truth and the free press, risking the planet by ignoring global warming and worst of all, ignoring or promoting The Big Lie. 
That's what Trump leaves behind in his wake of four years of democratic destruction, an atrocity founded on one thing above all: lying.
While theories already abound, we may never know how America came so close to suffering the fate of pre-war Germans and Italians, bamboozled and ultimately destroyed by the fascists of their day.
With loud voices in the halls of Congress and across the airwaves, election deniers and Trump sycophants will continue to promote the Trump brand of fascism, even as the nation's law enforcement seeks to hold him accountable.
Reasonable Americans must not be worn down or distracted from the grave danger Trump and his allies continue to present.
Despite weariness from the unending lies and distortions by Trump and his cohorts, Americans must press not only for justice from Trump, but adjudication of the active political crime scene he leaves behind.