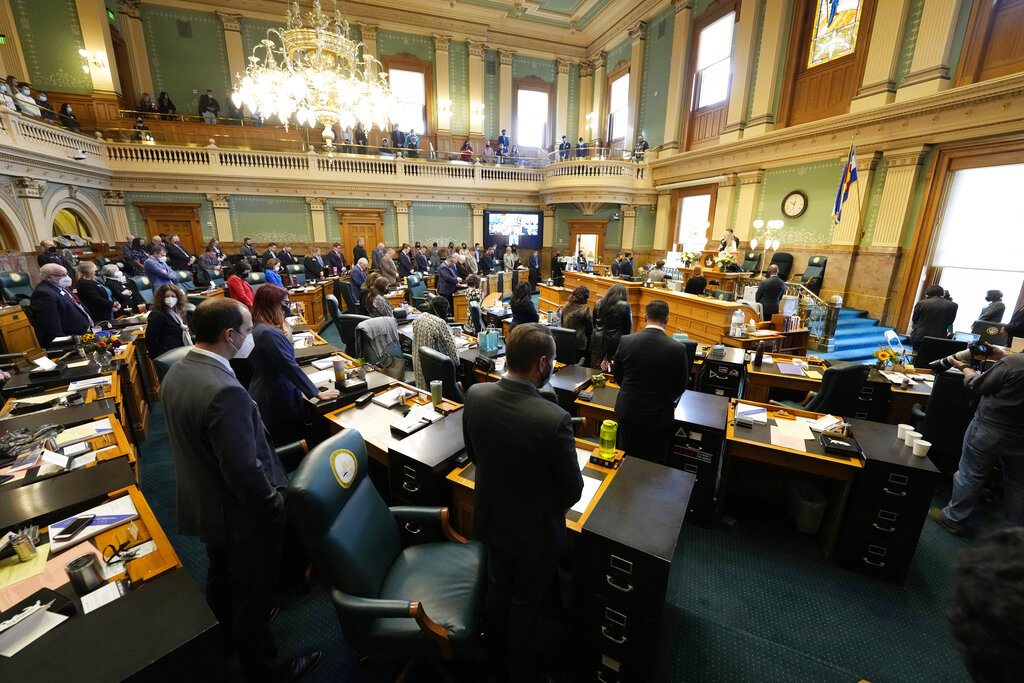 Not even a week into the new session of the Colorado Legislature, and the 2022 term has unravelled into a grave and dangerous heap of far-right extremist deceit and delusion.
House Speaker Alec Garnett was succinct and accurate after a bevy of loose-cannon Republicans began pitching lurid and ludicrous amendments to a bill touting the need for Congress to take up voter-rights legislation.
"Holy moly," said Garnett, a Denver moderate Democrat during the House floor fracas. At times, his voice rose with alarm, and rightfully so. "We cannot remain silent. Listen up. This is serious. You're under threat."
This is serious.
The morning started on the House floor, like many do during the 180-days of lawmaking, with the group of lawmakers running through highlights of the day and "resolutions." For the most part, House resolutions are toothless statements about people and issues, often a chance for the general assembly to offer attention, props or kudos to do-gooders, issues and industries.
Democrats, who run the state House with a comfortable margin, offered a resolution backing the efforts in the U.S. Senate to push through a voter-rights bill. The controversial effort is backlash from relentless lying from Donald Trump and his allies about non-existent 2020 Election irregularities and fraud that, conspirators say, wrongly led to the election of President Joe Biden. While lying and delusion were hardly new problems for Trump and his dutiful lackeys, the corruption swept across several Republican states, which reacted with dangerous anti-voter-rights laws. Some laws actually would allow Republican dominated states and counties to overturn legitimate election results at will and without valid proof.
Arguments against a federal fix as a remedy to Trump's lies, and his allies' amoral legislation are valid. Current drafts of the federal bill are far reaching, and could be overreaching. Republicans or Democrats in the Colorado state House have defensible reasons to give pause to voting for Tuesday's resolution supporting the Senate bill.
That's not what happened. A majority of the Republicans in the House dog-piled on the bill, offering what in other times would be eye-rolling partisan high jinks as political commentary.   
As many as 15 GOP House representatives voted for a hostile amendment to the bill that supported Trump's Big Lie about non-existent election fraud and would throw support behind discredited Mesa County Clerk Tina Peters. Peters admittedly used her power to provide outside, adversarial access to sensitive voting machine components. Peters is under investigation by the FBI and others for allegations of perpetrating what's tantamount to undermining Colorado elections. Colorado judges have removed her from conducting any election duties as clerk.
Radical GOP lawmakers also backed an amendment to the voting-rights resolution that recommends outright ending electronic voting systems in Colorado, a hallmark of Colorado voting accuracy, ease and equal access. The notion is part of the common quackery among Republican conspirators submerged in Trump's election plots.
These lawmakers went even further. As many as 16 Republicans in the House supported a failed amendment lauding fellow GOP State Rep. Ron Hanks and the rioters and insurrectionists who seized the U.S. Capitol on Jan. 6, 2021 in a failed effort to undermine the legitimate votes of millions of Americans and use corrupted election law to illegally install Donald Trump as president. Hanks admittedly was part of the rally with Trump before the siege, and he has regularly parroted Trump's false narrative and lies.
"They were such nice people, Mr. Speaker," Hanks, a Fremont County Republican said Tuesday. He's running for the Republican nomination for the U.S. Senate seat currently held by Democrat Michael Bennet. "These people did nothing wrong. They were afraid for their country."
The danger here is obvious when a majority of Republican elected officials in the House lavish praise on a dubious peer who says a thwarted effort to violently overthrow the U.S. government was carried out by "nice people" who "did nothing wrong."
So who, elected to positions of power in the state House, goes beyond the pale of partisan politics and perpetuates dangerous lies, delusion and collusion with corrupt people working to undermine free and fair elections?
Here's the list of colluders: From Arapahoe and Weld counties, representing the far reaches of the Aurora region, Rod Bockenfeld. From Douglas County, Mark Baisley, Patrick Neville and Kevin Van Winkle. From Colorado Springs, Andres Pico, Shane Sandridge, and Dave Williams. Also, Marc Catlin, Montrose, Richard Holtorf, Akron, Stephanie Luck, Penrose, Rod Pelton, Cheyenne Wells, Janice Rich, Grand Junction, Matt Soper, Delta, Tonya Van Beber, Eaton, Perry Will, New Castle and Dan Woog, Erie.
Not all House Republicans are on board the train wreck to Delusionland.
Even Republican House Minority Leader Hugh McKean, who has tried more to change the subject rather than solidly call out the cancer eating away at the GOP, admitted that those Republicans perpetuating Trump's Big Lie is creating a schism in the nation. 
"We've got to get to where we have an election, we accept the results and we move on," McKean said.
He fell short of condemning the dangerous deceptions and instead asked his caucus to just leave it out of House legislative discussions.
Those are the words of someone seeking to retain power, not lead people away from a real and present danger.
These are not partisan melodramas. These are warped and treacherous schemes to allow a minority of Colorado officials and their allies to undermine the most important facet of American democracy, free, fair and valid elections.
The 16 Republicans who carried out Tuesday's ruse must either rethink their allegiances and obligations or step aside so principled representatives can get the people's work done.