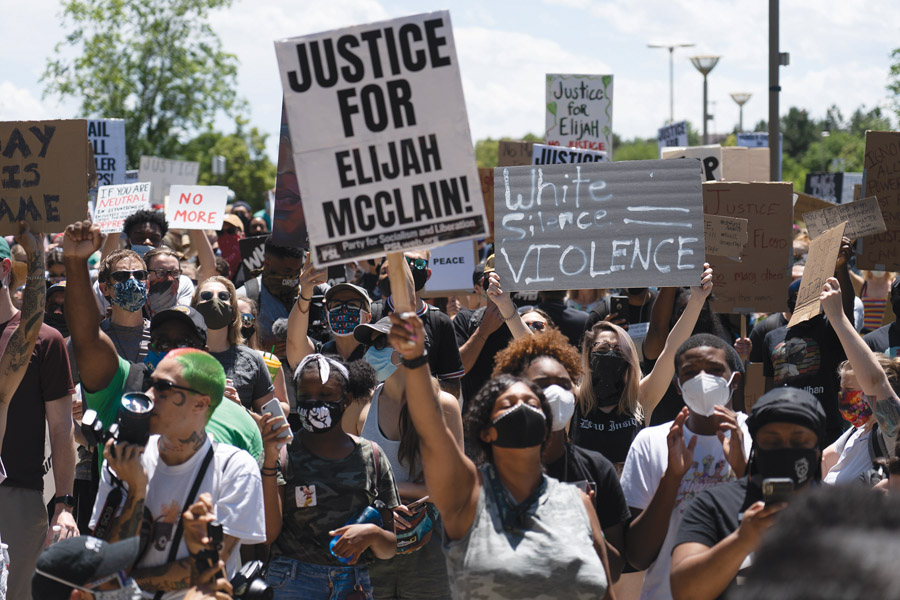 Any doubts about the end of total police absolution for any gaffe or crime committed evaporated Wednesday when a state grand jury delivered homicide indictments against the Aurora cops and medics who caused the death of Elijah McClain.
The 32-count indictment handed down to Colorado Attorney General Phil Weiser comes two years after Aurora police wrongly accosted McClain while he was walking home at night from a convenience store.
After years of investigation from inside and outside the Aurora police department, it became clear that McClain was targeted and tortured by police because he was a young Black man in a poor neighborhood. Despite doing nothing wrong nor illegal, police pounced on McClain, attacked him as they tried to wrongly subdue him and choked him into

unconsciousness as he struggled, fearing he was about to be killed. Incompetent fire department medics then injected McClain with ketamine, a powerful tranquilizer, even after he'd been subdued with a chokehold and fainted. Misjudging his weight, they injected McClain with too much ketamine for his size. His heart stopped and he died a few days later.
Despite investigations making clear how the events of night led to and caused McClain's death, neither the Aurora police department nor the 17th Judicial District Attorney found evidence that a crime had been committed and warranted prosecution, or even discipline.
The Sentinel and many others have argued for years now that the stunning lack of independent oversight and investigation into incidents like the McClain death directly result in police being exonerated in all but the most egregious and heinous acts of police brutality and malfeasance.
The connection between local criminal justice systems and police have long compounded state laws skewed at covering police for any and all crimes committed in the line of duty.
For McClain, it took only a slice of the community to weigh existing and possibly new evidence and determine the obvious, which escaped police and prosecutors previously: The officers and medics involved wrongly accosted, injured and killed McClain two years ago.
For decades, police in Aurora and across the metro area have never even been charged with obvious crimes because local district attorneys have consistently said they could not prosecute or win a case against a cop, including those who killed McClain.
Weiser and a state grand jury find otherwise.
The development immediately begs the question as to how many other cases brought before the 17th and 18th judicial district attorneys involving police malfeasance were wrongly dismissed by the taint of unequivocal police dispensation.
For the sake of real justice, and not justice for show, as has so often been the norm among district attorneys in Aurora's two judicial districts, the state should review other relatively recent incidents of police brutality and malfeasance to determine if an impartial and independent grand jury could see what elected prosecutors chose not to.
In the case of McClain, trials seeking justice for his death will take place in a state where codified, absolute immunity has been dissolved because of its abuse. The trial will take place in a state that now makes it a crime for fellow officers to stand by and watch the abuse inflicted upon McClain and do or say nothing. The trial of those who killed McClain will take place when the Aurora police department has owned up to its past and worked diligently to prevent other officers from wrongly inflicting death or injury on others.
Sadly, the trial takes place where some misguided police and equally misguided proponents continue to suffer from past delusions.
"Our officers did nothing wrong," The Aurora Police Association, union for Aurora police, said in a statement following the grand jury announcement. "There is no evidence that APD officers caused his death. The hysterical overreaction to this case has severely damaged the police department. Inevitably, the public are the ones who've paid the price."
While some Aurora leaders and officials at the Aurora Police Department have shown a great deal of foresight and courage in critically needed reforms, today's stunning indictments and recent police reforms are tempered by attitudes like that of the Aurora Police Association.
There is still much work to be done.