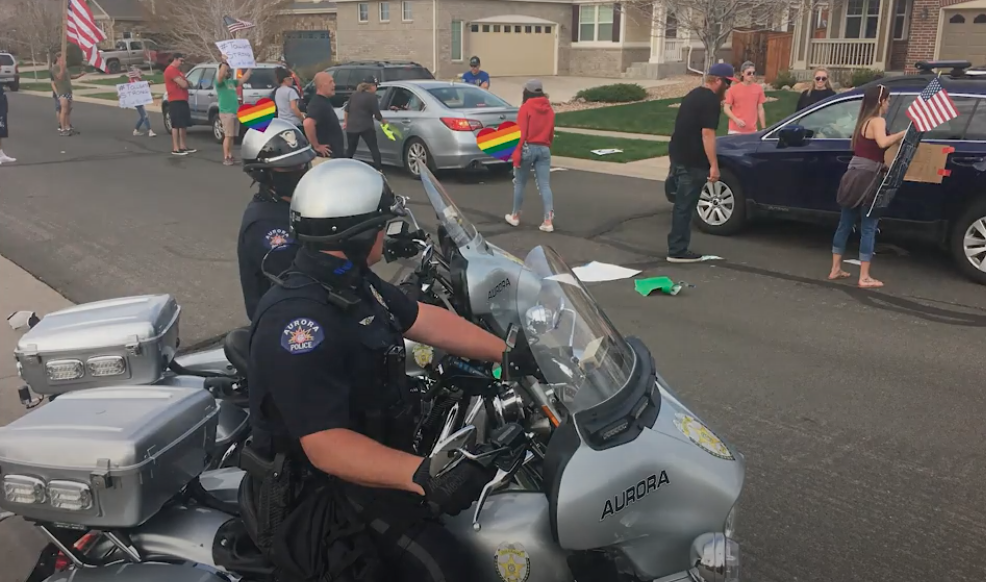 Aurora Police and district attorneys from Adams and Arapahoe counties have made a mess out of holding people accountable for vandalism and endangering the lives of officers and others during Elijah McClain protests this summer.
Prosecutors should immediately drop the myriad confusing and poorly considered charges levied against a handful of allegedly errant protest leaders who were among thousands of demonstrators at a handful of recent events. 
A coordinated press release on Friday by Arapahoe County District Attorney George Brauchler and Adams County DA Dave Young clearly intended to produce a damning account of criminality perpetrated by Elijah McClain protesters. Instead, they managed mostly a diatribe of politicized histrionics.
The double-barreled misfire is dangerous because during some of these protest events in Aurora, laws were seriously broken, lives were endangered, and perpetrators need to be held accountable.
Justice, however, can't come from Friday's floundering attempt at accountability. These two elected prosecutors, Young a Democrat and Brauchler a Republican, overlooked several critical issues.
First, they failed to appreciate that they are as much of the problem as are police regarding a dearth of justice for people, mostly Black people, mistreated and sometimes wrongly killed by Aurora officers. Both have told victims of Aurora police malfeasance and outright felonies on separate occasions that they just didn't feel they could build winning cases against errant cops.
Yet on Friday, Brauchler's team said they would seek charges against a few protesters for leading throngs onto roads and interstates. It's true. They did. Twice. The first time, on June 27, police accommodated them by shutting down the highway in advance of the protest. It makes it hard to argue that while police were complicit in the crime on one protest, and when they weren't on a second subsequent protest on July 25, the stunts were illegal. Another event in May, involving protestors from the opposite political spectrum, blocking a street, was apparently not illegal.
While protesting is a protected, and an important right for Americans, marching on streets and interstates is a dangerous, foolish thing to do. But the argument for prosecuting the organizers of the event are far-fetched. Thousands committed the "crime." Pressing charges against activists who may not even have participated in the interstate follies is ludicrous.
Another fact undermining these cases and charges is that the evidence is provided mostly from Aurora police, the focus of these heated and repeated protests.
The Sentinel has long lobbied for truly independent oversight of Aurora police, especially when they are the subject of allegations. The need for that has never been more apparent than in cases like this. It isn't that Aurora police aren't capable of conducting such investigations. It's just that any evidence is suspect, at least without oversight. An outside agency should have been enlisted immediately.
More important, these two district attorneys are seen by many as complicit in the very nature of the subject of these protests. In Adams County, Young refused to seek charges against any officers or firefighters who had a part in the death of Elijah McClain in 2019. The outcome of an Adams County coroner report and Young's insistence that he couldn't win any kind of case against those accused of having a hand in McClain's death is under city, state and federal review right now. Young has no tenability in these issues at the time. Neither does Brauchler, who has also released similar summations on similar past cases in Aurora.
Both of these district attorneys should stand back from the issue and bring in outside prosecutors who can carry the case to a grand jury for possible indictments. Instead, the appearance, if not the core, of these allegations looks like two angry lawyers pushing for revenge rather than justice.
And justice is warranted here. Some protesters effectively held 18 Aurora police officers hostage for hours in their District One headquarters on July 3. The protesters surprised and sealed cops into the building and negotiated their release with Aurora Police Chief Vanessa Wilson.
It was a potentially deadly, criminal stunt. Allowing perpetrators to get away with the crime would not only be a miscarriage of justice, it would embolden them or others to try similar exploits in the future.
Neither Young nor Brauchler can credibly ask a judge to accept the charges, let alone persuade a jury to reach a guilty verdict. Dogpiling allegations, a not-uncommon ploy by prosecutors to provide fuel for plea bargains, only serves to make this scheme appear all the more suspect.
Arapahoe County prosecutors are seeking assault charges against two protesters accused of ripping a handmade sign from the hands of a counter-protester, grabbing his hand and pushing him.
It's not that such aggressions should go unnoticed by police. But Aurora police had no interest in prosecuting similar aggressions pointed out on videos where activists led a May 3 in-car-protest through the neighborhood of a local GEO-ICE prison warden. Police watched as angry and aggressive counter-protesters from the neighborhood blocked traffic in the streets. They attacked activists' cars, screaming obscenities, ripping protest signs from the cars. One protester reached into the window of an anti-ICE demonstrator, grabbed him and ripped his shirt. Police on motorcycles observed the street-protest in its entirety. The video depicting the assault ran in a story in Sentinel Colorado and has been viewed thousands of times. 
Aurora police and Brauchler can't avoid the problems they create by pushing for charges against some protesters and not others. Brauchler further complicates the issue with his frequent, public, partisan commentary on talk-radio and in local newspapers. 
Many of the recent Aurora protests focus on the dearth of credibility police and prosecutors have in "self-policing." Aggrandized charges by these two district attorneys only fuel that controversy, further undermining their critical agencies.
"We support the First Amendment right of people to protest peacefully in our community but there is a difference between a peaceful protest and a riot," Young said in a statement on Friday. "When individuals cross the line and break the law, they will be prosecuted."
And they should be, but not like this. Gov. Jared Polis and state Attorney General Phil Weiser need to intervene and move this and similar incidents out of these jurisdictions so the public can have confidence in the proceedings.