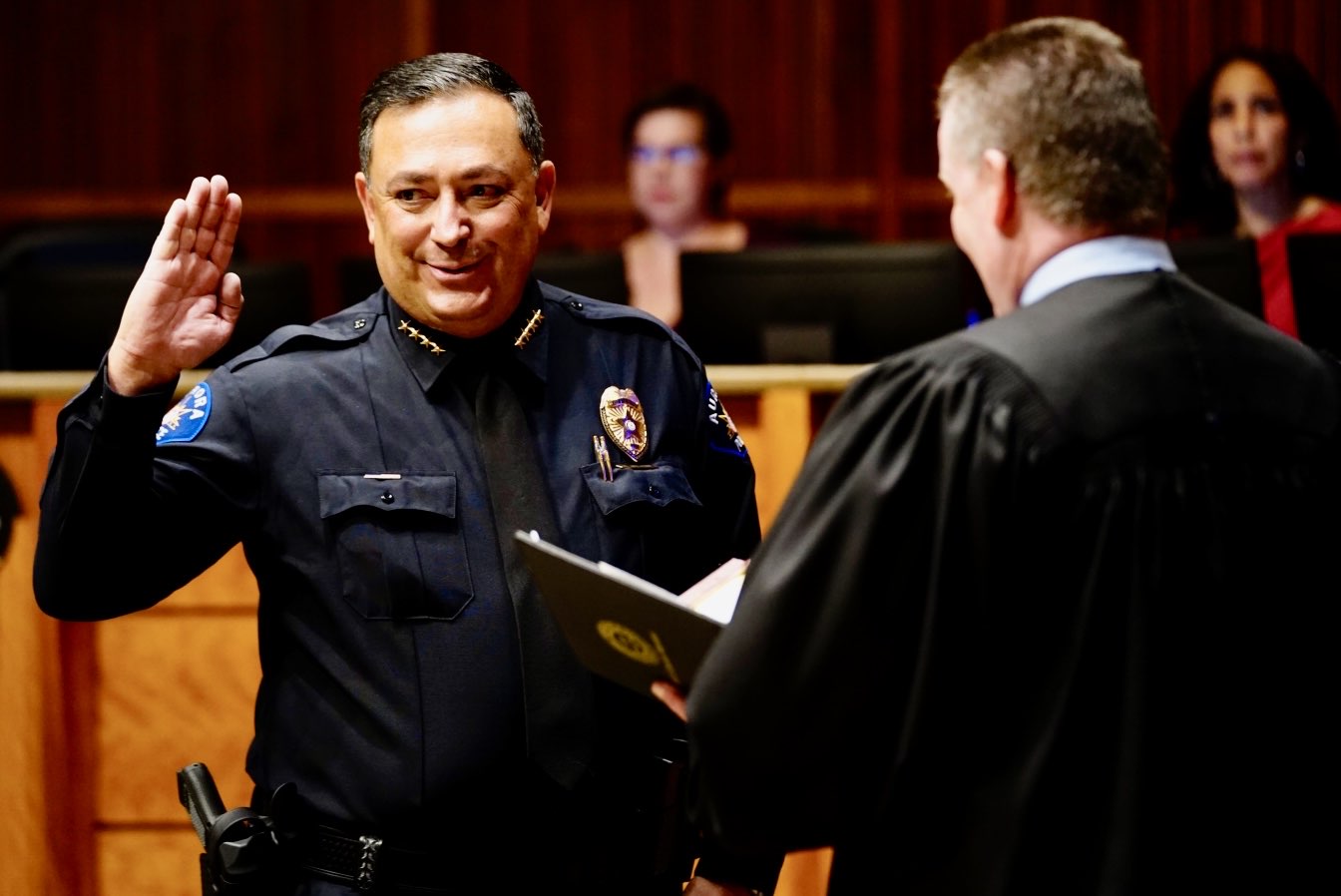 Aurora residents and the entire region would welcome straight talk about the chaos continuing to swirl around and through the Aurora Police Department.
The city's newest interim police chief has promised just that.
Interim Police Chief Art Acevedo — formerly chief of Miami, Houston and Austin — is now a few weeks into the job and has consistently told city leaders, community leaders, the media, and practically anyone who will listen, that his tenure as top cop will be heralded by transparency and candid honesty.
It's a welcome and needed change from the last several months. All of Aurora should insist everyone involved in Aurora's police debacle adopt the same touchstones.

Aurora's police crisis has been years, if not decades, in the making. While the city has long boasted a strong and innovative department, APD has become secretive, insular and rife with repeated incidents of racism, abuse of force by too many officers — and cover-ups.
Those officers who were as appalled by APD's repeated and flagrant mistreatment of people of color, as was the rest of the world, were either silent or silenced as problems became systemic.
Aurora, and the nation, should never forget nor brush aside the crimes, cruelty and blunders that have been made public over the past several years. The department has been sullied by a cop who pistol-whipped a young man questioned about vagrancy. The world recoiled from a story about Aurora police forcing Black women and young girls to lie face down on hot pavement while they were erroneously stopped and handcuffed during a botched stolen-car inquiry. Residents across the nation were baffled when the city's Civil Service Commission forced the re-hiring of a fired officer who referred to Black crime witnesses as "porch monkeys."
And both the nation and the world were outraged by the death of Elijah McClain at the hands of Aurora police and firefighters. The community was repulsed by Aurora officers mocking the cruel death with "comic" selfies that backfired after being made public.
The police department's mission, to serve and protect, became lost in a cavalcade of malevolence, malfeasance and malpractice.
It was welcome news that after investigation by the Colorado attorney general, the office would intervene and demand momentous reforms throughout the department.
It was a shocking surprise earlier this year that the woman who successfully marshaled the reticent department toward authentic reform and newfound credibility was suddenly sacked by city managers. Clearly, former Police Chief Vanessa Wilson was removed amid a toxic political drama on the Aurora City Council.
Wilson, and the unequivocal reforms she championed, were loathed by police union leaders and a small cadre of newly elected city lawmakers who pander to police anti-reform hardliners. Councilmember Danielle Jurinsky publicly slandered Wilson regularly, once calling her "trash" on a far-right radio talk show program.
She was replaced with former Aurora police chief Dan Oates, who despite promises to stand away from the reform mandate in his temporary role, surreptitiously upended one police oversight panel and diminished another. Neither Oates nor the city revealed those changes to the public.
City leaders were silent about Oates reversing the discipline of police division chief Cassidee Carlson for her role with another police veteran twice violating a restraining order as part of an Aurora cop's messy divorce.
Not only did Oates reverse the conclusion and decision by the Aurora Police Internal Affairs Unit against Carlson, he then almost immediately promoted her. If not for reporting by The Sentinel and Channel 4 News, the public would never have been made aware of the scheme. 
Just a few weeks ago, Oates was lauded by city leaders for his six-month tenure, and the scandal has now been handed to Acevedo.
Critical problems fused into the Aurora Police Department, exacerbated by some members of the Aurora City Council, cannot be forgotten or ignored.
The new chief has been consistent about his requiring accountability and transparency in the department, and the public should demand it.
So far, Acevedo has been direct and unflinching about Aurora's serious internal police dilemmas and the crime problems Aurora, and the entire state, face right now. 
Acevedo has rightfully insisted that the vast majority of the department's nearly 700 police officers and officials are honest, compassionate and diligent professionals, who can and should be trusted.
In meeting with The Sentinel and other media, Acevedo has been just as candid and insistent that the department has considerable deficiencies, which can be successfully addressed.
In his brash foray into the metro-media spotlight, Acevedo has signaled a positive and independent course for the department. 
He told local media officials that he doesn't wait for "permission" to act, he asks for "forgiveness" of those uneasy with it, after the fact.
If Acevedo can deliver the independence, transparency and accountability he's promising, the city's police can reclaim a reputation residents need them to have.