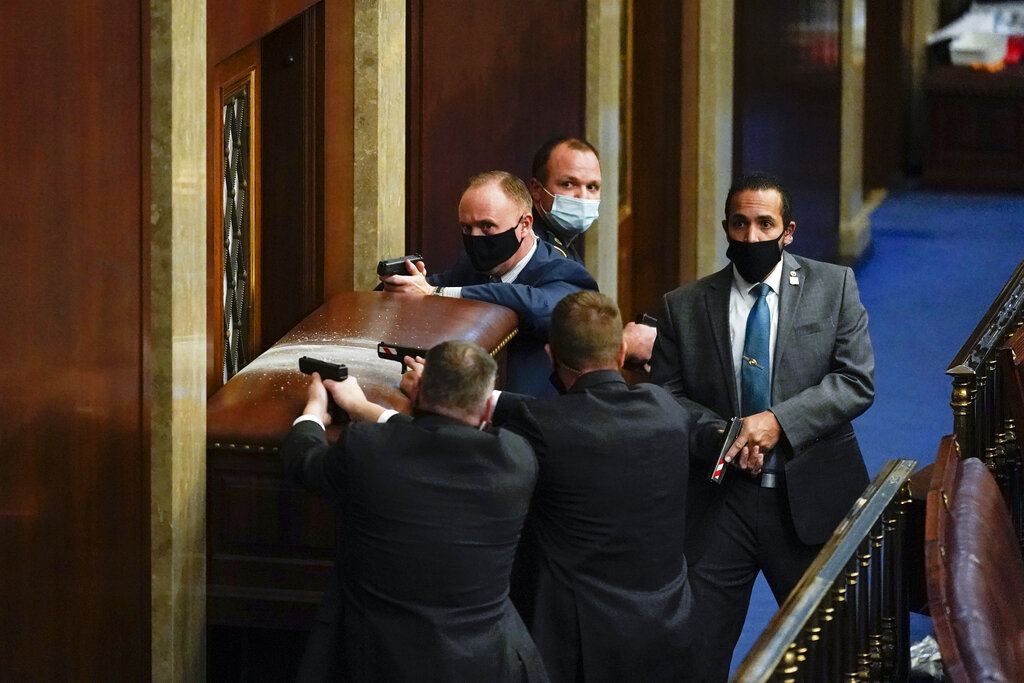 There is no superlative that can accurately summarize yesterday's failed coup by pro-Trump zealots who seized the U.S. Capitol.
And there are no excuses.
The well-advertised plans for insurrection — incited and invited by President Trump and more than 100 members of Congress — cannot be passed off as just another day in the life of Trump's America.
For weeks, a gang of nefarious Republicans have perpetrated a massive and repeatedly debunked lie on Americans, working to sow doubt about the integrity of the Nov. 3 election.
It worked.
Because of the repeated, baseless lies pumped into a Trump-media feedback loop for the last two months, millions of ignorant, inattentive or delusional Americans truly began to question the integrity of the election.
There is no evidence of any massive fraud, anywhere. That powerful and final conclusion came from thousands of election officials, investigators, court judges and analysts from across the political spectrum, and from across the entire nation.
The push to "investigate" potential fraud in "good faith" on the House and Senate floors of Congress has long been the fuel behind the incendiary behavior of Trump extremists. Those complicit members of Congress who have stood silent to the lies or actively participated in this gas-lighting are now culpable.
Yesterday, after weeks of pumping Trump's provable election-fraud deception into the Twitterverse, newly elected Colorado GOP Congressperson Lauren Boebert started America's dark day by telling her twitter followers, "It's 1776." She was parroting the morning chant among Trump cult members just blocks from the Capitol. For weeks, she's passionately repeated Trump's vile gas-lighting about how the election was stolen from righteous Trump voters, and that she would work to undermine voters and the presidential election to install a dictator in the White House.
Hours later, she tweeted to her followers that she, like hundreds of others, had been ushered to safety as pro-Trump insurgents broke into the Capitol and ravaged the building, yelling, "Where are you?"
Boebert, like Trump, incited lunatic Trump fanatics with talk of "revolution" and taking back the nation from its rightful next president and the voters who elected him.
Likewise, veteran Colorado GOP Congressman Doug Lamborn has for weeks flirted with debunked voter-fraud quackery, at one point directing his Twitter followers to a shrill Trump Facebook post, where the president strung together dozens of provable, incendiary lies and accusations about the election.
He, too, joined the lists of Republicans who knowingly pushed their concocted claims into Congress yesterday, pretending that election integrity was the focus of their action. In reality, yesterday's debates were about pandering to an armed and dangerous Trump cult or satisfying their own craven needs for attention.
Both should immediately resign their seats for having knowingly participated in yesterday's gruesome failed coup. If their excuse was ignorance, that, "who knew such a thing could happen," either would be too dimwitted to hold such important offices. If they persist in believing their pursuit against election fraud is valiant, they are too corrupt to be members of this nor any government.
Even Colorado GOP Congressman Ken Buck, whose partisan rhetoric has for years been underhanded, cruel and quixotic, had the temerity, the wisdom and the integrity to draw the line at joining ranks with other Congressional insurrectionists. He and others, such as Majority Leader Mitch McConnell, made clear the demands of Trump loyalists in Congress were nothing like past Electoral College objections, working to make a point. Buck and others warned Boebert, Lamborn and others that Trump's cult was too far gone and too dangerous to perpetuate the president's false, stolen-election narrative.
He was dead right.
One woman died during the attack. Dozens of Capitol police were injured. Heroes like Aurora Congressman Jason Crow were forced to rise to the occasion to help comfort and protect their colleagues as Trump insurrectionists combed the Capitol during the attempted coup. 
Hollowly, both Boebert and Lamborn took to their social media accounts after the fact to condemn the very insurrection and violence they enticed and abetted.
Both of these Colorado representatives pandered to hundreds of mentally ill and corrupt extremists who are inflamed by Trump's constant glorification of anarchy, racism and xenophobia. 
There is no rightful place in the People's House for those who represent the whims of a gruesome dictator and the throngs of mentally unstable insurgents willing to commit treason and do his bidding. 
Both should resign today and turn their seats over to proponents of decency and democracy, not the demagoguery that defines the flailing tyrant they pander to.
As for Trump, a cabinet filled with minions too cowardly to keep any meaningful check on the president's sniveling lies and corruption will never show the courage to invoke the 25th Amendment and rightfully and responsibly remove Trump from office immediately. 
The best Americans can hope for is to keep Trump amused, distracted or deluded for a few more days until he is carted away from the White House for the last time in his life and ours. 
The blood stain Trump leaves on this nation is indelible. The road to redemption will take unprecedented integrity, honesty and prudence from determined and deserving members of Congress. Since Lamborn and Boebert have shown they have none of those qualities, they must be moved aside so America can begin some of the most important work to be done in the nation's history.