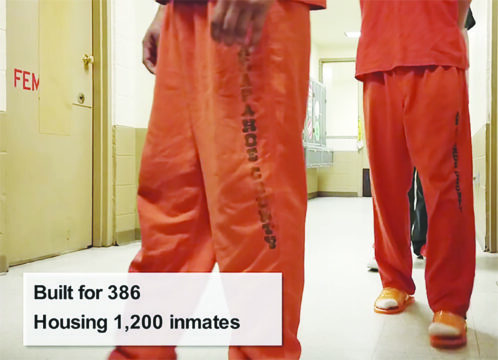 In the spirit of a recent push by Aurora city lawmakers to persuade residents of Aurora and Colorado to give a "second chance" to those once on the wrong side of the law, city lawmakers should try again.
Sponsored in good faith, and good judgment, by Councilperson Curtis Gardner, city lawmakers gave initial approval this week to a measure that would take time now, and each April, to ask people to give a "second chance" to those who've gotten sideways with the law and worked to make it right.
It's sage advice, Gardner correctly spells out.

"Sadly, even after release, these formerly incarcerated individuals face significant hurdles in returning to everyday life after they have paid their debt to society," Gardner said in an essay sent to The Sentinel earlier this week. "These hurdles impact their ability to get a job, obtain adequate housing, purchase insurance and more. The list goes on and on."
And on, and on — often, for generations.
Gardner, and so far the entire city council, agree with the advisement to give ex-cons and former scofflaws another chance.
It's going to take much more than asking to make a difference. Aurora and the nation are rife with inequity, racial and structural problems associated with crime and punishment.
A recent Sentinel Colorado story pointed out the tragedy of the so-called school-to-prison pipeline, which runs a long course through Aurora and the metro area.
A clearly mentally disabled young boy in Douglas County was horrifically abused by police there. The recent story of the debacle was made available to the public because of police body cameras and the perseverance of the Colorado ACLU. Accused of poking another boy with a pencil, because the other child wrote on his arm with a marker, the 10-year-old autistic "suspect" was handcuffed and dragged screaming by police to a police car, where he as kept for more than an hour, according to police and the ACLU. It was the perfect example of how behavioral and psychological issues wrongly become legal problems.
We agree that the city should work to ensure equitable and forgiving treatment to those who have erred in the past and "paid their debt" to society in jail, prison, probation, parole or whatever courts and other officials determined brought "justice" to the issue.
There are two previously insurmountable impediments to making our system of justice, more just.
We need to dramatically change a system that treats people who are mentally ill or disabled as if they were criminals, even if they commit crimes. And we need to dramatically change a system that often delivers one kind of justice for privileged white people and a completely different kind of justice for everyone else.
Take for a recent example a wealthy white man who has run afoul of the courts with numerous shady business dealings and was also implicated in a bevy of credible sex-assault allegations. Justice served in that case was that he became the 45th president of the United States.
People of means and privilege have often risen beyond their criminal acts. The poor, and especially poor people of color, wear their convictions, even misdemeanors, as scarlet letters for the rest of their lives.
Gardner is right that past events, which may not be any indication of current character, drag down quality of life, and the lives of others, like a life sentence.
Shaking heads isn't enough. City lawmakers should work with regional members of Colorado's state legislative, justice, school, mental health and congressional delegations to create better solutions.
The best answer is to find ways to prevent people, especially juveniles, from being drawn into the justice system to begin with. So called "diversion" programs have had far less than remarkable success over generations. More teacher training and determined efforts to provide psychological help to children, rather than police intervention, would go a long way toward fixing issues before they become criminal problems.
Sadly, one legislative proposal by state representatives Janet Buckner, R-Aurora, and state Rep. Leslie Herod, D-Denver, was withdrawn without needed debate and possible alternatives.
What's needed are adult diversion programs based on mental health — especially for substance abuse problems — that end with the ability to truly expunge criminal intervention and court records. Changes like that would actually give people a second chance, rather than just recommend it. Such changes, however, would hinge on laws that prohibit employers, landlords and others from asking anything about criminal past other than, "have you been convicted of a crime not satisfied by compliance with a court order?"
That's a world apart from, "have you ever been arrested?" or "have you ever been jailed?"
Gardner and others are right that real second chances and real criminal diversion efforts create better lives for those who run afoul of the rules or the law. Second chances work to reduce the literal and figurative cost to society for branding people for life as criminals, when they are not. It doesn't mean all criminals get a bye, it simply means that the government and society recognize the clear difference between criminals and people who at, one time, committed a crime.
Rather than approve Gardner's resolution, the Aurora City Council should get a second chance to turn this into a working task force to deliver answers in addition to advice.