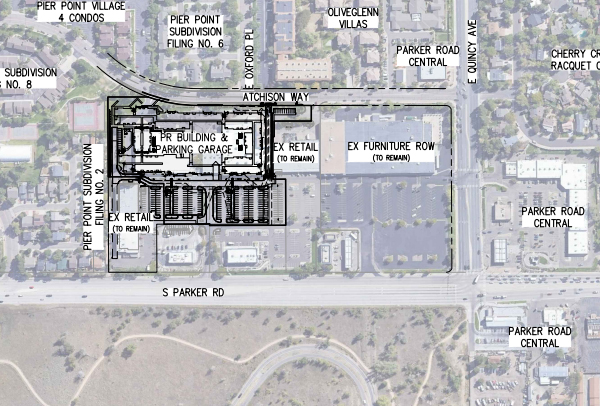 CORRECTION: An earlier version of this editorial said that some residential apartments in the mixed-use development were atop commercial development at East Bank. The commercial units are adjacent to apartments, not atop. The Sentinel regrets the error. 
Few places find the bedfellows stranger than in the Aurora political scene.
That quirky reality manifested recently during an Aurora City Council meeting where arch conservatives joined with passionate liberals in thwarting a sizable strip-mall redevelopment project that most lawmakers deemed "unfair" to existing retail tenants.
Probably just as strange is that The Sentinel Editorial Board finds itself in solid agreement with the lone city dais dissenter on halting the project: Mayor Mike Coffman.
The Sentinel editorial board has found itself at odds recently with Coffman's plans for homeless sweeps and resistance to local campaign reform.

But we stand behind the mayor in his observation as the city council halted the redevelopment of the East Bank strip mall into a mix of residential and commercial uses.
"So much for free market economics," he said during the Feb. 14 meeting.
The project encompasses the failing East Bank strip mall at Parker Road and East Quincy Avenue. Once a giant mix of grocery stores, restaurants, shops and even an athletic club, the pandemic has accelerated a plague of terminal vacancies in the center.
Imitating what's been successful at similar dying shopping malls across the metro area, East Bank owners have for months been working on a redevelopment that would essentially raze what's there now and rebuild it with a 311-apartment project with four-stories of homes adjacent to space for restaurants and shops below.
The project originally drew ire from existing residential neighbors, concerned about the size of the apartment complex abutting a single-home residential area.
But what drew a yellow flag from city lawmakers last week was how East Bank developer Kimco would handle commercial lease arrangements with existing retail tenants, such as Pet Palace and the Second Chance Bicycle Shop. Both have indicated that either price or position in the redevelopment may put them out of business.
That drew scolding from conservative and liberal city lawmakers alike.
 "I don't think you're going to be winning landlord of the year," Councilmember Steve Sundberg said to officials from property owner Kimco, Sentinel reporter Max Levy wrote last week. "I think you're a big, aloof corporate place that doesn't really appreciate long-term tenants."
Progressive Councilmember Juan Marcano joined in.
"I don't want to sign a death warrant for some small businesses here," he said.
We appreciate concern for small business owners, many of which have gotten little but bad news since even before the pandemic began. But there's little doubt that sympathetic city lawmakers should hand out anything other than advice on the matter.
The city council's job here is to ensure Kimco has complied with all of the city regulations, zoning requirements and building rules. Accommodating tenant requests or needs is outside the city's purview.
We're not siding here with Kimco on how they're handling lease contracts with tenants. That's a job for the courts, mediators or the particulars to the contract.
And we're not so naive as to not understand that Kimco could lure council votes for its project by having existing tenants endorse the redevelopment plan rather than oppose it. But Aurora lawmakers have no grounds to deny the project for acting like an "aloof corporate place that doesn't really appreciate long-term tenants."
At the same time, new conservatives on the city council are pressing for the city to hold a series of public hearings soliciting from businesses what Aurora can do better to ease the way of commerce in the city, and what things Aurora does that are impediments to getting business done.
Here's a good place to start. Don't let the city council interfere in private business matters and impose expensive and difficult delays on getting business done.
Coffman is right. If the project is compliant with city requirements, it warrants city council approval. If lawmakers are concerned about current tenants, there are numerous local government and private resources to mediate a solution.
But allowing the city council to determine the right way and the wrong way for private business to do business is nothing but bad business.